Oscars 2022: Best Supporting Actor Winner Troy Kotsur Credits 'Star Wars' for Changing His Life
CODA star Troy Kotsur just made history as the first deaf man to win an Academy Award. Bringing home the coveted statue for Best Supporting Actor, Kotsur always dreamed of making his mark as a performer and explained why the iconic 1977 film Star Wars sparked his aspirations.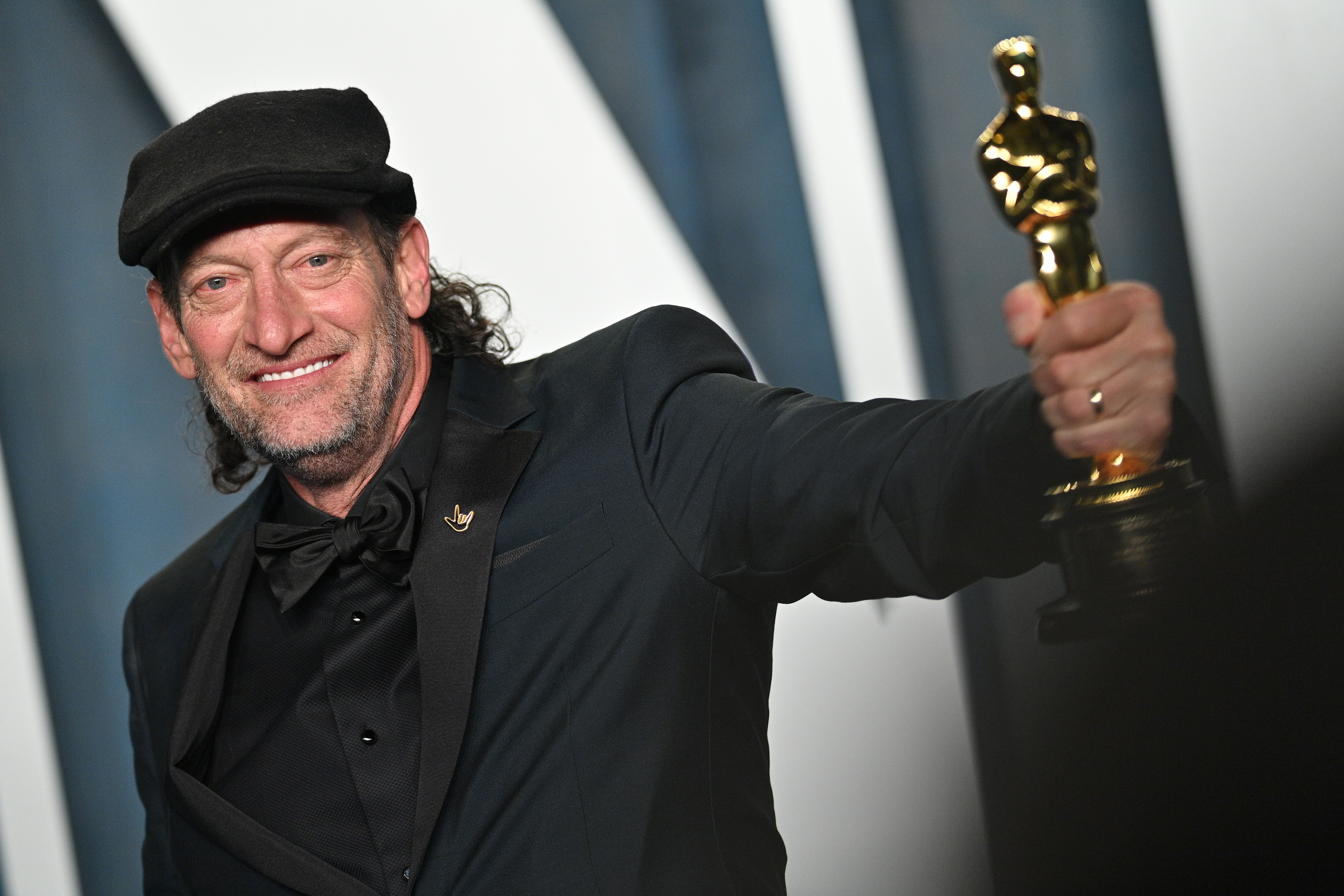 'CODA' star didn't quit on his acting dream
Kotsur has been racking up award nominations and wins for his role as fisherman Frank Rossi in CODA. Playing the deaf father of Ruby (Emilia Jones), a "child of deaf adults" (the film title's acronym), Kotsur is the second deaf actor to land an Academy Award after co-star Marlee Matlin, who won for Best Actress in 1987 for Children of a Lesser God. Kotsur shared that despite a lack of roles throughout his career, he stayed the course in the hopes of making it big as an actor.
"I wanted to do it from my heart," the Oscar winner told Backstage. "I was following my instinct. If I stopped acting, there would have been something that really bothered me, I just wanted to keep going. So my gut would get a little quieter."
Deaf since birth, Kotsur spent his childhood in Mesa, AZ. Pursuing acting at Gallaudet University, the CODA star admitted to having his doubts over the years since roles for deaf actors were scarce and bills were mounting.
"A lot of times, I was worried because I was getting a bit older, I didn't have a retirement plan, I didn't have an idea of how I would support my family," Kotsur shared. "My wife was beginning to get worried. My family members were worried. They thought that it was really impossible for a deaf actor to get an opportunity in Hollywood. It's just like 1% of actors."
RELATED: Oscars 2022: Troy Kotsur Almost Quit Acting Before He Auditioned for 'CODA'
'Star Wars' presented a new perspective for Troy Kotsur
Kotsur recalled seeing the George Lucas classic Star Wars as a child and noted how the groundbreaking film influenced him toward acting.
"The first Star Wars film changed my life because it was so visual," he explained. "There was so much communicated visually, it really motivated me to become an actor."
The science fiction blockbuster gave Kotsur an appreciation for film and prompted him to consider work behind the camera as well as performing.
"I saw it 28 times," Kotsur revealed to NPR of Star Wars. "It was so visual, the costumes, it just blew me away. I watched it again and again. And it got me hoping that someday I could make a movie."
Troy Kotsur achieved a 'Star Wars'-related dream
While earning an Oscar is an impressive accomplishment, Kotsur may consider his role on the Disney+ Star Wars series The Mandalorian as his greatest achievement. Playing one of the Tusken raiders from the planet Tatooine, Kotsur created a sign language specifically for the fictional tribe to be used in the series.
"I'm thrilled to be involved with The Mandalorian," Kotsur told Backstage. "You know, since I was a kid, my dream was to work on something like Star Wars."
Kotsur spoke of a recent award he received from Star Wars enthusiasts which he holds close to his heart.
"I went to an expo, a Fan Expo like a sci-fi festival," he said. "The group of members there, they're called the 501, league Legion, the 501 Legion – they're Star Wars fans, and they gave me this certificate as an honorary member of their Legion… I was thrilled and honored – I feel like I'm a part of the Star Wars family now."