Oscars 2022: Viewers Call Out 'Irony' of Chris Rock's Controversial Comment
The 94th Annual Academy Awards ceremony is sparking a great deal of controversy after Will Smith slapped comedian Chris Rock on stage. The confrontation erupted after Rock made a controversial comment about Smith's wife, Jada Pinkett Smith. Many have come to her defense following the incident, and some are calling out the "irony" of Rock's jab.
Why Chris Rock's Oscars joke sparked so much backlash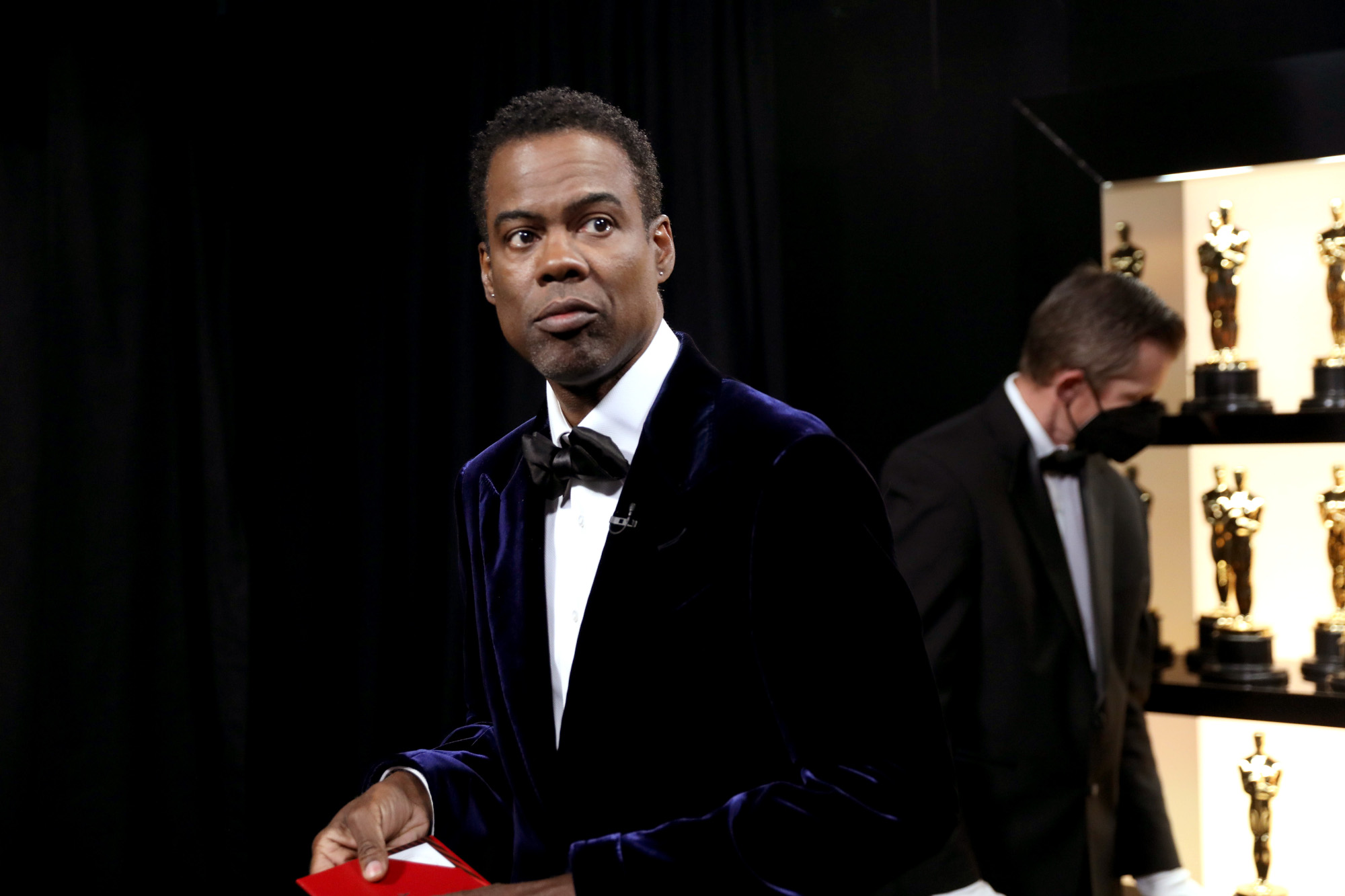 Regardless of where viewers stand on the Oscars confrontation between Will Smith and Chris Rock, many have criticized the comedian's joke following the event.
Rock referred to Pinkett Smith as "G.I. Jane," comparing her green outfit and shaved head to Demi Moore's character in the 1997 film. However, the actor has an autoimmune condition called Alopecia. She's been vocal about her experience with Alopecia, which causes one's hair to fall out. And the backlash to Rock using her hairstyle as a punchline has been immense.
Twitter blew up with discussions about the incident, with many calling the comedian out for his comment. Some viewers even pointed to the "irony" of Rock making fun of a Black woman's hair. After all, he once made a documentary tackling that exact topic.
Viewers point out the 'irony' of Chris Rock's comment
In the debates surrounding Chris Rock's Oscars joke, some have suggested that the comedian should have known better than to make the comment — whether he knew about Jada Pinkett Smith's Alopecia or not.
As many have noted, Black women face microaggressions over their hair often. And Rock's 2009 documentary, Good Hair, addresses that subject, suggesting he knows how unwelcome such comments can be.
"The irony is Chris Rock produced GOOD HAIR, a film that celebrated Black women's struggle with their identity tied to their hair," The Wire actor Wendell Pierce wrote in a now-deleted tweet. "That film showed an appreciation for Jada's, and Black women's, struggle with the disease of Alopecia. The joke did not. It insulted and provoked."
"I'm actually stuck on the fact that Chris Rock has daughters and made the documentary Good Hair," Zerlina Maxwell, host of Zerlina on Peacock, tweeted. "And yet! Still made that joke."
Yelitsa Jean-Charles, the founder of Healthy Roots Dolls, echoed that sentiment, writing on Twitter: "Chris Rock made the documentary Good Hair and apparently learned nothing."
Clearly, Rock's comment has led to some important discussions about what's acceptable to joke about. However, the comedian hasn't released any official statement as of this writing.
The comedian hasn't addressed the Oscars incident
Following the confrontation at the Oscars — and all the backlash it's caused — Chris Rock has yet to release an official statement. The comedian brushed off Will Smith's slap when it first happened. And the LAPD later revealed that Rock hadn't filed a police report over the incident.
The Academy released its own statement on Twitter, emphasizing that it "does not condone violence of any form." The organization didn't dive into the details of the event, something viewers have also criticized.
Sean "Diddy" Combs reportedly told Page Six that Rock and Smith have settled the matter, adding that, "It's all love. They're brothers."
Viewers will have to wait to see if Rock addresses the backlash his comments caused — or the surprising incident that followed them.