What Oscars Hosts Amy Schumer, Wanda Sykes, Regina Hall Have Planned for the Show
The Oscars went hostless for three years in a row. Perhaps to make up for that, the 2022 Oscars will have three hosts. Amy Schumer, Wanda Sykes, and Regina Hall will share hosting duties. Sykes and Hall shared a bit about what they have planned for tonight.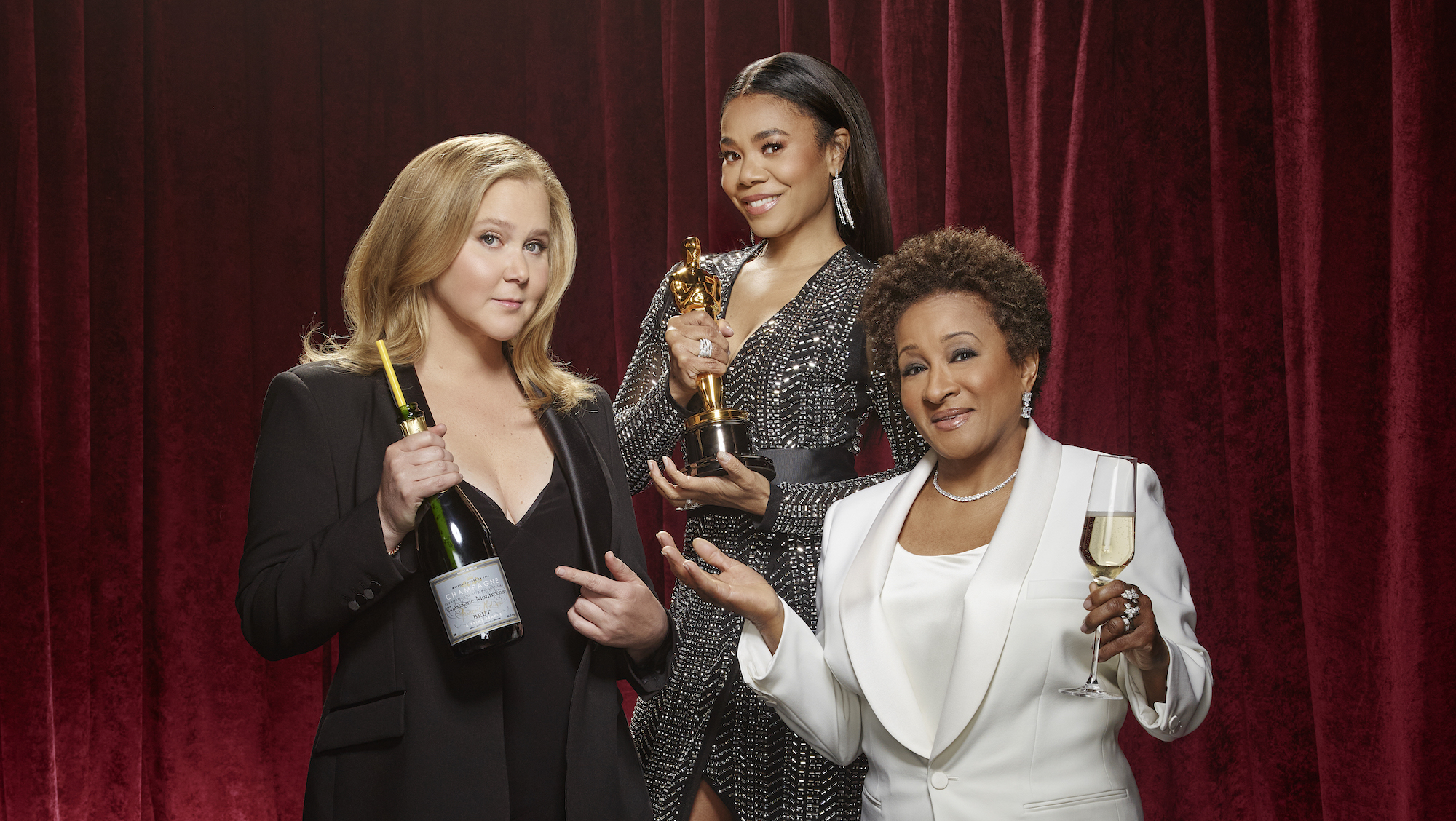 Hall and Sykes were part of a Zoom press conference for the 94th Academy Awards on March 24. Schumer was unable to attend but promised she did not have COVID-19. Here's how the three plan to collaborate and support each other at the Oscars.
Oscars hosts Amy Schumer, Wanda Sykes, and Regina Hall will begin the show as a trio
Sykes acknowledged the three very different sensibilities taking the stage on Oscar night. You'll have a Black and a White stand-up comedian, and an actor equally versed in comedy and drama.
RELATED: Oscars: When Did Dolby Theatre Los Angeles Become Home to the Academy Awards?
"All three of us have different sensibilities but we will open the show together," Sykes said. "And then you'll see different variations of hosts. It might be one of us, it might be two of us. We all might be drunk so it might be nobody. It's going to be a fun night and we all get our moments together and we get our moments solo."
Before the Oscars, hosts Amy Schumer, Wanda Sykes, and Regina Hall are supporting each other
Hall said the three have been working on Oscar bits together in the weeks leading up to the show. They have lots of segments to plan from the opening monologue to presenting Best Picture.
"We still stay true to what we're celebrating," Hall said. "That's been what's been a lot of fun, coming up with stuff together or the two of us even listening to what one person is doing alone. It's fun for me to hear what Wanda's doing, what Amy's doing. We think it's funny so we know it's going to be three people that night laughing."
Sykes confirmed that all three of them have been sounding boards for each other.
"We run things by each other, all three of us," Sykes said. "We shot the promos. That was a fun day. We spent a Saturday together shooting promos. [Producers] Will [Packer] and Shayla [Cowan] saw okay, automatically, instant chemistry."
RELATED: Oscars 2022: 'West Side Story's Rachel Zegler Invited to Present After Confusing Snub
For Hall, who normally delivers scripted dialogue, conferring with veteran comedians on the Oscars have been reassuring. 
I'm lucky, I have Wanda who I knew before and Amy and they're both hilarious and everybody's different. I think what's been fun is being able to collaborate and create something together that shows what we each do differently but well. And really celebrate what we like about comedy and what we love about the Oscars and films that we haven't been a part of because we haven't been nominated. We really do want to make the night so celebratory. We are so blessed because we're really working with the creative team that is so supportive. It's been wonderful to work with Will and Shayla. Honestly everyone because it's been such a group effort. Even Wanda, who's selfish most of the time but on this particular thing, no, she's like do you like this joke, do you like that? It's been what makes the process enjoyable.

Regina Hall, Oscars press conference, 3/24/22
Don't worry, celebrities, they'll play nice
Certainly both Schumer and Sykes have proven acerbic in their comedy. Sykes promised they wouldn't be mean to the Oscar attendees or Academy members. That doesn't mean they won't make some good-natured jabs though. 
"I think we're trying to stay In line with a line I should say with the themes," Sykes said. "It's Movie Lovers Unite so we're coming in there with love. We want to be there. We want everyone to have a good time, we want everybody to feel at ease. These people worked hard on these films. We're not trying to trash anyone but we're going to have some fun. We are going to point out some things."
RELATED: Oscars 2022: Best Supporting Actress Is Likely Down to 2 First-Time Nominees