'Outer Banks': Chase Stokes and Madelyn Cline's Relationship Is Still Thriving; Here's Proof
Proof Madelyn Cline and Chase Stokes are happy together a year later.
It has been more than a year since Netflix introduced the world to John B. and Sarah Cameron's fictional relationship on Outer Banks. Ironically, Chase Stokes and Madelyn Cline have been in a real-life relationship for more than a year, too. While many Outer Banks fans anxiously await season 2, we thought we'd highlight the mountain of evidence proving Stokes and Cline are happy together.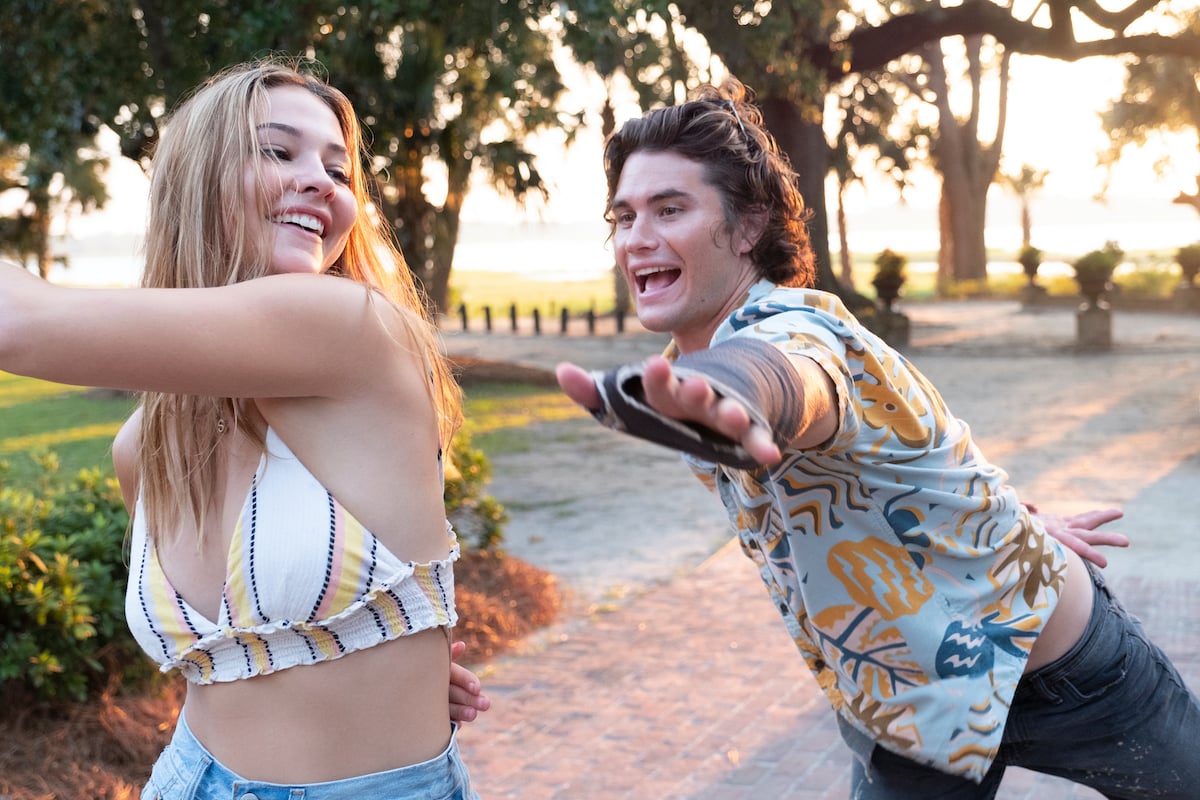 Madelyn Cline and Chase Stokes are in a relationship 
In season 1 of Outer Banks, Pogue boy John B. falls in love with Sarah Cameron, a Kook from the wealthy side of the island. In the season 1 finale, the couple sails off directly into a tropical storm. Many fans are hoping season 2 picks up in the Bahamas with Sarah and John B.  
Most Outer Banks fans took note of Stokes and Cline's on-screen chemistry right away. Rumors started spreading, and eventually, the two made their off-screen romance public knowledge. 
The 'Outer Banks' cast of characters are incredibly close 
Shooting season 1 allowed Stokes and Cline to develop feelings for one another. But filming the Netflix series brought the entire cast closer together. Today, the Outer Banks cast shares a tight bond. 
Stokes recently celebrated the love he has for his fellow cast. "I don't think there is ever a level of comprehension for feeling as much love from the entire world as this show has brought," the actor wrote on Instagram. "To be with a group of people with nothing to lose and gain so much joy from this; have people fall in love with the world; embrace characters who have flaws, and find a way to follow them is so unbelievably gratifying."
Stokes concluded his post by thanking Outer Banks fans. "[I] have tears in my eyes writing this," he said. Stokes is excited for the world to get "back to normal" so he can meet the people who have made Outer Banks so successful. 
Chase Stokes and Madelyn Cline celebrate their 1st anniversary 
On Apr. 4, Stokes shared a post to Instagram with the caption: "365 w/ u." Cline commented: "And I'd do it again." 
Meanwhile, Cline celebrated their anniversary by sharing a photo series of Stokes. "Thanks for helping me keep track of my belongings for a whole year (: adore u," the caption read.
The couple officially announced their relationship in June 2020, but their anniversary posts prove they started dating in April. Since then, many fans can't get enough of their off-screen relationship. 
'Outer Banks' stars Chase Stokes and Madelyn Cline post about their relationship on social media
It's clear Stokes and Cline are happy together, considering how often they post about each other on Instagram. On Apr. 26, Stokes shared a photo to his Instagram Stories of his shirt, which read: "I'd risk it all for Sarah Cameron." 
"Just saying…" he wrote over the post. On Apr. 1, Stokes shared a sweet photo of him and Cline nearly kissing with the caption, "Hey Siri, play 'The Wand' by The Flaming Lips." 
Cline shares just as many loving posts as Stokes. "Feels like a dream," she wrote, sharing another series of photos featuring her on and off-screen beau. Outer Banks fans can't wait for the release of season 2 and the continued romance between the show's stars.