'Outer Banks': Will Sarah Cameron Go Full Pogue in Season 3?
'Outer Banks' Season 2 saw Sarah's divide between the Pogues and the Kooks. What does this mean for season 3?
Is Sarah Cameron officially "Pogue 4 Life"? Outer Banks viewers saw the former Kook Princess, played by Madelyn Cline, join the Pogue side as she began her romance with John B. (Chase Stokes) in season 1. However, in season 2, Sarah experienced an inner debate as she felt the pull of her family's roots in Kildare County.
What does Sarah's journey mean for season 3? Has she given up the Kook life for good? Here's a recap of her story and where Sarah could end up in the next Outer Banks installment.
[Spoiler alert: The following story contains spoilers for Outer Banks Season 2.]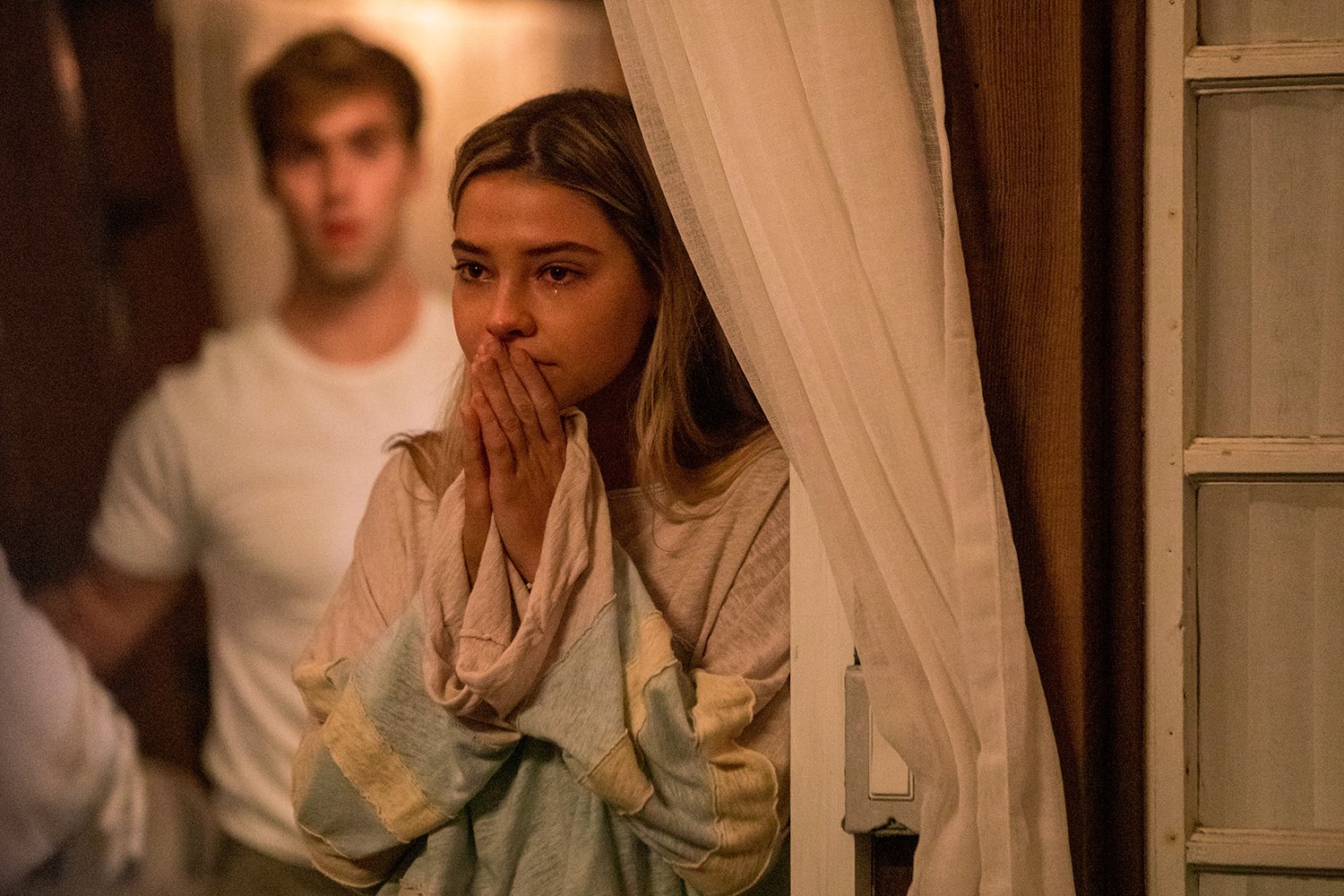 Sarah Cameron joins John B. and the Pogues in 'Outer Banks' Season 1
For a while, Sarah seemed to be an enemy to the Pogues until she rescued John B. from an arrest in season 1. John B. realized she could help him and his friends locate the Royal Merchant's gold, so he and Sarah embarked on a mission to the Archives at Unversity of North Carolina (UNC) Chapel Hill. After a night of flirtation during their adventure, John B. and Sarah admitted their feelings for each other.
From there, Sarah joined the Pogues on their hunt for the $400 million treasure. The situation became complicated for the teen when John B. accused her father, Ward Cameron (Charles Esten), of murdering his father, Big John Routledge (Charles Halford). She didn't believe John B. at first but later knew Ward was a dangerous man when he covered up Sheriff Peterkin's (Adina Porter) murder.
At the end of Outer Banks Season 1, viewers saw Sarah and John B. escape as fugitives into a heavy storm. They were presumed dead, but the couple made it onto a ship heading to the Bahamas, where they could search for the gold once again.
Sarah briefly slips back into Kook life in season 2
In season 2, Sarah found herself in the middle of the Kooks and the Pogues once she and John B. returned to Kildare County. She reached a breaking point in her personal battle after Ward's alleged death when she felt John B. abandoned her.
After ending her relationship with John B., Sarah slipped back into her old life by spending time with Topper (Austin North), her ex. However, she still felt the pull of the Pogues; she helped them in their mission to find the Cross of Santo Domingo.
When Ward and Rose Cameron (Caroline Arapoglou) kidnapped Sarah, she experienced another debate over escaping her parents or accepting her fate as a Kook.
As Cline told Entertainment Weekly, Sarah debated whether to seek security in her life or follow the morally right path.
"It's the battle between security and the safety net and knowing that if she does choose her family, she's going to be taken care of, but morally that just doesn't sit right with her," Cline explained. "We see her really battle with that decision."
Of course, Sarah reached her final choice in the end, as she told John B.: "Full Pogue."
What's in store for Sarah in 'Outer Banks' Season 3?
What exactly does "full Pogue" mean for Sarah in Outer Banks Season 3? Nothing is set in stone yet. Netflix has yet to announce season 3, but the cast and crew seem to feel confident the show will return.
Cline told Entertainment Tonight that she hopes Sarah will settle in with the Pogues yet still "find independence" in season 3.
"Every single time she goes back [to her old life], it's a s— show. I feel like, at this point for her, it's a no-brainer that home is the people around her, and that's the Pogues," she explained. "I'd really love to see her gain independence, complete independence in herself, and find home elsewhere."
Outer Banks Season 2 is now available on Netflix.