'Outer Banks': Fans Have Some Questions About the Season 1 Plot
Fans can't seem to get enough of the Netflix series Outer Banks. From the rivalry between the Kooks and Pogues to the mystery surrounding the Royal Merchant gold and the general appearance of John B (Chase Stokes), it's one of the most binge-worthy Netflix series right now.  
Regardless of its watchability, some fans took issue with a few of the show's plot points. These are some of the questions fans have after watching season 1 of Outer Banks. 
[Spoiler alert: If you didn't watch season 1 of Outer Banks, spoilers ahead.]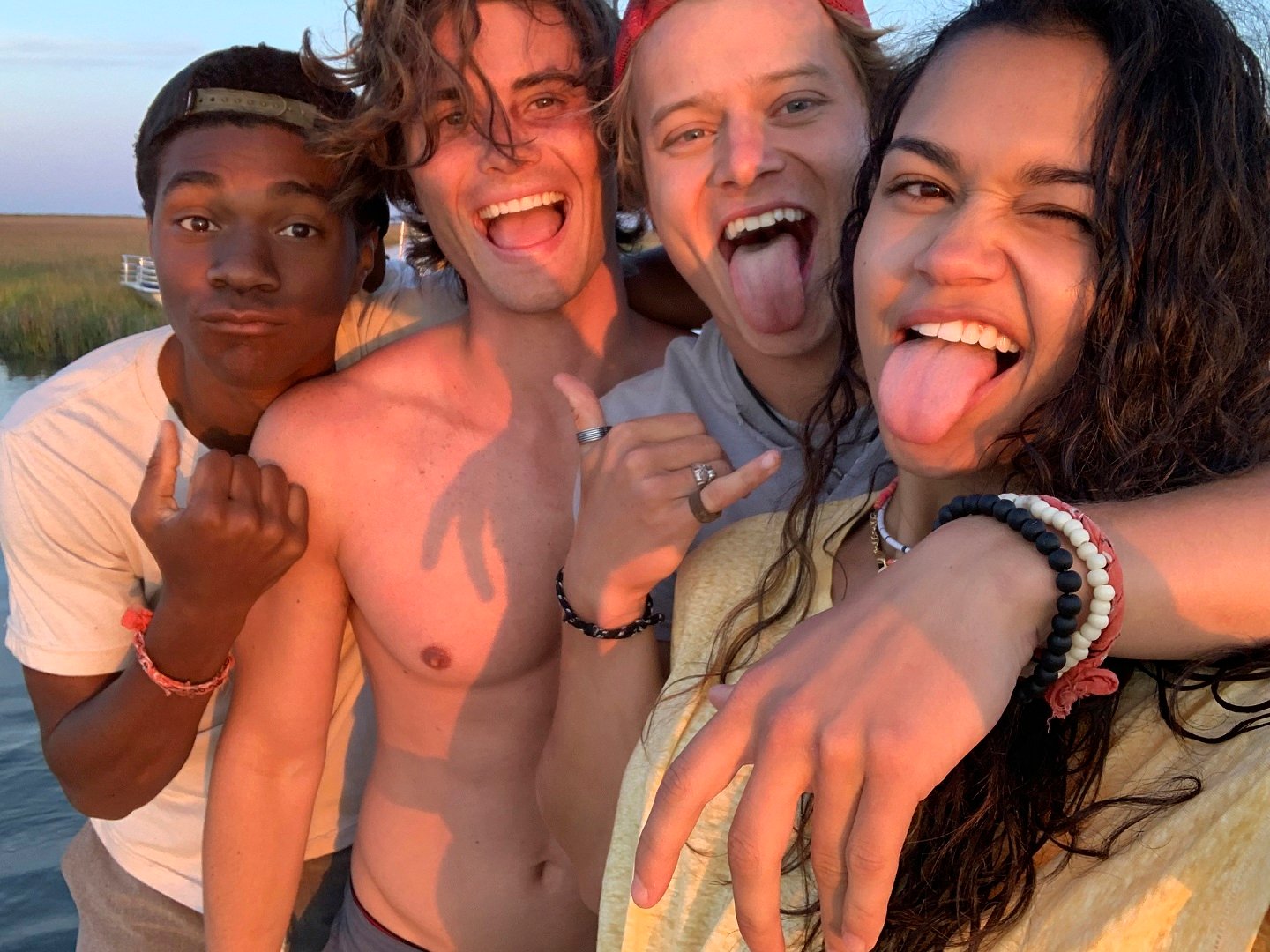 You can't take a ferry to Chapel Hill
Outer Banks natives found it humorous when John B and Sarah Cameron took a ferry boat to the landlocked Chapel Hill. Outer Banks producer Jonas Pate, a Raeford, North Carolina native, blamed the slip on an editing oversight. 
"In the original script, they took a ferry from an island to the coast, then took an Uber to Chapel Hill," Pate explained to McClatchy News (per The News and Observer). "But that scene of them getting into the Uber and driving to Chapel Hill was cut, and never even shot. We cut it not realizing it would imply Chapel Hill was on the coast."
How did Scooter's wife find out about John B's dad?
As season 1 concludes, we learn that Big John Routledge (Charles Halford) was left for dead by Sarah Cameron's father, Ward (Charles Esten). Scooter Grubbs (David Ury), Ward's former business partner, uncovered the truth about John B's dad, but is killed during Hurricane Agatha.
How then, was Scooter's wife able to tell John B about his dad's death? If Scooter never made it back from the island where he found Big John's body and the compass he had carved "Redfield" into, how could Scooter's wife have relayed the information to John B? Moreover, how did the compass make it's way into John B's hands? Fans want to know!
John B's questionable decision-making skills
John B takes a lot of nautical risks for someone who's dad went missing at sea. First, he and his gang of Pogues venture out with an underwater drone to look through the Royal Merchant while a tropical depression is brewing. 
Later, during the final episode of season 1, John B and Sarah Cameron take what might be the most impractical boat out to sea in the middle of a violent storm. For someone who grew up in a coastal Carolina town, fans are curious as to why John B was so willing to make these dangerous choices.
How is John B surviving on his own?
Outer Banks follows a teenager named John B who is determined to find the gold his father went after. When we first meet John B, he explained how his dad had been missing for nine months. With John Senior gone, John B was supposed to be under the care of his uncle, but he's not in the picture either.
Fans had a lot of questions as to how John B was able to live in his dad's house for so long without presumably paying the mortgage. Plus, what about the bills? After being fired from his job working for the Cameron family, it's not likely John B would have been able to make ends meet.
What is the 'Outer Banks' title font?
Some fans have taken issue with the font used in the intro of each episode. "Anyone else think that Outer Banks seems like it [could have] been made like 15 years ago? Idk maybe it's the title font or the yellow camera tint?" one fan wrote on Twitter. 
"When Outer Banks comes on the screen in a font that looks like WordArt from Microsoft Office circa '99, you know you're in for a ride," another fan tweeted.
Regardless of what decade the font came out of, the storyline for Outer Banks Season 1 is definitely a modern day teen drama.
Up Next: 'Outer Banks': Why They Didn't Show That Intimate Scene Between Sarah Cameron and John B