'Outer Banks' Season 2: Questions We Have After Watching the New Trailer
In the words of John B.: "Back in the G game, baby." Just over a week ahead of the Outer Banks Season 2 premiere, Netflix released a thrilling new trailer. The action-packed video did manage to answer a few burning questions from Outer Banks Season 1, including whether or not fans would see a Pogue reunion. However, those two minutes also piqued many fans' curiosity about the new installment even more.
Outer Banks Season 2 arrives on July 30, 2021. In the meantime, here are a few things some fans were left wondering after the trailer.
[Spoiler alert: The following story contains spoilers from Outer Banks Season 1.]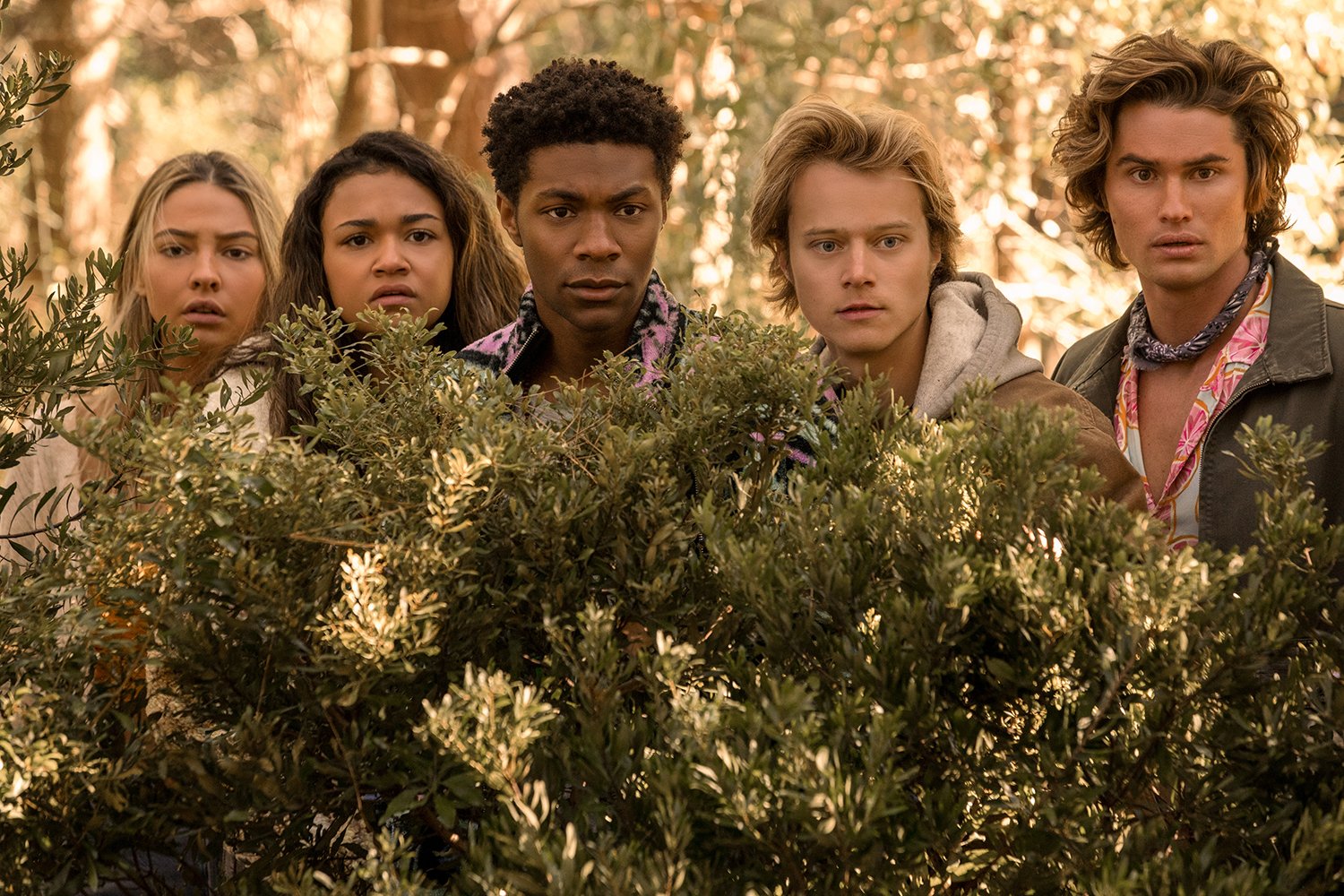 Who is Limbrey and what does she want?
In 2020, Deadline announced that Elizabeth Mitchell would join the season 2 cast as a character named Limbrey. For now, all fans know about Limbrey is that she's "a long-time Charleston native…with a level of toxicity and menace underneath her seemingly courteous ways."
The season 2 trailer shows Limbrey for the first time, and she does look…menacing. The quick scene depicts Pope (played by Jonathan Daviss) surrounded by Limbrey and two unnamed men.
"John B. is not the only one that Ward double-crossed. I think you know what I want," Limbrey says as she hands off what looks to be an old document, perhaps a map.
What might Limbrey be referring to? Given the antique nature of the documents, it may involve the gold from the Royal Merchant.
Season 1 saw Pope, John B. (Chase Stokes), Kiara (Madison Bailey), Sarah (Madelyn Cline), and J.J. (Rudy Pankow) begin their search for the $400 million of gold when they found evidence of the treasure on a sunken boat. When Sarah's father Ward (Charles Esten) found out, he raced to find the gold first and cover up his involvement in the murder of John B.'s father.
In the trailer, fans see Ward opening a safe containing the gold, so we know that it's currently in his possession. However, given the action in the Outer Banks Season 2 trailer, it seems things won't stay that way for long. Will Limbrey join the race to take the gold for herself?
What will happen to J.J. in 'Outer Banks' Season 2?
The season 2 trailer has already assured fans that the Pogues will reunite. As we know from a previous teaser, Kiara, Pope, and J.J. will host a memorial at the beginning of the season for John B. and Sarah, as they believe their friends died in the ocean. Thankfully, it looks like they'll learn the truth soon enough.
Of course, the trailer also shows the Pogues running for their lives. What else is new? In a brief snippet at the end, a frantic Kiara holds J.J. in her arms as his head bleeds. What will happen to the beloved character?
Many fans grew attached to J.J. during season 1 when Outer Banks showed his difficult life at home. His mother is gone, and his father is an alcoholic with an abusive nature. J.J., usually wanting to come across as a tough guy, let his emotions out in a few touching scenes.
Some of J.J.'s fans have already expressed concern over what looks to be his demise in season 2.
"Why does J.J. look dead in the #OBX2 trailer?" one fan wrote on Twitter with a crying emoji.
"ISTG IF ANYTHING BAD HAPPENS TO JJ, I'LL THROW HANDS," another user added.
For now, viewers can only sit on the edge of their seats as they wait to see what happens to J.J.
What stupid thing is John B. about to do?
The Outer Banks Season 2 trailer shows Sarah asking John B. not to do anything stupid. Has she met him?
"Oh, Sarah Cameron, I do these stupid things all the time without realizing it," John B. responds.
What stupid thing will the teen do this time? Fans saw a few of his crazy stunts in season 1. He climbed down a dark well at an older woman's home as she slept a few floors above, drove a boat into a massive storm, and went up against a drug dealer with a gun. John B.'s track record isn't great.
There's bound to be a ton of action, suspense, and twists when Outer Banks Season 2 arrives. We can't wait to see what the Pogues get into next.
RELATED: 'Outer Banks' Fans Say Chase Stokes Playing John B. Is 'Beyond Ridiculous'