'Outlander' Author Diana Gabaldon Says Fans Need to Be 'Thankful' Not Nitpicky Over Jamie and Claire's Sex Scene
Author Diana Gabaldon has a message for Outlander fans disappointed by Jamie (Sam Heughan) and Claire's (Caitriona Balfe) highly anticipated sex scene in season 5. Many fans were unhappy with the show's adaptation of a popular lovemaking scene from the books, and Gabaldon broke down the differences in a recent interview. She also cautioned everyone to be "thankful" instead of nitpicking every time the series diverges from her books.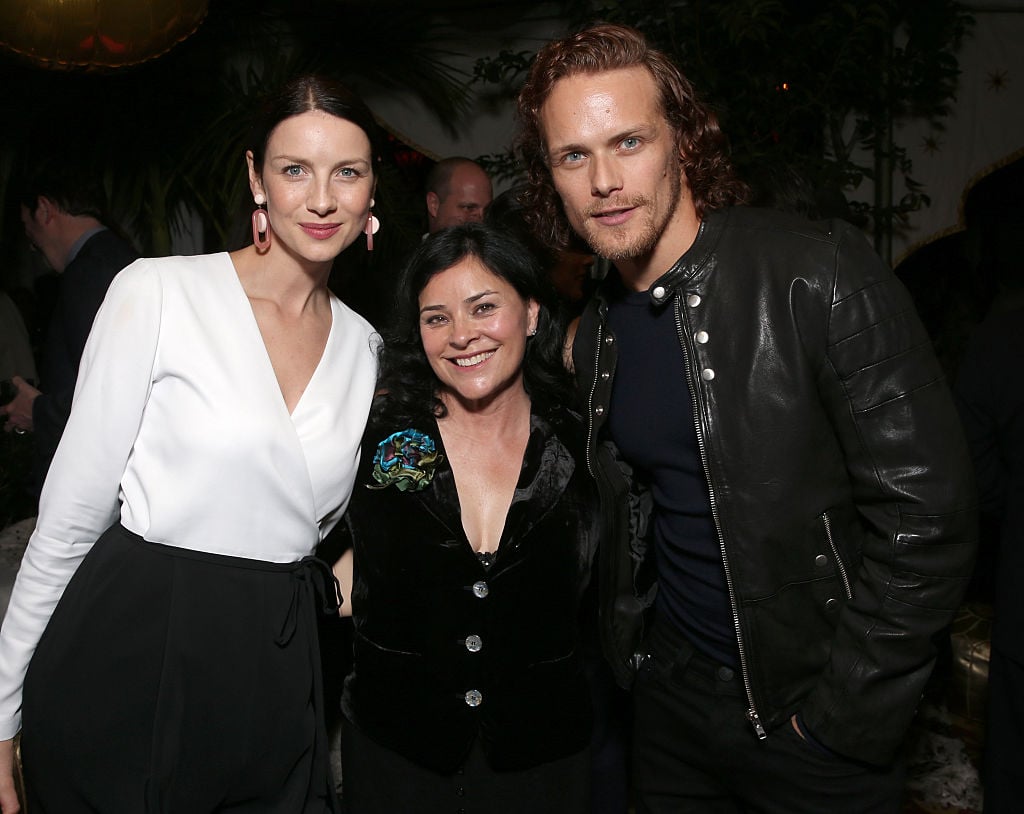 'Outlander' gets steamy in season 5
Season 5 of Outlander has not featured nearly enough intimate moments between Jamie and Claire to satisfy fans. But fans breathed a huge sigh of relief when they learned the series was going to include one of the best sex scenes from Gabaldon's book, The Fiery Cross.
The scene in question happened in a barn after Jamie went against Claire's wishes and made a bet with Phillip Wylie (Chris Donald). Earlier in the episode, Claire discovered that Wylie had connections to Stephen Bonnet (Ed Speleers) and wanted to use him to find the pirate.
But when Claire and Wylie met to discuss business matters in the latest episode of Outlander, he made a pass at her — just as Jamie was walking into the room. Instead of killing him for trying to get with his wife, Jamie made a wager with Wylie that put Claire's wedding rings up for grabs.
Claire was very unhappy about Jamie's decision to bet her rings and reluctantly handed them over. After learning that Jamie had won the bet (and received Wylie's prized horse in return), the two made up in a heated love session inside the stables.
"It's a nice situation, with the outré Philip Wylie sliming around Claire and yet providing the means by which Jamie can locate Stephen Bonnet, with an eye to killing him," Gabaldon shared. "And the argument over Claire's wedding rings is well done, with the awareness that what's at stake is not only Jamie's quest to kill Bonnet, nor the emotional value of the rings to Claire—but the trust between Jamie and Claire."
Gabaldon points out where the scene falls apart
Although Gabaldon had nice things to say about the acting in the scene, she was less than thrilled about how the series adapted the story from her book.
According to Parade, the Outlander author explained how the dialogue in the sex scene was "awkward and disconnected." She also believes that the entire setup was completely out of character for Jamie, who was not being very nice to Claire in the moments leading up to their lovemaking.
"Where it falls apart is in the first half of the stable scene," she stated. "The dialogue is bumpy, awkward and disconnected, but much worse, it's totally out of character."
Gabaldon added that Jamie "would never say jerk*ss stuff" to Claire, even if he was super drunk. She also criticized the show for ending their confrontation with a simple slap and a "long mutual stare," which somehow prompted them to make up and have sex.
For Gabaldon, one of the big issues with the Outlander scene was the decision to use some of her dialogue from the books. Because the series changed other elements leading up to the scene, it just didn't fit in with the changes.
Gabaldon says fans need to be "thankful"
Gabaldon clearly had issues with Jamie and Claire's sex scene, but she also had a word of caution for fans. Although she understands that readers were upset with the scene, she also encouraged them to be thankful that producers included it in the first place.
"Those are the scenes that book readers particularly value, and spend months hoping will be included in the show. The book fans will be happy that it is included," she noted. "I'm afraid it's one of those situations where they're so provoked by the omissions and changes that they may forget to be thankful."
Following their make-up sex, Claire made Jamie promise to never let anyone take her rings again, especially Bonnet. Jamie wholeheartedly agreed and assured her that her rings will "never leave" her again.
Gabaldon praised the Outlander series for the conversation, which was taken almost verbatim from the book. It also allows for Jamie and Claire to return to their usual selves and be able to trust each other once again.
What's ahead for 'Outlander'?
Looking ahead, fans are officially worried that Jamie and Roger MacKenzie (Richard Rankin) could be facing serious trouble in this week's episode of Outlander.
A trailer for the upcoming installment shows the Regulators and the British Crown finally duking it out on the battlefield, pitting Jamie against his godfather and long-time ally Murtagh (Duncan Lacroix).
The episode title, meanwhile, has fans speculating that Roger might be killed off. The installment is called "The Ballad of Roger Mac," which could indicate that Roger is about to meet his end.
There is no telling what will happen to Roger and Jamie in the coming episode, but they are definitely taking center stage as Outlander gets closer to the season finale.
New episodes of Outlander air Sunday nights on Starz.