'Outlander': Caitriona Balfe and Sam Heughan Share New Details About Season 5 in Video
The stars of 'Outlander,' Claire (Caitriona Balfe) and Jamie (Sam Heughan) Fraser, recently helped announce the premiere date of the upcoming season.
The stars of Outlander, Claire (Caitriona Balfe) and Jamie (Sam Heughan) Fraser, recently helped announce the premiere date of the upcoming season. They posted a video on the official Facebook account that included a quick Q&A, where fans could write in a question and the pair would do their best to answer it without giving too much away.
The video was shot on set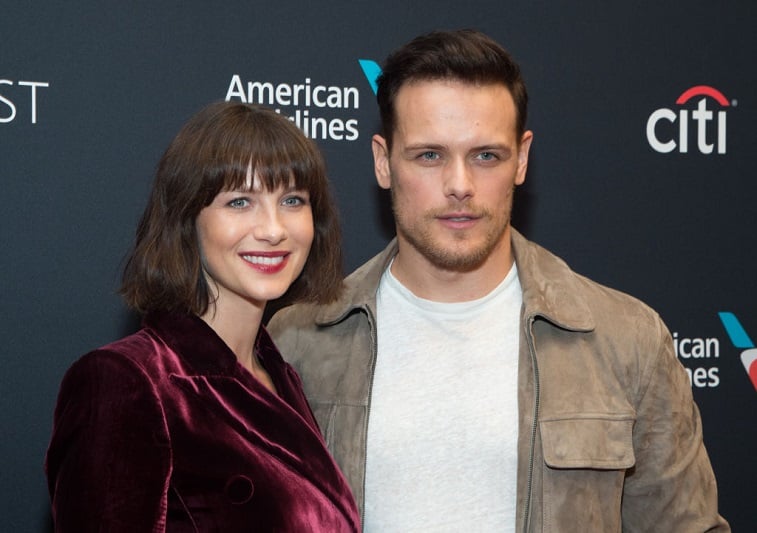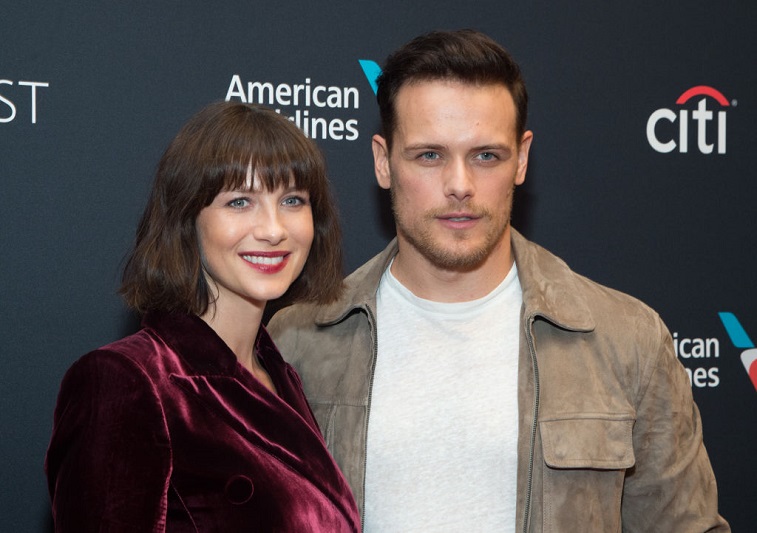 The on-screen couple revealed that they had just finished shooting on set, which Heughan described as "a beautiful kitchen."
"What did you spend most of that last scene doing, Sam?" Balfe inquired on camera. "Um, It was a very dramatic scene and I, I ate a lot of cheese," Heughan replied. He went on to add that, "I always smell like cheese," said Heughan joking back with Balfe.
Someone comes back in season 5
When asked what their favorite scene to film this season was, Heughan had a pretty exciting answer. "Well, my favorite scene, uh, to film this season, um, I can't, I can't tell you because It's such a spoiler, but, someone comes back. Shall I give you that? Someone comes back," said Heughan. This surprise could mean the return of a number of characters from the past, which could make the new season very interesting.
Adso the cat loves to lay by the fireplace
They also revealed that their new on-set companion, Adso the cat, enjoys laying down by the fireplace. A fan asked how he was through a comment, to which Balfe replied, "Quite temperamental actually. Um, forgot to, uh, file its nails before it came onto set. So um, it's gone through a few of our costumes."
"We found that Adso doesn't want to be in a scene, Adso just wants to lie by the fire. Which, is kind of pretty much what we want to do," said Heughan. "Ya, it's kind of, he's my spirit animal, I think," said Balfe.
What's their favorite season?
They were asked what their favorite season was, and Balfe said, "I mean, it's hard to beat season 1, just because that was like the beginning and we were young and really innocent, and um, fresh."
The cast also revealed the season 5 premiere will be back two days after Valentine's Day on February 16. They also promised they would do another Q&A for the new season very soon. Fans are ecstatic at the prospect of a new season and all the unanswered questions still hanging over their heads.
Could Young Ian return to Fraser's Ridge?
Heughan mentioned in the video that someone will be coming back, and this could mean that Young Ian (John Bell), could be returning from his time with the Mohawk tribe. Bell has already revealed to Elle.com that he will be returning for season 5. Young Ian stayed behind to save Roger (Richard Rankin) so that he was then able to return to Brianna (Sophie Skelton).
"I know, yes, I'm coming back, but in what context and all that is yet to be announced and decided. I can't really talk about anything else apart from the fact that I am preparing for season 5," Bell said.
Fans will soon find out what surprises lay ahead in the new season. With only a few more months to go in Droughtlander, things are looking up for fans eagerly awaiting season 5 and there isn't much longer to wait.