'Outlander' Fans Heartbroken by David Berry's Comment About Lord John Grey
In season 5 of Outlander, fans said goodbye to Murtagh Fitzgibbons (Duncan Lacroix), a character who had been integral to the show from the very beginning. Now, after seeing an Instagram post from David Berry, fans are heartbroken and confused, wondering if his beloved character, Lord John Grey is leaving the series too.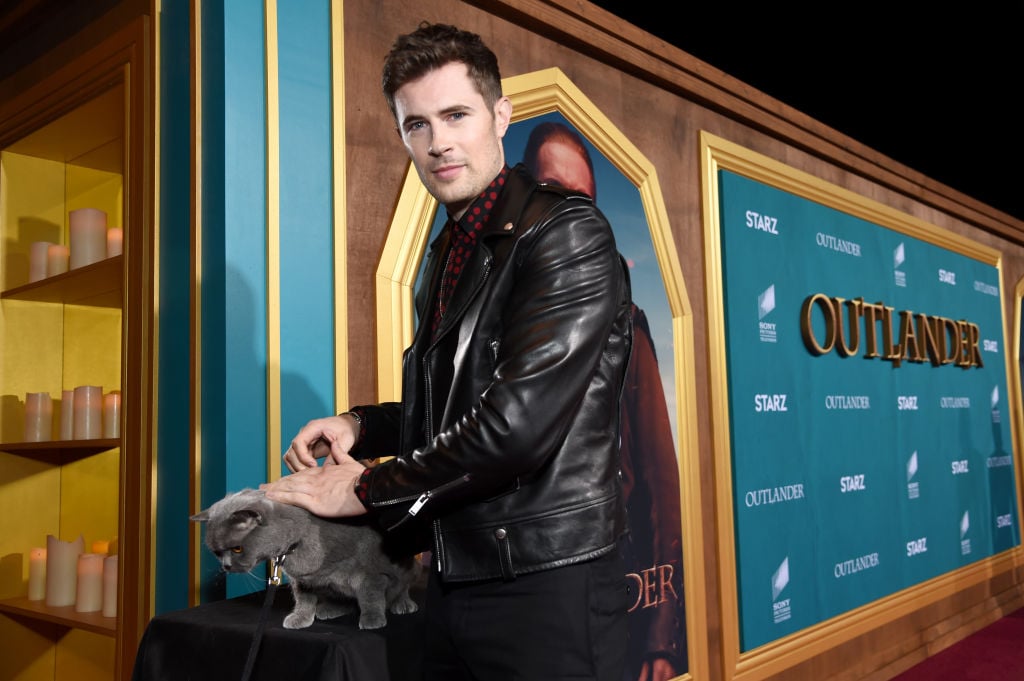 'Outlander' star David Berry posts a picture of Lord John Grey with a cryptic message
In a recent Instagram post, Berry shared a picture from the series of himself as Lord John Grey. It shows a scene from the May 3 episode in which Lord John is talking to Jamie Fraser (Sam Heughan) about his son Willie. The picture itself was sweet, but Berry's cryptic caption caught fans' attention.
"Don't like goodbyes, tears or sighs," he wrote in the caption. When a fan commented and asked if it meant he's leaving the series, Berry replied, "final ep on show. But 'life is long. Perhaps someday.'"
Is David Berry leaving 'Outlander'
After reading his post and response, many are wondering if Berry is leaving Outlander for good. Neither the network or showrunners have confirmed his departure, so his message was slightly confusing for fans. 
However, in a recent interview with news.com.au, the actor did talk in length about his future on the series and mentioned the possibility of a potential spinoff. But he wasn't able to confirm whether or not he'd return for Season 6. 
"There's so much uncertainty in the world with John's involvement in the series, whether he goes ahead with Outlander is still undetermined," said Berry. "There was a point where I was in negotiations for talks about a potential spinoff but that's sort of out of my hands, and at this point, it's all in the realm of hypotheticals. I think it's just circling back to what I said before, that John's future in the Outlander series is undetermined."
Starz hasn't confirmed that a Lord John Grey series is in the works. But when talking to Entertainment Weekly, the network's CEO, Jeffrey Hirsch revealed that they were considering it.
"We continue to talk on a regular basis about developing the storyline around Outlander," Hirsch revealed. "It's something that we are aware of. We want to continue to serve that audience with what we think are the best stories."
Fans aren't ready to say goodbye to Lord John Grey
Lord John has been a compassionate and loyal friend to Jamie and his family, and he's always there for them in their times of need. So after reading Berry's post, fans are both upset and confused by the news of his character's potential departure from the show.
"This is very confusing to me," one fan wrote on Reddit.  "Besides the fact that LJG plays a big role in the later books, if this really was his last appearance on the show, why didn't the rest of the cast make farewell posts on social media? — It seems fishy that if this really was his last appearance, that the rest of the cast has been silent. Generally, when an actor leaves a show, there isn't this much confusion about whether or not they are really leaving."
"Why would he be leaving the show?" another Redditor questioned. "Isn't this out of the blue, especially with all the talk of a Lord John spinoff (and I assume still being an important character of some sort in future seasons)?"
While many were perplexed by Berry's comments, some fans hoped it meant they'd get an Outlander spinoff that would be based on Diana Gabaldon's Lord John novels.
"I think he's getting his own series on Starz but still he is a major part of the books going forward. Especially 7&8," one Reddit fan suggested.
"That's my hope," another Redditor added, "the LJG series is happening."