'Outlander': Jamie And Claire's Most Romantic Moments
There is no doubt that Outlander's Jamie (Sam Heughan) and Claire Fraser (Caitriona Balfe) have enjoyed many romantic moments together. Over the past four seasons, everyone's favorite time-traveling couple has experienced a lot of challenges, both good and bad. From the night of their wedding to the time Jamie bid Claire farewell, here is a look at the couple's most romantic moments over the years.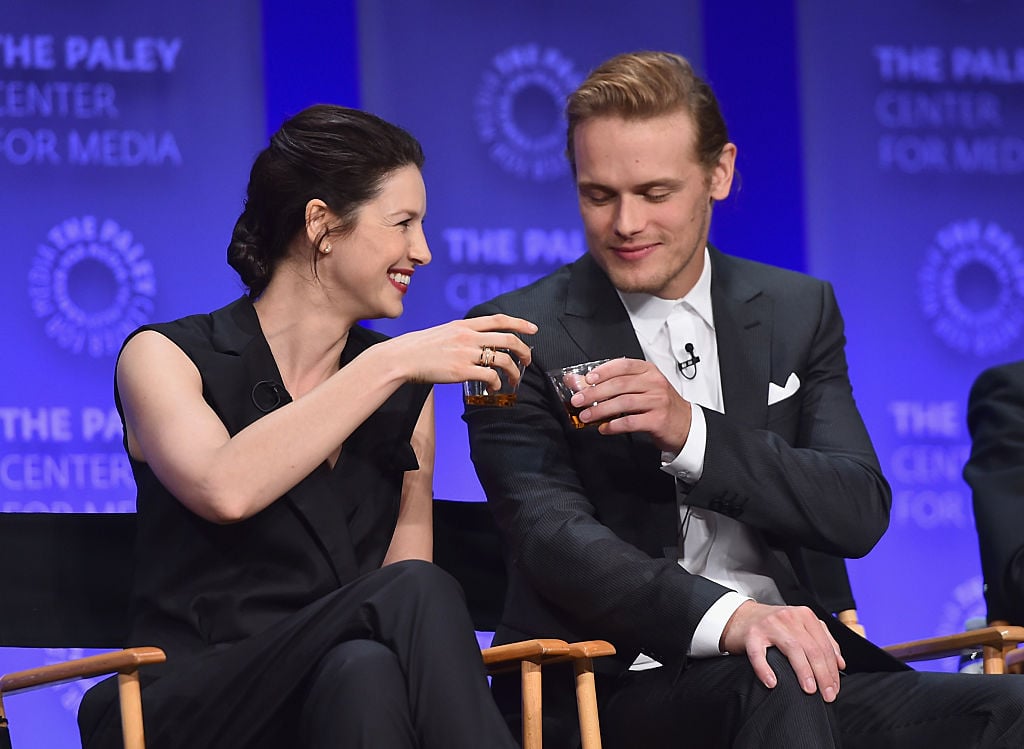 The wedding (night)
There were a lot of scenes from Jamie and Claire's wedding that are swoon-worthy, but their wedding night really takes the cake. Part of what made this scene great was the buildup. The show had been building towards this moment for half the season and it proved to live up to the hype.
Although there was plenty of passion between the pair, the episode did a great job showing their nervousness as well. Even more touching was how Jamie wanted to make sure Claire was comfortable and enjoying things too.
The reunion
According to Fansided, Claire left Jamie on the eve of the Battle of Culloden to return to her own time. Season 3 of Outlander began with the couple living separate lives, but fans knew it was only a matter of time before their epic print shop reunion.
Once Claire discovered that Jamie had survived the battle and traveled back in time to find him, the couple rekindled things over a romantic dinner. After their meal, they went to Jamie's room and things got hot and heavy real fast. Although it was great watching them get intimate after all that time apart, it was also good seeing them reconnect on an emotional level.
The ring
In the Season 4 opener of Outlander, Claire discovers a thief stole her original wedding ring from Jamie. A few episodes later, Jamie finally found how he could get Claire a new ring and tasked Murtagh with the job. He then presented the new ring while Claire was taking a bath and the intimate scene is not one to forget.
To make the moment even more special, Jamie crafted the new ring from a silver candlestick that belonged to Ellen, further cementing their ties to his past.
The wedding
Before they consummated their union, Jamie and Claire pronounced their vows and undying love for each other. The wedding was easily one of the most romantic moments for the couple, especially when Jamie presented himself and gently took Claire's hand.
At that moment, Jamie swore to always take care of her, especially since she was completely out of her time and out of her element. Jamie was able to fulfill his promise over the next three seasons and is not about to stop now.
The horse incident
Jamie and Claire's first few days together brought plenty of moments of comic relief and sexual tension. But few top the time when Jamie threw Claire off his horse in order to protect her from an oncoming skirmish. Although Jamie was trying to take care of Claire, abruptly tossing her from his horse did not go over well.
After all, Claire was still adjusting to being dropped in a new time period and was not a practiced horse rider. Fortunately, the pair learned from their early mistakes and eventually made things work.
Claire patches Jamie
It took a while for Claire to adjust to her new surroundings after she jumped back in time several hundred years. Luckily, she ran into Jamie early on and immediately proved her value. After sustaining an injury in a fight, Claire patched up Jamie's shoulder wound by candlelight.
Jamie, of course, did not flinch as Claire did her work, and it was evident they had a promising future together.
Jamie says goodbye
After two seasons of an epic romance on Outlander, the looming Battle of Culloden threatened Jamie and Claire's relationship. Fearing they would all perish in the fight, Jamie convinced Claire that she should travel back through the stones and return to the safety of her own time. Their farewell was an emotional one and would lead to 20 years of separation.
Season 5 of Outlander is currently in production.