'Outlander': Sam Heughan Added Something to Season 5 that Wasn't In the Book
'Outlander' readers may have noticed something in the season 5 trailer that's not in the Diana Gabaldon books. Sam Heughan explains why he pushed for it.
As a TV series, Outlander has taken artistic liberties with Diana Gabaldon's books. Sometimes it borrows from a future book earlier in the story and sometimes it saves something for later, but it's all faithful to the tale of Jamie (Sam Heughan) and Claire (Caitriona Balfe).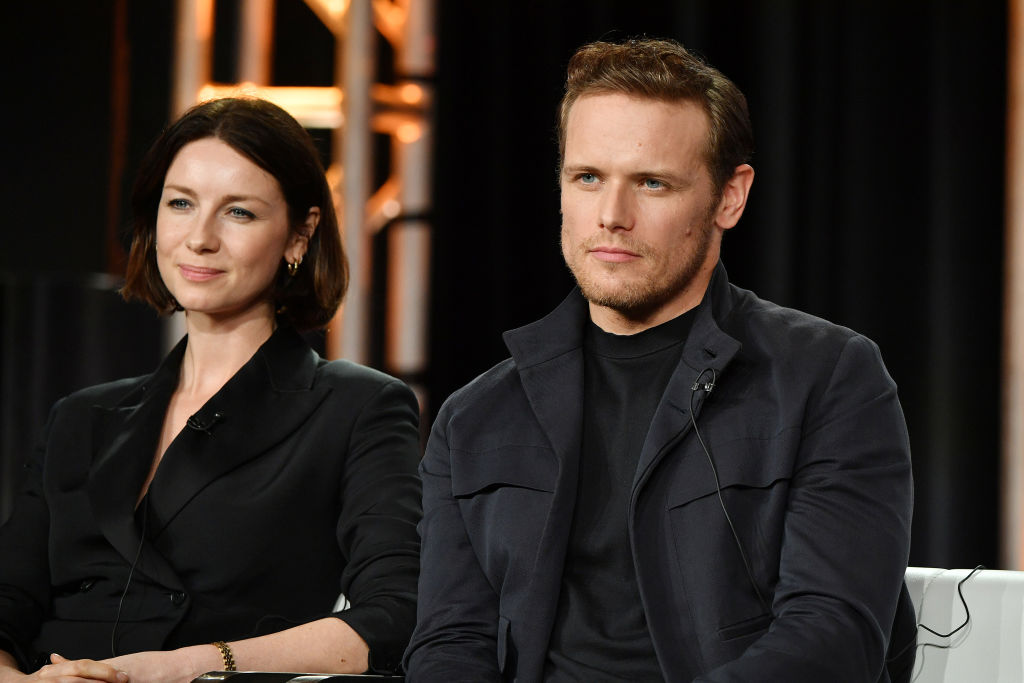 Heughan revealed one upcoming storyline on the show's fifth season that did not come from the book when he spoke with the Television Critics Association on Jan. 14. Outlander returns Feb. 16 on Starz.
Sam Heughan gets to tell a new story in 'Outlander' Season 5
Jamie and Claire have settled into Fraser's Ridge, but the American Revolution is at hand. The Outlander Season 4 cliffhanger showed British soldiers forcing Jamie to hunt for Murtagh. Now, season 5 trailers show Jamie wearing the British redcoat, and Sam Heughan acknowledges that's new.
"So for him to have to wear a red coat, it's a storyline that is not so much in the book, but the writers did a great job in sort of really digging into that storyline," Heughan said. "We see Jamie have to sort of go against everything he stands for, for the greater good, for the good of the people he's trying to protect. Yeah, so to see Jamie Fraser in a red coat for me was kind of full circle and kind of terrifying at the same time."
'Outlander' can do this on TV differently than the books
In an Outlander book, Diana Gabaldon could say, "Jamie puts on a red coat." But that might not have the same impact as actually seeing Sam Heughan, the Jamie you've known for four seasons, wear the uniform of his enemy.
"I thought it was a strong visual but actually for something that Jamie would go against everything that he's fought for and what he stands for," Heughan said. "His relationship to the British and to what the uniform represents has been pretty bad, at best, from the beginning of the season to his father's death to Black Jack Randall, the redcoats really suppressed the Scots."
Sam Heughan influenced the redcoat story
Sam Heughan tweeted that he pushed for Jamie to wear the redcoat, although he was surprised Outlander spoiled such a moment by including it in the show's trailer. He explained exactly how it came about with executive producer Matthew B. Roberts.
"[I] definitely had a very good conversation with Matt initially about it. It was felt that it might not be appropriate, especially actually at that time they probably didn't wear red coats, the regulators. But it felt that as Jamie is a general — I'm trying to not give away spoilers here but yeah, he's commanded to wear a red coat — It's more of a power play by Governor Tryon than anything. Tryon is constantly testing Jamie Fraser to see if he will do and bow to his bidding and this is just one of his power plays."

Sam Hueghan, Outlander Television Critics Association panel, 1/14/2020
This redcoat business keeps Jamie from Claire for a while
Sam Heughan said Jamie and Claire have separate stories for a bit of Outlander's fifth season. Don't worry, Balfe assured viewers there was plenty of romance for them too.
"They both have quite different sort of lives apart from each other. Claire has her surgery and the dealings going on there, and Jamie has this sort of political side. He's working with the British. But they do, they touch base, and they always need and yearn for each other, and they sort of reconnect. It's those moments we see that are quite domestic. It's their home life and it's actually really touching. And those are the really fun scenes to play, to sort of see them need each other and reconnect."

Sam Heughan, Outlander TCA panel 1/14/2020