'Outlander': Sam Heughan Says Season 5 Gives Jamie 'The Toughest Thing He's Had to Face'
'Outlander' star Sam Heughan discusses the fifth season with the Television Critics Association and reveals Jamie Fraser's biggest challenge coming up.
Season 5 of Starz's historical drama Outlander sees the British army enlist Jamie (Sam Heughan), and that's not even the toughest thing he has to face this season. By this point in the story, Jamie and Claire (Caitriona Balfe) have left Scotland for the American colony and Brianna (Sophie Skelton) has joined them. Nothing is ever easy on Outlander though.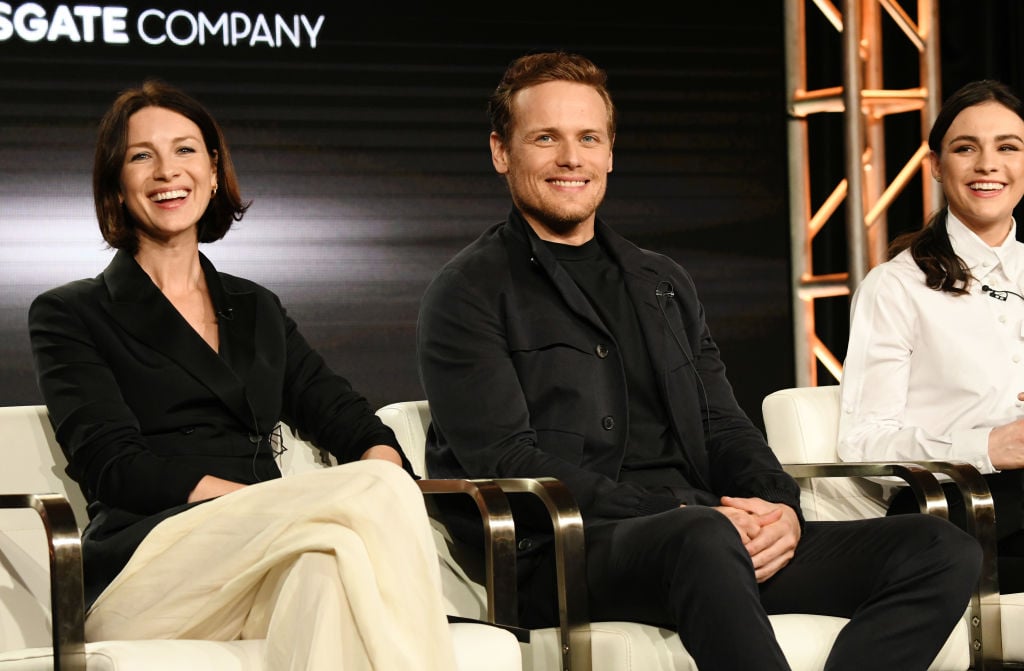 Heughan was on an Outlander season 5 panel for the Television Critics Association. After the panel he spoke with reporters further about what's coming up for Jamie. Outlander returns Sunday, February 16 on Starz.
Scottish dancing was not Sam Heughan's toughest challenge on 'Outlander'
Sam Heughan described an intense dance he had to learn for season 5 of Outlander. It's way more intense than Step Up.
"The Highland Fling, the sword dancing, that was something I've never done before," Heughan said. "We have a girl, she used to work on our show. She's a Highland dancer. It's really hard. It's very difficult but really interesting story about it."
The dance moves are actually symbolic of rising up against British oppression so it's very relevant to Outlander's current story.
"It's the Highland Fling and actually the whole movement of the legs, like kicking out is like actually kicking off the shackles of the British," Heughan said. "The hand, the way you hold your hands is to do with the stag's antlers. There's a whole storytelling to it. It's basically what you do before you go into battle to show your prowess as a strong leader."
Being the leader of a settlement isn't easy either
Jamie ends up being the laird of the American settlement, not a job he intended to do, and also not the toughest on Outlander this season according to Sam Heughan.
"He never wanted to be the laird but sort of has all the natural abilities for that and actually in a way is the laird of Fraser's Ridge," Heughan said. "You see this season the whole settlement has grown, established itself and people rely on him and that has its own pressures. It's not just a family Jamie's trying to defend but it's also everyone else that relies on him. He's tense. He really has become the laird of Fraser's Ridge."
When things get tough, Claire is always there for Jamie and vice versa
Fortunately, Claire and Jamie's relationship is not the toughest thing he has to face on Outlander. When it does get tough, Sam Heughan says they're there for each other.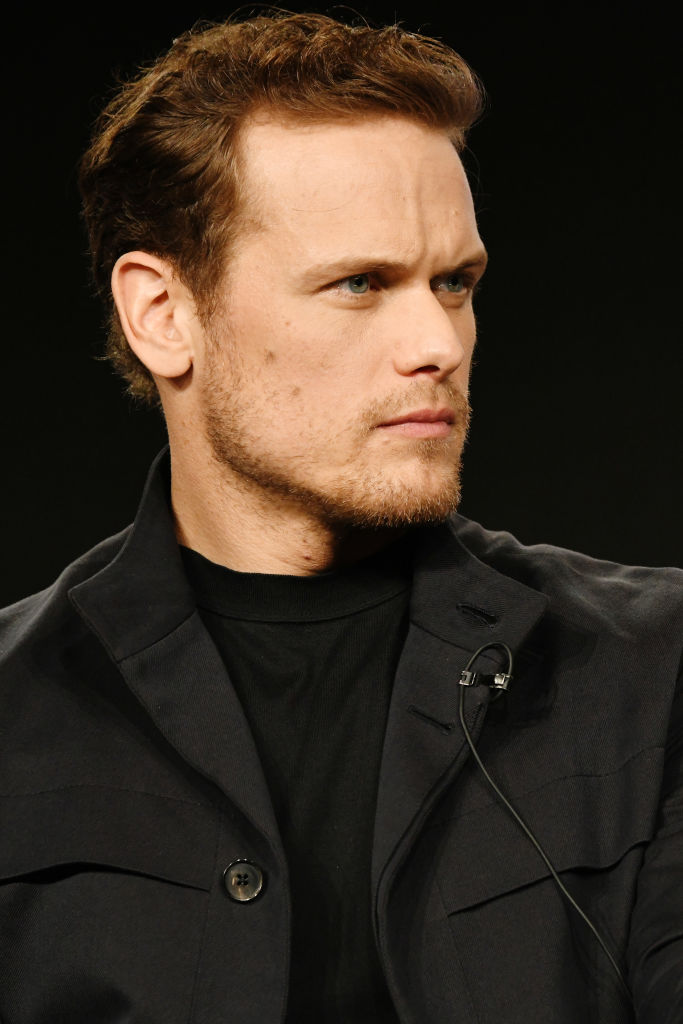 "Their relationship is just strengthened and deepened," Heughan said. "They are still great and in love with each other and still romantic with each other which is beautiful but they're also expanding their sort of careers so to speak. She's a surgeon, has a surgery and he's a general. They're off doing their own things but they always have to go back to each other and reconnect with each other. They need each other to function."
Being a father is not the toughest part of 'Outlander' either
Jamie is a proud father, and like most fathers, no one is good enough for his daughter. Outlander is no exception. Sam Heughan says Roger (Richard Rankin) has his work cut out for him. 
"Roger has a lot to live up to in Jamie's eyes," Heughan said. "Will he ever be good enough for his daughter? Probably not but that's another great storyline this season. You get to see Jamie and Roger really begin to bond but it takes a lot of work. Jamie holds a very high standard for anyone that's going to deign to marry his daughter."
Sam Heughan says this is the toughest spot in which Jamie has been
As season 4 of Outlander ended, the British ordered Jamie to help them find and kill Murtagh (Duncan Lacroix). Facing that will be Jamie's ultimate test.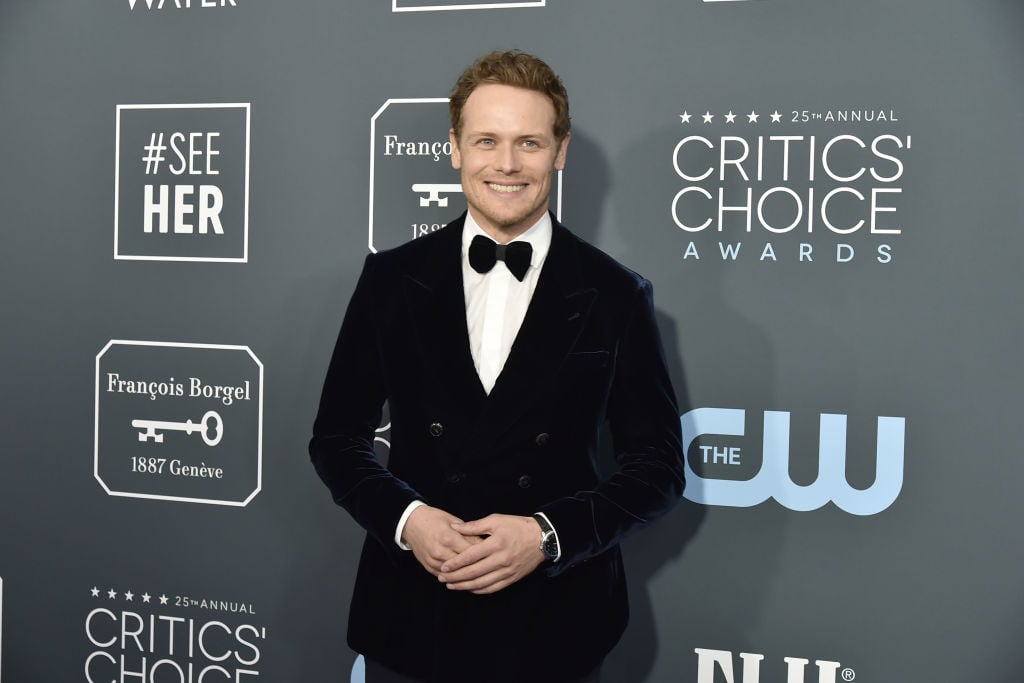 "I sort of alluded to it and I can't tell you too much but the Murtagh storyline is very much the toughest thing he's had to face this season, maybe in a lot of seasons," Heughan said. "He's one of his last remaining members of his family. He's his father figure so for him to be pitched against him and possibly have to fight him is not something he'd ever hope for."