'Outlander' Season 5, Episode 8 Preview: 'Famous Last Words'
Episode 7 of 'Outlander' left fans completely and utterly shocked by what went down. We lost some main characters.
Episode 7 of Outlander left fans completely and utterly shocked by what went down. We lost some main characters and people are hoping episode 8 provides some much-needed answers. Read on to learn about what the new promo for episode 8 has in store. There are spoilers ahead.
'Famous Last Words'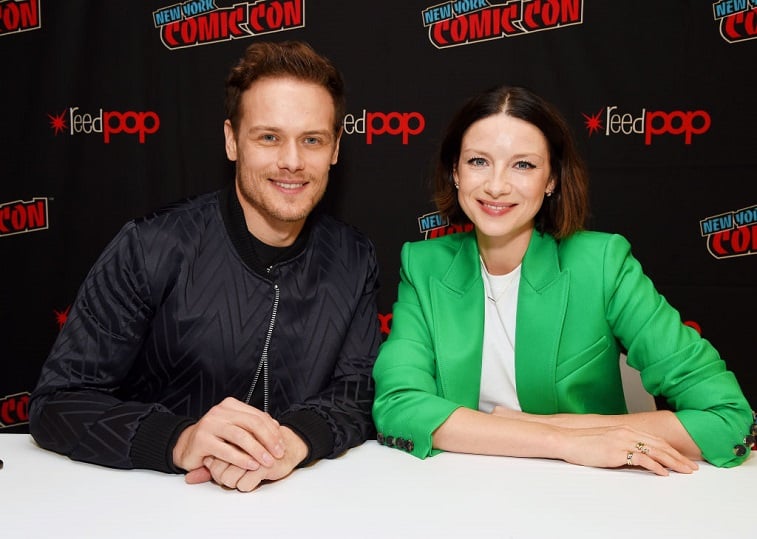 The promo trailer for episode 8 begins with Jocasta (Maria Doyle Kennedy) mourning the loss of Murtagh (Duncan Lacroix). She wears all black and looks over his grave.
"Murtagh and I were not husband and wife," Jocasta tells Jamie (Sam Heughan). "It doesn't make the pain any less," he replies.
They both will dearly miss Murtagh, who had just confessed his love for Jocasta in episode 6. How will things ever be the same for either one of them now? His loss is a hard pill to swallow for fans as well.
Brianna deals with the aftermath of her own loss
Episode 7 held another surprise loss when Roger (Richard Rankin) was found possibly dead by hanging. The man had a bag over his face, so it's unclear if it's actually Roger at this time, but the man was wearing his clothes and had the handkerchief in his pocket that Jamie gave him.
"Governor Tryon has granted you 5,000 acres in the backcountry," Jamie tells Brianna (Sophie Skelton).
"Why?" asks Bri.
"Perhaps he thinks he can buy your forgiveness," Claire (Caitriona Balfe) tells her daughter.
"I don't need land, I need my husband back," Brianna says.
Although the trailer doesn't make it clear that Roger is really gone, it does seem likely considering Brianna is being given land by the governor of North Carolina. It may be his way of apologizing for the accidental death of Roger when he was running an errand for Jamie concerning the regulators.
Someone is stealing from Claire
In the next scene, Claire discovers that someone is stealing from her. She questions Marsali (Lauren Lyle) about missing hemlock. "Marsali, have you prescribed anyone some water hemlock?" Claire asks Marsali.
"No, why?" she asks.
"It's just there's some missing. There's only one root left," Claire tells her apprentice. It seems someone is stealing from Claire, but for what purpose?
Jamie, Claire, and Jemmy face danger
In the last scene of the promo trailer, we see Jamie looking concerned telling his wife to take their grandchild away. "Take Jemmy and go to the cabin now," Jamie tells his wife. Suddenly, Claire looks horrified as she looks on at something involving her husband.
What could possibly be happening? It could be anything really from dangerous people in the woods to a wild animal. Hopefully Jamie will make it out unscathed and back to Claire and Jemmy safely.
Fans can't wait to find out what's in store in the next episode of Outlander. It looks like there will be a lot of grieving and coming to terms with the losses of people close to the main characters and nothing will ever be the same.