'Outlander' Season 5: Fans React to a New Trailer Ahead of the Season Premiere
Fans can't wait to say goodbye to Droughtlander and hello to brand-new episodes of their favorite series. Season 5 of Outlander will be here before you know it, and to help get viewers ready, there's a new teaser trailer to tide them over. Read on to learn more about it and what fans are saying.
A new teaser trailer for season 5 of 'Outlander'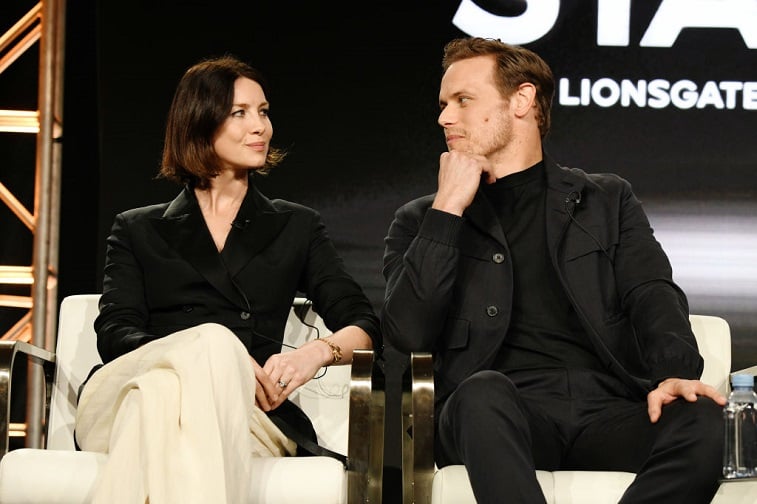 The official social media accounts for Outlander have been quick to share new content to keep fans enticed and wanting more. A new promo just dropped and fans can't stop reacting. The trailer is 30 seconds of pure bliss.
There's a lot of passionate moments between Claire (Caitriona Balfe) and Jamie Fraser (Sam Heughan), so fans will be happy to see more of that.
"I'm doing everything I can to make this a safer time but, it's not," Claire says in the trailer. "Promise me that life will never take another thing from us again," Claire says to Jamie.
There's also a sweet scene of Jamie dancing and Claire laughing joyously at it.
"Whether I'm dead, or whether we're together or apart I will always love you," Jamie tells Claire in another scene.
There are also glimpses of the British redcoats fighting in formation, so there's going to be some serious action as well.
Fans react to the new promo
Outlander fans are obviously excited after experiencing this new trailer for the upcoming season.
One fan loved seeing Clare's laughter. "Claire Fraser laughing is the best thing on this earth 🤧❤️ I'm so ready for S5👏🏽💯," a Twitter user said.
People are seriously excited about the new season, and even more after watching the new teaser trailer. "I'm all kinds of overwhelmed with my feelings after watching this 😍😭😳 #Outlander," another Twitter user wrote.
Viewers love Jamie and Claire Fraser
Many fans describe in their own words how much they love Jamie and Claire's dynamic. "These two! They're the ones that keep me coming back, season after season 💜💜💜," another user wrote.
"I'm ready for them to bring the heat 🔥🔥🔥 season 5 can't come soon enough," a Twitter user also said.
Fans are extremely excited that the premiere is only days away. "I am BEYOND excited for this season!!! ❤️😍🙌," someone wrote.
"I'm so excited! Can't wait for the 16th to get here," yet another Twitter user expressed.
One fan hopes the season will be very Jamie and Claire-focused. "I am noticing that lots of these trailers are focusing on Jamie and Claire. I hope this will be true of Season 5," a user said.
Some fans are already planning ahead for the night of the premiere. "I have already told my family, the living room and tv are mine next Sunday because #OUTLANDER is BACK & #DROUGHTLANDERISOVER," a Twitter user wrote.
Outlander will be back with season 5 on February 16, 2020. Fans can't wait to check back in with Jamie and Claire on Fraser's Ridge.