'Outlander' Season 5: Sophie Skelton Posts a Behind-The-Scenes Photo of an Upcoming Episode for Earth Day
Fans can't seem to get enough of the current season of Outlander. Things are heating up and there's no sign of them slowing down anytime soon. With episode 10 only days away, Sophie Skelton, who plays Brianna on Outlander, recently shared a behind-the-scenes image alongside her on-screen mother, Claire, played by Caitriona Balfe.
Sophie Skelton posts a behind-the-scenes photo of an upcoming episode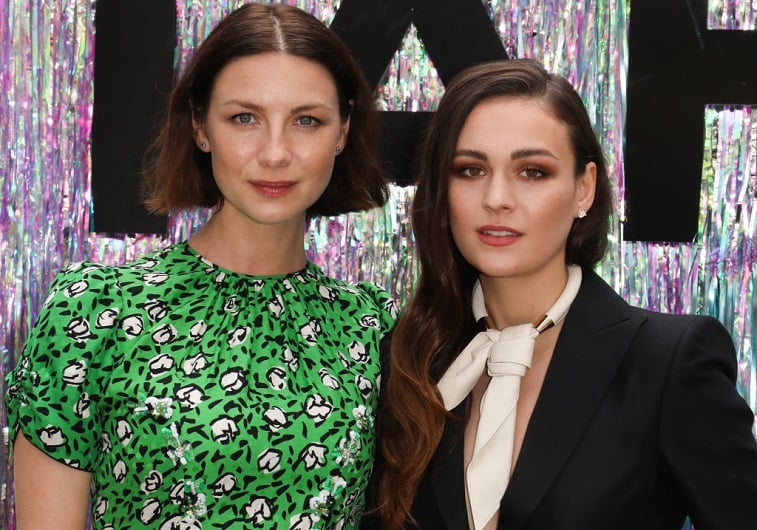 Fans love the series so much, that they're going crazy over a new photo Skelton recently posted in honor of Earth Day. She's standing alongside her on-screen mother. They're both wearing adorable dresses in blue hues. Claire carries a pistol and a blade close at hand while Bri has her hands in her pockets as she smiles at her mother. Claire is holding a basket, so she's probably looking for some supplies for her surgery room.
"Beach days are the best days. When we get to explore Mother Earth again, let's take care of her, shall we? #EarthDay 🌎 One Earth, one mankind. In it together x," Skelton captioned the post. She also posted another comment adding: "Photo from Episode 5×10 of #Outlander. New episode this Sunday on @Starz see you there!!"
Caitriona Balfe comments on the post
Balfe, who plays Skelton's on-screen mother, posted a comment back. "I'm in!!!! Miss you mamacita 😘😘," Balfe wrote. Almost 400 people liked the comment at the time of our posting. Skelton responded to Balfe with: "@caitrionabalfe miss you lady!!!!!! 😘."
What is going to happen in episode 10?
Fans really seem to love the all-new image in preparation for the new episode. The promo has been released for episode 10 and it looks like Bri might come face to face with Stephen Bonnet (Ed Speleers) while on the beach.
In the trailer, there are a number of scenes of the main characters gearing up for a fight and holding up pistols. Roger (Richard Rankin) even talks about how he will "take him." Bonnet himself is in the trailer, so it's safe to say things are about to come to a head.
Claire can be heard in the trailer saying, "Bri, run! Go!" She looks terrified as only Bonnet could make her. Will Brianna be able to defend herself? Or could someone else arrive to save her just in time? It's still entirely unclear who is there with her in the scene, but we can only assume it's Bonnet at this point.
Fans know the entire season has been building up to an altercation between Brianna and Bonnet once again. We will have to wait and see how things play out between them. Could Bonnet really take Jemmy away from Bri? Her father seems to think so and no one is going to allow that to happen on Fraser's Ridge.
Hopefully, fans will get some much-needed answers when it comes to Brianna and an altercation with Stephen Bonnet. We'll keep you updated on all the latest Outlander news.