'Outlander' Season 5 Spoiler: Book Fans Aren't Ready to See Claire Get Hurt This Season
So far, every season of Outlander has closely followed Diana Gabaldon's books without omitting any major Claire (Caitriona Balfe) or Jamie (Sam Heughan) storylines. And those who've read the novels usually have an inkling of what's to come. But this season, fans are hoping the show leaves out a traumatic storyline from the sixth book that is centered around Claire.
[Spoiler alert: Major spoilers for Outlander season 5, episode 4, and the book, A Breath of Snow and Ashes.]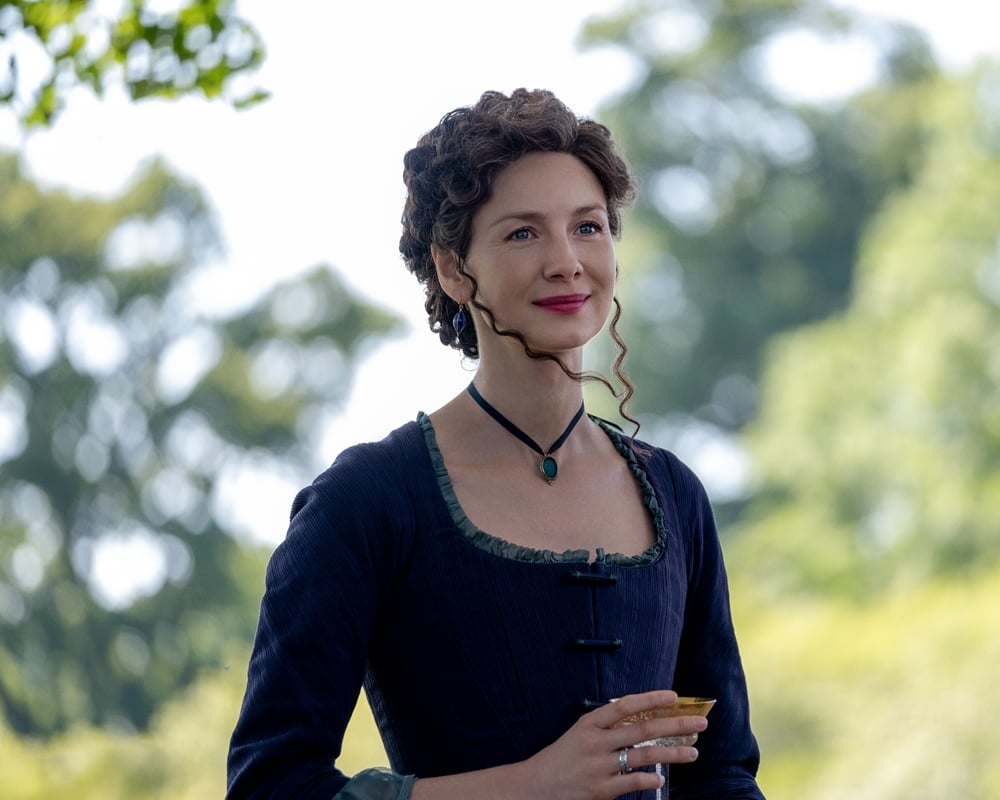 Caitriona Balfe confirmed Claire will face a challenge this season
Throughout the series, Jamie, Claire, and their daughter Brianna (Sophie Skelton) have all suffered horrible traumatic experiences. And according to Caitriona Balfe, this season Claire will go through something big. 
"I have a storyline toward the end of the season that's very challenging," Balfe said during an Outlander panel for the Television Critics Association. "I can't really talk too much about it, but it's a storyline we brought in from book six. It was really challenging material. We sort of took a risk with how we were doing it visually and storytelling wise. I haven't seen it yet so I hope it's paid off, but it was good. It was nice to have something that asks a lot of me again at this point in our show."

Caitriona Balfe at The Television Critics Association Press Tour
Where is Claire now on 'Outlander'?
So far this season, Claire and Jamie seem to be doing pretty well. Claire is training Marsali (Lauren Lyle) as an apprentice, and she's on the verge of creating her own version of penicillin. After leaving the Beardsley's home with Mrs. Beardsley's new baby, Jamie and Claire join the rest of their troops in Brownsville.
One of the young couples in Brownsville offers to take care of the baby, and Claire is totally okay with that. Meanwhile, Lionel Brown's (Ned Dennehy) daughter, Alicia (Anna Burnett) tells Claire and Jamie she is pregnant with Isaiah Morton's (Jon Tarcy) baby. 
Lionel is already hellbent on killing Isaiah. So when Isaiah sneaks back into Brownsville and professes his love for Alicia, Jamie and Claire decide to help them escape. In the early morning, Alicia and Isaiah ride out of town, before Lionel or any of the other family members take notice. 
'Outlander' book fans are anticipating the worst for Claire
Fans who've read A Breath of Snow and Ashes know Claire is abducted and raped at the hands of the Browns. And some think Jamie and Claire's part in Alicia and Isaiah's escape may set up the horrible scenario. 
"They are clearly setting up the Brown's kidnapping and gang rape of Claire," a fan wrote on Reddit. "I am not about it. At all. Nothing about that story line was necessary."
But fans aren't looking forward to those scenes, and some hope the show will leave it out. "I am 1000% not looking forward to what happens to Claire with the Browns," a Redditor wrote.  "I hoped they might just adapt the kidnapping and avoid the rape altogether, but now I'm not too sure," added another Reddit user.." 
But some fans have realized that Balfe's foreshadowing on what's to come is a confirmation this horrible moment will come during the end of the season."There are clues that if it happens, it will be the last or second to last episode," wrote one Reddit fan. "Caitriona mentioned that there were lots of night shoots and her laying in the dirt. Plus, they have all said the end of the season is rough."
Claire and Jamie already have a lot to deal with. There's a war coming their way, and they still have Stephen Bonnet to worry about. After all that they've been through, fans just want to see them get their happily ever after already.