'Outlander' Season 5: Will Jamie Recognize Buck MacKenzie?
In the last episode of Outlander, viewers were introduced to a new character that may have looked awfully familiar. Buck MacKenzie (Graham McTavish) is Morag's (Elysia Welch) husband, and there's a reason he looks so much like Jamie's (Sam Heughan) uncle, Dougal. They are very close to crossing paths, so will Jamie recognize Buck if he meets him?
[Spoiler alert: This article contains spoilers for Outlander season 5, episode 7.]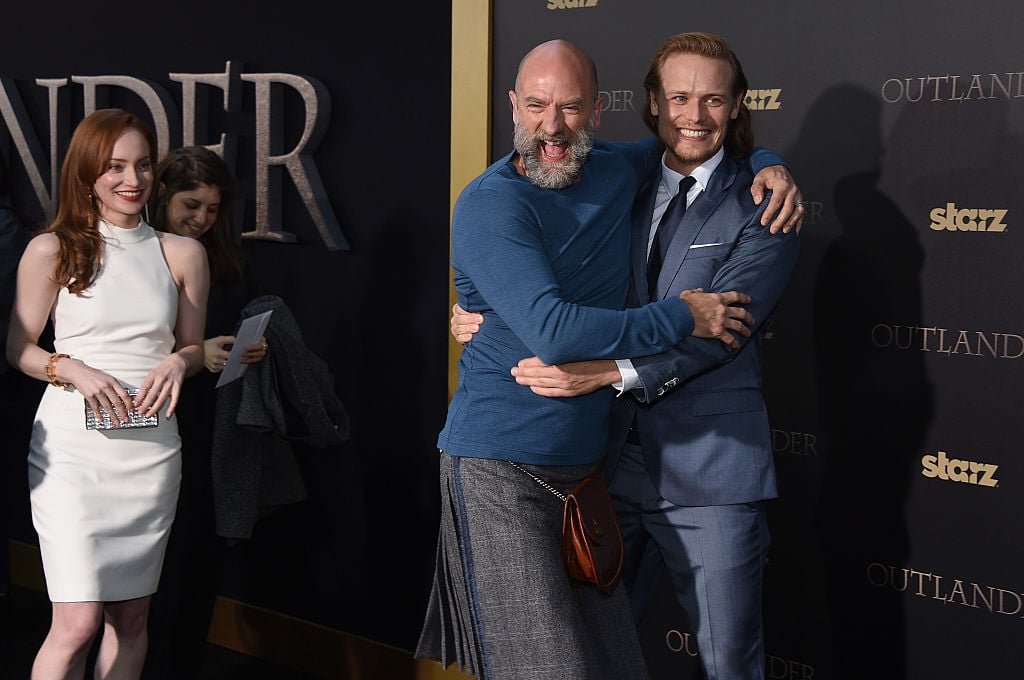 Who is Buck MacKenzie on 'Outlander'?
While Buck MacKenzie is just making his debut on the Starz series, in Diana Gabaldon's Outlander books, the character actually met Roger on the boat from Scotland to North Carolina. But on the show, Roger meets Morag on the Gloriana, realizes she's his ancestor and protects her and her baby from Stephen Bonnet (Ed Speleers). 
In the books, Buck is William Buccleigh MacKenzie, and he's actually Dougal and Geillis's illegitimate son. In the first season of Outlander, Geillis (Lotte Verbeek) reveals that she and Dougal (Graham McTavish) were having a secret affair. And when they go to burn her for being a witch, she is pregnant with Dougal's baby. 
In season 2, Dougal tells Claire that Geillis's life was temporarily spared because of the pregnancy and that she gave birth to a baby boy. But the show never really touched on the baby's fate after that. 
However, in the books, Buck is taken in and raised by another family. He studies to become a lawyer, marries Morag, and eventually moves from Scotland to North Carolina. 
Where is Buck on 'Outlander' now?
On "The Ballad of Roger Mac," Roger (Richard Rankin) sneaks into the Regulator's camp to warn Murtagh (Duncan LaCroix) about the fate of the battle. On his way back to the Red Coats camp, Roger encounters Morag. He warns her about the battle and offers her a place to stay on Fraser's Ridge. 
As he leaves, Roger embraces Morag, but her husband Buck sees him. He threatens Roger, then hits him in the head with a gun, and knocks him out. Later, when Brianna (Sophie Skelton), Claire (Caitriona Balfe), and Jamie (Sam Heughan) go looking for Roger, they find what appears to be his body hanging from a tree. 
It's unclear if Buck will be seen again this season, but in the novels, he has plenty more story left to tell. 
Will Jamie meet Buck and recognize him?
Now that Jamie and Buck are in the same area, it's very possible that the two meet. And there are a couple of hints that their paths will cross. 
For starters, Buck looks almost exactly like Dougal, and that's because he's being portrayed by the same actor, Graham McTavish.  It's possible the show set it up this way so that he could easily be recognized by Jamie. 
Plus, right before the battle, Jamie invokes a prayer for his uncle Dougal. The show hasn't mentioned Dougal for a while, and it can't be a coincidence that his name is invoked at the same time his son is introduced. 
If Jamie does finally meet Buck, it will be exciting to see the surprise on his face when he realizes how much he looks like Dougal. And it will also be interesting to see if the two recognize their relationship as cousins.