'Outlander' Spoiler: The Surprise Cameo That Has Fans Excited
'Outlander' fans were thrilled to see a familiar face in Buck MacKenzie. Here's what we know about that brilliant cameo.
This week, Outlander fans saw the tragic demise of Murtagh Fitzgibbons (Duncan LaCroix) and were left wondering what happened to Roger (Richard Rankin). But while watching "The Ballad of Roger Mac," viewers also had a double-take moment upon seeing Dougal's (Graham McTavish) doppelganger, Buck MacKenzie. 
[Spoiler alert: This article contains spoilers for Outlander, season 5, episode 7.]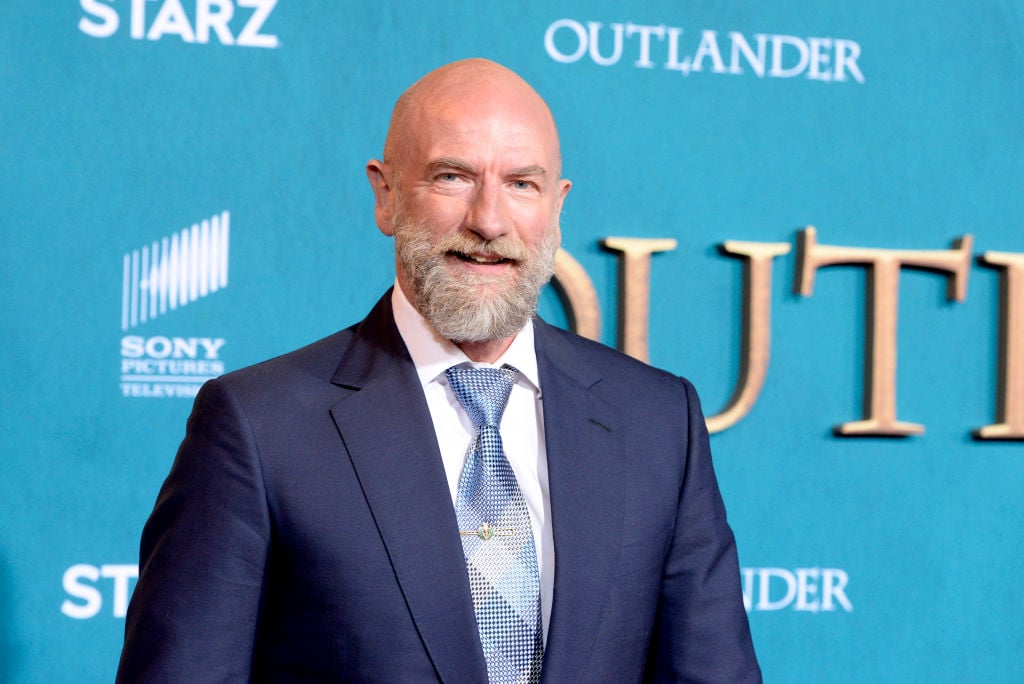 'Outlander' introduces a new character
In "The Ballad of Roger Mac," Jamie (Sam Heughan) finally fights the battle he's been avoiding all season long. He reluctantly puts on a Red Coat and asks his militiamen to fight with him alongside Governor Tryon (Tim Downie) and his troops. against Murtagh and his army of regulators.
Brianna (Sophie Skelton) remembers that the Red Coats win this battle and spark the beginning of the American Revolutionary War. She rides to the battlefield to warn Jamie and Claire (Caitriona Balfe). Jamie decides to warn Murtagh about the fate of the battle, and Roger volunteers to give him the message. 
Upon nightfall, Roger sneaks over to Murtagh's camp and gives him Brianna's warning. When Murtagh refuses to budge, Roger starts to head back to the Red Coat's camp. But on his way, Roger encounters MoragMacKenzie (Elysia Welch).
In Season 3, Roger met the young mother on his journey from Scotland to North Carolina. He realized she was his ancestor and protected her and her newborn from Stephen Bonnet (Ed Speleers)
Now, upon meeting Morag again in North Carolina, Roger warns her about the bloodshed to come. When she tells him that she's pregnant, he invites her to live safely on Fraser's Ridge. He leans in to give her a supportive embrace. And that's when her jealous husband, Buck MacKenzie (Graham McTavish) comes into the picture.
So who is Buck MacKenzie on 'Outlander'
In Diana Gabaldon's Outlander book series, William Buccleigh MacKenzie is Dougal MacKenzie and Geillis Duncan's illegitimate son. In season 2 of the Starz series, Geillis (Lotte Verbeek) and Dougal (Graham McTavish) have a secret affair that bears them a son. 
The show doesn't revisit that baby again, but in the books, he is taken in by another family, and given the name of their recently deceased son, William Buccleigh. He grows up to become a lawyer, marries Morag, and moves to North Carolina. 
Fans are thrilled to see Graham McTavish return
Being Dougal's son, it would make sense for Buck to look like his father. That's why showrunners decided to cast the same actor, Graham McTavish, as the son of his original Outlander character. 
In an interview with Entertainment Weekly, showrunner Matthew B. Roberts explained why he chose to recast McTavish in this new role. "In the writer's room, we talked about how fun it would be to have Graham McTavish, who famously played Dougal, play Buck MacKenzie, who is, of course, Dougal's son," he told the outlet. "Then, coincidentally, our Starz executive Karen Bailey called Maril Davis and had the exact same idea, so we knew we were on to something."
Roberts said that after talking to McTavish and confirming his availability, he knew they could make it happen with a few digital adjustments. "Since Buck is in his 20s and Graham, while in great shape, is not … haha, we had to make sure we could digitally de-age him a bit," said Roberts. "So we did.  Actually, the biggest challenge was keeping it quiet until the episode aired."
Many fans were excited to see McTavish back in the fold. On Twitter, one fan noted that the books tell more of Buck's story, which could mean viewers will see more of the beloved actor.  "We haven't seen the last of Buck MacKenzie," the fan wrote in a tweet, "which means we haven't seen the last of @grahammctavish! Brilliant casting decision!!"