'Outlander' Star Sam Heughan Admits To Struggling With Some of His Co-Stars
'Outlander' star Sam Heughan admitted that he is struggling with some of the smaller season 5 co-stars.
Season 5 of Outlander is in full swing and fans are thrilled to have Sam Heughan and Caitriona Balfe back in action as Jamie and Claire Fraser. There is still plenty of drama ahead this season, yet Heughan recently talked about some of the drama that happened during the production of season 5. Although the actors generally get along great on the set, Heughan admitted that he struggled to work with some of his co-stars this season.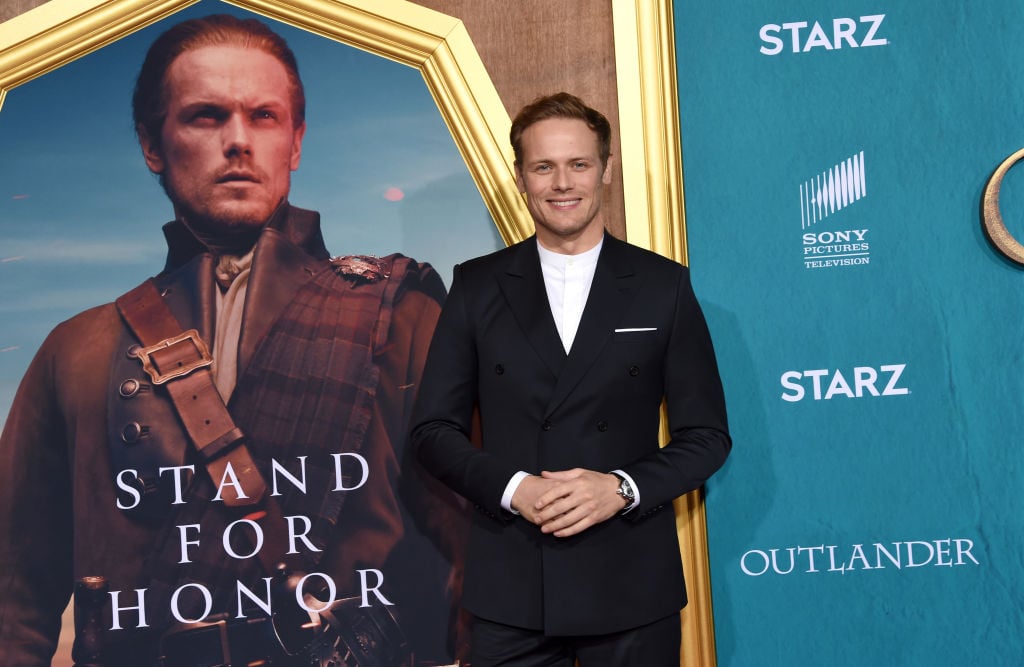 'Outlander' kicks off season 5
After an extended Droughtlander, Starz kicked off season 5 of Outlander in February. The new season began with plenty of romance, though the coming American Revolution will test Jamie and Claire's loyalty like never before.
Season 5 is based on Diana Gabaldon's book, The Fiery Cross, and features a few storylines from the next book in the series, A Breath of Snow and Ashes.
As readers are aware, the biggest challenge for Jamie and Claire will be safeguarding their family from the coming war. This includes protecting their daughter, Brianna (Sophie Skelton), her husband, Roger (Richard Rankin), and their baby, Jeremiah (Jemmy for short).
In season 4, Brianna and Roger traveled back in time to reunite with her parents.
Although fans are looking forward to seeing how Jamie and Claire get through this season's obstacles, Heughan recently opened up about what it has been like working with the younger cast members this season.
Heughan admits to struggling with the young actors
Outlander uses different children to play the part of Jemmy. While the little ones appear adorable on the show, several cast members expressed some frustration working with them on the set.
According to Express, Balfe admitted that they are difficult to manage because they are so young. Heughan completely agreed with his co-star but noted that they are very cute.
"They're so sweet but that age is so difficult. Sam definitely doesn't love them the most," Balfe shared, while Heughan added, "They're so cute but it's just very hard for young children."
Luckily, Outlander producers have come up with a solution to help mitigate the problem. They cast twins to play the part of Jemmy, which enables them to switch one out if they get restless during the longer scenes.
Skelton and Rankin were also asked about working with such young actors and they both admitted that it has not been easy. In fact, Rankin revealed that the twin actors probably yell at him the most, especially when he is teasing them.
What's ahead for the Frasers?
Outlander has already ramped up the romance between Jamie and Claire, a move that has been well received by fans. That passion, unfortunately, will take a backseat once we get closer to the start of the American Revolution.
During a recent appearance on Good Morning America, Balfe warned fans that the season will slowly introduce more and more chaos as the characters continue to navigate tricky political waters.
"In the beginning we have a lovely opening episode," Balfe stated. "Things are very cosy and comfortable and all is well, then in true Outlander form it doesn't last for very long."
The biggest challenge for Claire is that she knows the American Revolution is coming. In order to protect her family, which now includes her daughter and grandchild, Claire will make a decision on whether or not to keep them in the 17th century or take them back to the 1960s.
As far as Jamie is concerned, he was tasked with hunting down his own godfather, Murtagh (Duncan Lacroix), at the end of last season. Murtagh is the leader of a group of rebels known as the Regulators, and his involvement in the war will test Jamie's loyalty.
Heughan opens up about Jamie and Claire's romance
When it comes to Jamie's romance with Claire, Heughan recently revealed that it is all about his on-screen chemistry with Balfe. With five seasons under their belts, the actor revealed that things have changed between him and his co-star, but mostly for the good.
"Of course it gets better with time, it matures and consolidates," Heughan explained.
Jamie and Claire's relationship will undoubtedly be tested once again this season on Outlander. Thankfully, the two have already gone through a bunch of different trials, and we are confident they can withstand anything that gets thrown their way.
Exactly what that means for everyone else, of course, is yet to be seen. But it definitely sounds like the couple will be challenged as the season progresses.
New episodes of Outlander air Sunday nights on Starz.