'Outlander' Star Sam Heughan Defends Fan Over Uncomfortable Incident
Outlander star Sam Heughan is coming to the defense of a fan who exhibited some controversial behavior at a recent event. Taking the stage at the Wizard World convention, Heughan was approached by a fan who pretended like she was going to grab his arse. Outlander fans were quick to come to Heughan's defense, who cleared things up on social media before the situation got out of hand.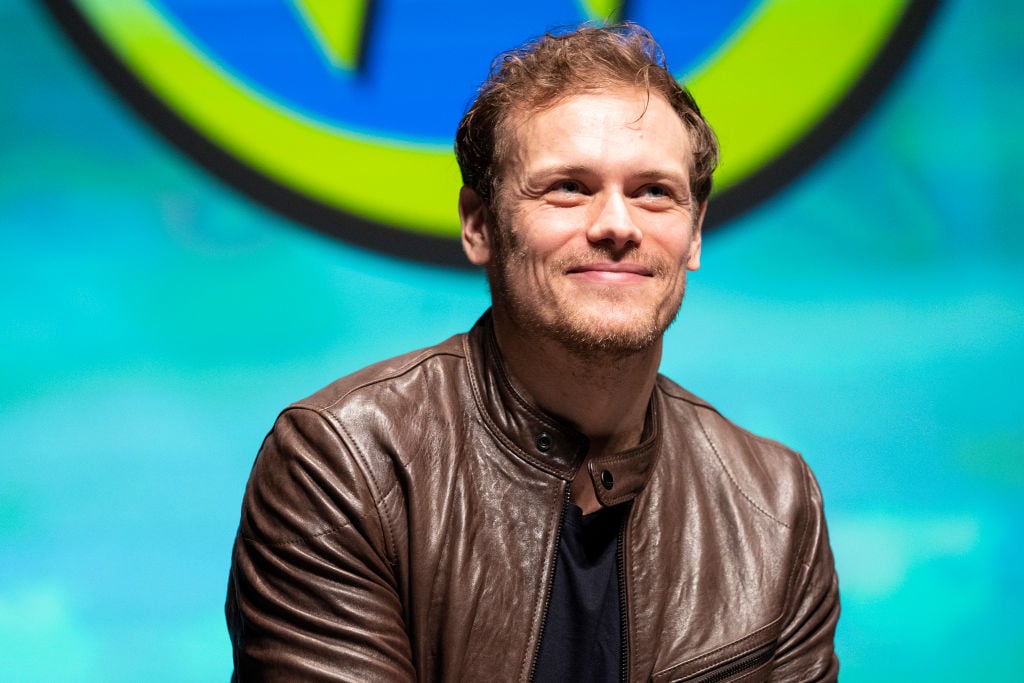 Sam Heughan defends fan over incident
The drama started when a fan acted like she was going to grab Heughan in the butt while he was on stage at the Wizard World convention. A clip showing the incident was posted online, and the moderator on stage can be heard telling the fan, "No, no, no."
Several of Sam Heughan's fans expressed their dislike over what happened in the comments. Most Outlander fans agreed that the behavior was inappropriate, though Heughan was quick to clarify what really happened.
"There was no harm in it," Heughan wrote on Twitter. "Was all taken out of context. We were messing around and being silly on stage. Should never have blown up like this."
Heughan followed that up by sharing a photo that clearly shows the fan never touched him. Heughan's comments on the matter cleared things up for most fans, though there were still a few who thought the incident was not okay.
Several Outlander fans pointed out that if it was a man making an inappropriate gesture towards a woman then things would have been different. Fortunately, that was not the case and all of the parties involved understood that it was all in good fun (as Heughan pointed out).
'Outlander' drops season 5 trailer
Embarrassing mishaps aside, producers just revealed the first trailer for season 5 of Outlander during a segment on Good Morning America. The trailer did not reveal too many spoilers for the new season, but it did set the stage for what's to come.
According to Carter Matt, the trailer features a first look at how all of our favorite Outlander characters are preparing themselves for the looming Revolutionary War.
Brianna (Sophie Skelton) and Roger (Richard Rankin), for instance, are considering returning to modern times to avoid the violence in the coming war. With the couple now raising a child of their own, returning to the 20th century could be a wise decision.
That said, we still do not know if their baby can travel through the stones. It is a safe bet that she can, but you never know.
Claire (Caitriona Balfe) could also return, though it is unlikely given how she just traveled back in time to be with Jamie (Heughan). If they all decide to stay, then they will be facing some difficult choices in the weeks and months ahead.
What else did the 'Outlander' trailer reveal?
Apart from the time travel options, Jamie and Claire have found themselves in a tricky situation at the start of season 5.
For Claire, she will be facing some difficult challenges as she uses more and more of her medical knowledge around the family's home, Fraser's Ridge. At one point in the trailer, Brianna questions her about playing God.
Claire, Brianna, and Roger also know exactly what is going to happen in the coming war, so anything they do could change the course of history.
As far as Jamie is concerned, he will be dealing with some divided loyalties at the start of the new season of Outlander. Jamie has been tasked with hunting down a group of rebels led by Murtagh (Duncan Lacroix).
It is highly unlikely that Jamie will actually turn Murtagh in, but it will be interesting to see how he appeases both sides.
What are Heughan and Balfe up to?
While fans wait eagerly for the premiere of season 5 of Outlander, Heughan and Balfe will be busy on their annual promotional tour.
After his appearances at the Wizard World convention, Heughan attended the NFL playoff game between the New Orleans Saints and the Minnesota Vikings and seemed to have a blast at the event.
Balfe, meanwhile, recently wished her Ford v. Ferrari co-star Christian Bale good luck at the Golden Globes. We do not know what other projects Balfe is working on at the moment, but she is starting to build an impressive career in Hollywood.
Season 5 of Outlander is set to premiere on February 16 on Starz.