'Outlander' Star Sam Heughan Explains Jamie and Murtagh's 'Great Love'
'Outlander' star Sam Heughan opens up about the emotional last episode. Here's why he says Murtagh and Jamie's bond was a "great love."
On season 5, episode 7 of Outlander, fans finally saw Jamie (Sam Heughan) head into battle against Murtagh (Duncan LaCroix) and his army of Regulators. The two always had a special bond. And after the emotional episode, Sam Heughan explained why Jamie and Murtagh share such "great love."
[Spoiler alert: This article contains spoilers for Outlander, season 5, episode 7.]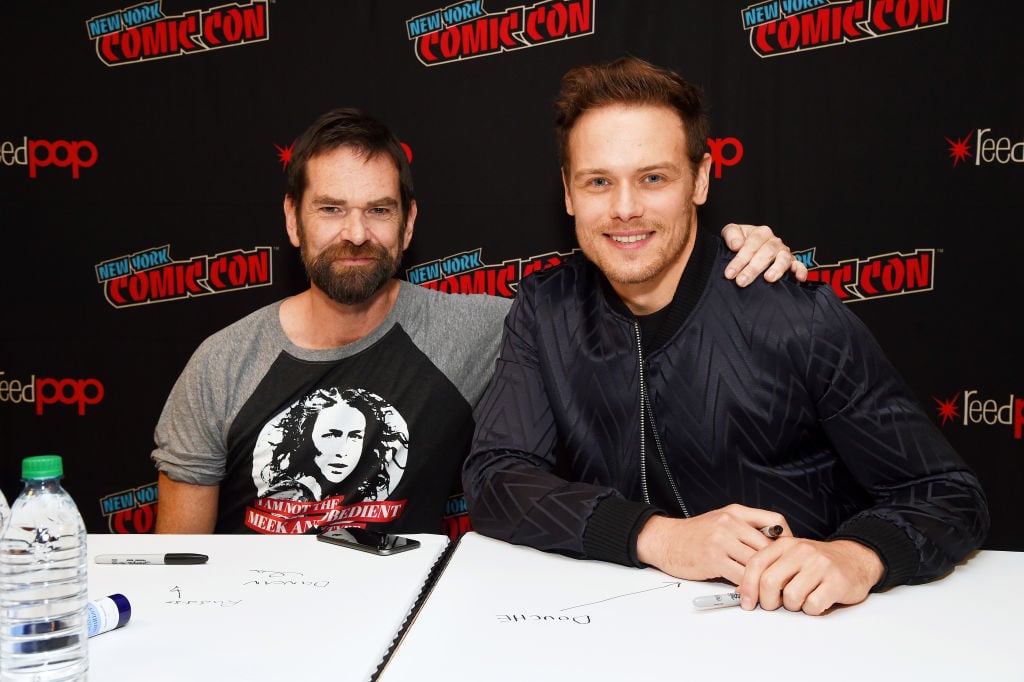 What happened between Murtagh and Jamie in the last episode of 'Outlander'?
In "The Ballad of Roger Mac," Jamie is forced to uphold his oath to Governor Tryon (Tim Downie) and fight alongside the Red Coats against his godfather Murtagh and the Regulators. But Jamie tried his best to delay the fight, and he has gone to great lengths to keep Murtagh out of Tryon's crosshairs. 
And this doesn't come as much of a surprise. Murtagh has looked out for Jamie his whole life and has raised him like a son. He's been Jamie's confidant, friend, and protector ever since he was a child. 
The reason Murtagh is so protective of Jamie is that he was once in love with Jamie's mother. Soon after Jamie was born, Murtagh promised her he'd take care of her son till the day he died. 
So, before the battle begins, Jamie sends Roger to the Regulators' camp to warn Murtagh he'll lose the fight, and try to convince him back off and run. But Murtagh believes in the Regulator cause with his whole heart, and he decides to fight anyway. 
Then while the battle is raging, Jamie comes face to face with Murtagh. While the two are talking, one of Jamie's young militiamen shoots Murtagh. By the time Jamie brings him to Claire's (Caitriona Balfe) medical tent, Murtagh is dead. 
Jamie is beside himself in anger and grief over his godfather's passing, and it will likely take some time for him to get over the loss. 
Sam Heughan calls Jamie and Murtagh's bond a 'great love'
In an interview with Elle, Outlander star Sam Heughan talked about the emotional episode and the impact of Murtagh's death.  He also explained why Murtagh was so important to Jaime, and why this loss is so significant.
"For Jamie, losing him is like losing his rock, like losing one of his points of safety," said Heughan.  "There was always this great love between Jamie and Murtagh and it was never spoken of. You just knew Murtagh was always there for Jamie, and likewise."
Heughan also noted that with Murtagh gone, Jamie has lost not just a father figure, but also his last meaningful connection to Scotland, and one of his few remaining blood relatives. The actor did, however, mention that Jamie won't have much time to grieve, despite how hard this is on him. 
"I think he's lost something — there's a hole there and it'll take him time," he told the outlet. "Time is the healer in this one, for all [the characters], but because of circumstances, he's really thrust into having to be the man of action again and put his family first. By the end of the season, everyone is unsure of the future — Even though they have this prior knowledge, they know this great battle is coming."