'Outlander' Star Sam Heughan On Finding That One Great Love
Sam Heughan is busy filming Season 5 of Outlander, but he still had time to attend a Starz event with his co-stars over the weekend. During an appearance at FYC, Heughan opened up about Jamie's journey in Season 5, which is adapted from Diana Gabaldon's book, The Fiery Cross. The actor also discussed his personal life and revealed whether or not he thinks he will find true love.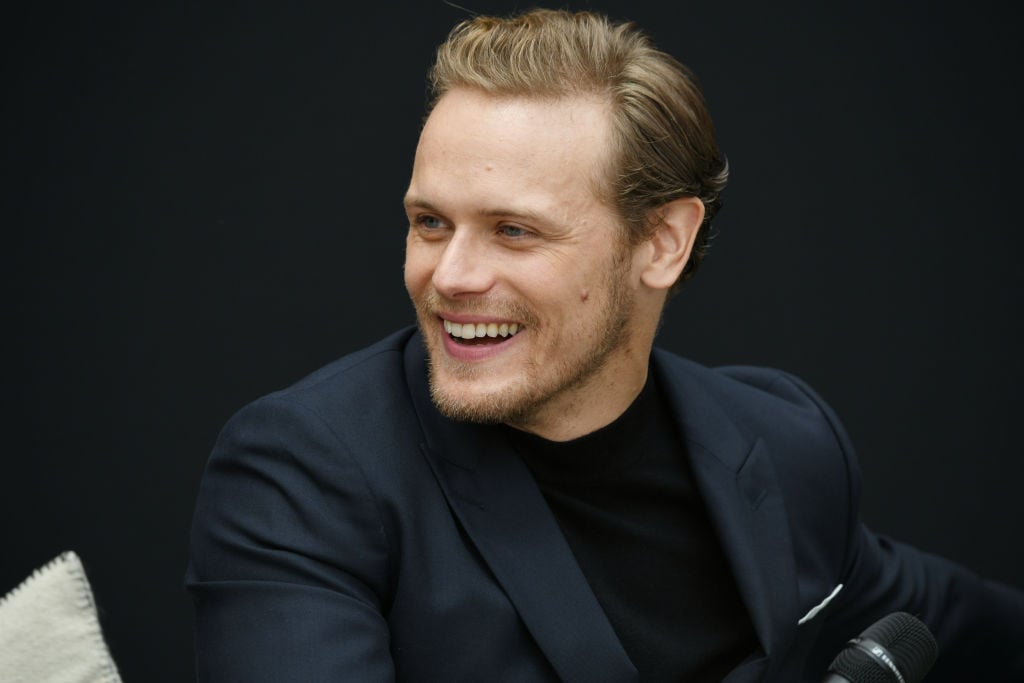 Heughan dishes on his love life
When it comes to finding someone special to share his life with, the Outlander star admitted that he is a hopeless romantic. Like many of us, Sam Heughan believes there is one great love for everyone in the world, much like Jamie's love for Claire (Caitriona Balfe).
According to Parade, he also noted that this is probably why so many people enjoy reading Gabaldon's books. At the end of the day, Heughan hopes to find that special someone in real life, though he did not say whether or not he has already discovered it.
"I think there is, and I think we all aspire to it. I think that's maybe why Diana Gabaldon's books have done so well and why we have a great family of people that buy into that," Heughan shared.
Given all of the epic romance scenes between Jamie and Claire the past four seasons, Heughan is definitely on to something.
Is Sam Heughan dating anyone?
Starring on a hit show like Outlander has led to a massive interest in Heughan's love life. The actor has kept his romances surprisingly under wraps over the years, so it is a bit difficult to tell who he is seeing at a given time.
Some sources claim that Heughan is dating Amy Shiels, who has made a name for herself starring on the show, Twin Peaks. The only problem with that rumors is that neither party has confirmed anything beyond a friendship. Unless one of them comes clean in the near future, there is absolutely no evidence to back up the rumors.
Sam Heughan has also been linked to MacKenzie Mauzy, who starred on Girls' Night Out and Into The Woods. The two dated in 2017, but it is unclear when their relationship fizzled out. They have not been spotted together since a few red carpet premieres in 2018.
Beyond that, it is anyone's guess who Heughan is dating, if anyone at all. The actor has been very busy working on the new season of Outlander and has a few more movies under his belt.
Looking ahead to Season 5 of 'Outlander'
Heughan's romantic life aside, he also opened up about the challenges Jamie and Claire will face in Season 5 of Outlander. In his interview at the Starz event, Sam Heughan revealed that they have only filmed the first two episodes of the new season and the biggest hurdle facing the couple is developing Fraser's Ridge. He also alluded to the American Revolution, which is just over the horizon.
Sam Heughan also touched a little bit on the challenges of filming Season 5. The series has gotten much larger in scope over the past four seasons, which means a larger cast and crew. There are also more shooting locations, though Scotland remains the primary spot for filming the America scenes.
Heughan did not reveal too many details about the upcoming season, but it sounds like Jamie and Claire will have their hands full at Fraser's Ridge.
'Outlander' changed Sam Heughan's life
In addition to teasing the new season, Heughan opened up about how much the show has changed his life. Prior to landing the part as Jamie Fraser on Outlander, Heughan explained how he was struggling to make ends meet as an actor.
Fortunately, being a part of a popular show has benefited Heughan in more ways than one. Not only is making more money than he ever dreamed, but it has also opened the door for other opportunities in Hollywood. In fact, Heughan has a few movies lined up for this summer.
Sam Heughan has not commented on his dating life.
Starz has not announced when the new season of Outlander will premiere, though it is expected to return to the network sometime in the fall. Until then, fans can catch up on the first two seasons of Outlander on Netflix. The Season 4 DVD was also recently released and includes extra scenes and a hilarious blooper reel.