'Outlander' Stars Sam Heughan and Caitriona Balfe On What's Ahead for Jamie and Claire In Season 5
'Outlander' star Sam Heughan and Caitriona Balfe are promising fans that Jamie and Claire's passion is alive and well in season 5.
The top swoon-worthy pair on Outlander is returning to television in a few days. The show's fifth season is set to premiere on February 16, which means Jamie (Sam Heughan) and Claire (Caitriona Balfe) Fraser will be back in action soon. The couple is going to face a few hardships this season, but Heughan and Balfe recently teased that Jamie and Claire's passion is hotter than ever heading into the new season.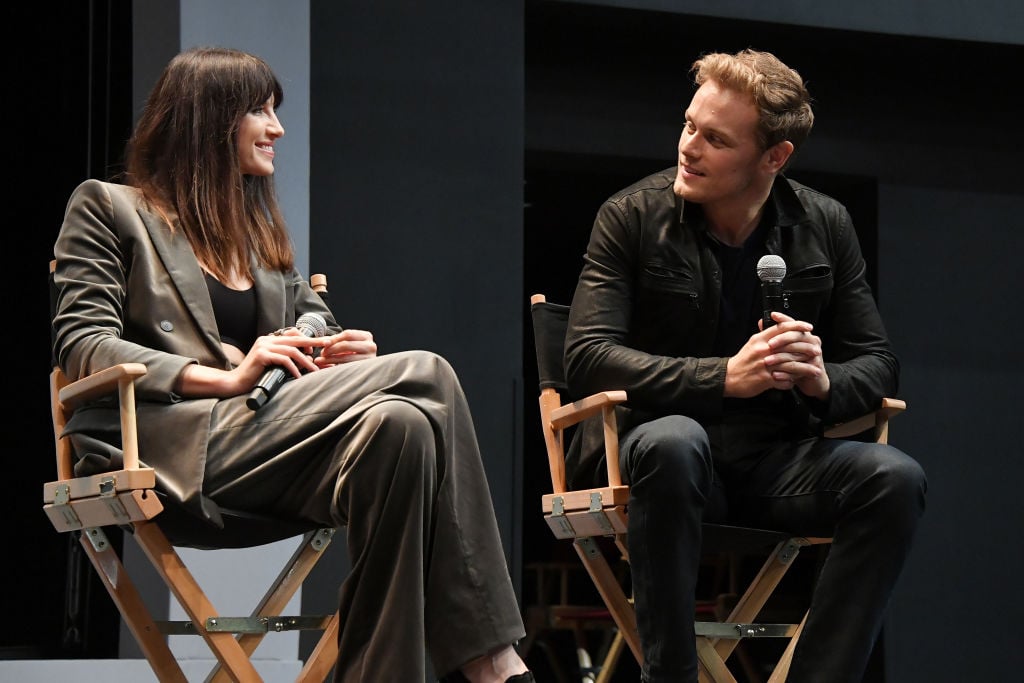 Sam Heughan dishes on Jamie's journey this season
Jamie and Claire have come a long way over the past four seasons of Outlander. The pair reunited in season 3 after spending 20 years apart and went on to start a new chapter in North Carolina last season.
The drama heated up after Jamie and Claire's daughter, Brianna (Sophie Skelton), traveled back in time to join them. Meeting his daughter for the first time was a big moment for Jamie, and Heughan revealed that his character has a lot to fight for heading into season 5.
"Of course, now he has to fight for it—and not just fighting, you know, bears and locals, but also fighting history as well," Heughan shared. "That always seems to be the thing that really comes back to bite them in the ass."
Heughan added that Jamie has always wanted to be a father, and having Brianna and her husband, Roger (Richard Rankin), living at Fraser's Ridge gives him that opportunity.
That said, Jamie's loyalties will be tested in season 5. Fortunately, he has Claire at his side to help him deal with whatever is thrown his way.
What can fans expect from Jamie and Claire?
With Jamie and Claire continuing to build a community on Fraser's Ridge, the couple will face numerous obstacles this season. According to Oprah Magazine, Heughan recently opened up about the various storylines and admitted that the coming Revolutionary War is on everyone's mind.
"There are episodes that are kind of individual, and they have other storylines, but the greater objective of the season is that they know this war is coming, and Jamie's on the wrong side," he explained.
The Outlander star noted that Jamie's main source of inspiration is the well-being of others. He also confirmed that his character's biggest hurdle this season is related to Murtagh (Duncan LaCroix).
At the end of season 4, Governor Tryon tasked Jamie with hunting down Murtagh, who is leading a group of rebels called the Regulators. Murtagh, of course, is Jamie's godfather and long-time friend, so it's unlikely that Jamie will follow through with Tryon's orders.
But not following Tryon's commands puts Jamie in a tricky position. It could also put the rest of his family at risk, especially if Murtagh continues to hang out around Fraser's Ridge.
Caitriona Balfe gushes about season 5 of 'Outlander'
For her part, Balfe was a bit more positive about what's ahead for Jamie and Claire. In a recent interview, the actress gushed about how the upcoming season is "amazing" and that fans will be impressed by what happens.
There is no denying that Jamie and Claire, now in their 50s, have matured over the past four seasons. And at the end of the day, Balfe believes that Claire is content with where things stand.
"It's amazing that we have season five. It's amazing that we still feel so great about it and I think it's a strong season," Balfe stated. "Old Claire and Jamie are very settled right now. They have their family. They have their forever home — Claire got her Barbie dream house. Yeah, it's all good things."
One of the reasons Claire is happy, of course, is because her love for Jamie is stronger than ever. In fact, fans can expect much more passion between Jamie and Claire this season as the two continue to settle down.
Balfe reveals why Jamie and Claire's love is so strong
Speaking of Jamie and Claire's love, Balfe added that the reason their relationship is so strong is that they have had years to develop their romance and let it mature. It also helps that they have found a place to call home and are able to actually settle down.
"Well, I think it's a culmination of every season before," Balfe said. "You have to earn these moments and you have to get there and I think they are finally in a place where they are settled."
In season 3 of Outlander, the couple went to great lengths building a home on Fraser's Ridge. Balfe promised that the new season will build on that and fans will watch Jamie and Claire build even more relationships with their family and friends.
Heughan was quick to add that Jamie and Claire always check in with each other before they make any big decisions. He believes this helps them build a good "foundation" with each other and proves yet again that they are "soulmates."
Balfe and Heughan did not share too many details about the upcoming season, but it sounds like Jamie and Claire's passion is more heated than ever.
Season 5 of Outlander is scheduled to premiere February 16 on Starz.