'Outlander' Stars Sam Heughan and Caitriona Balfe Reveal a Wedding Is Coming in Season 5
Filming for season 5 of Outlander is officially a wrap and some of the cast are already dishing on what's ahead for our favorite characters. In a recent interview, Sam Heughan and Caitriona Balfe opened up about Jamie and Claire's journey this season. The Outlander stars did not give away too many spoilers, but they did reveal that a wedding is on the horizon.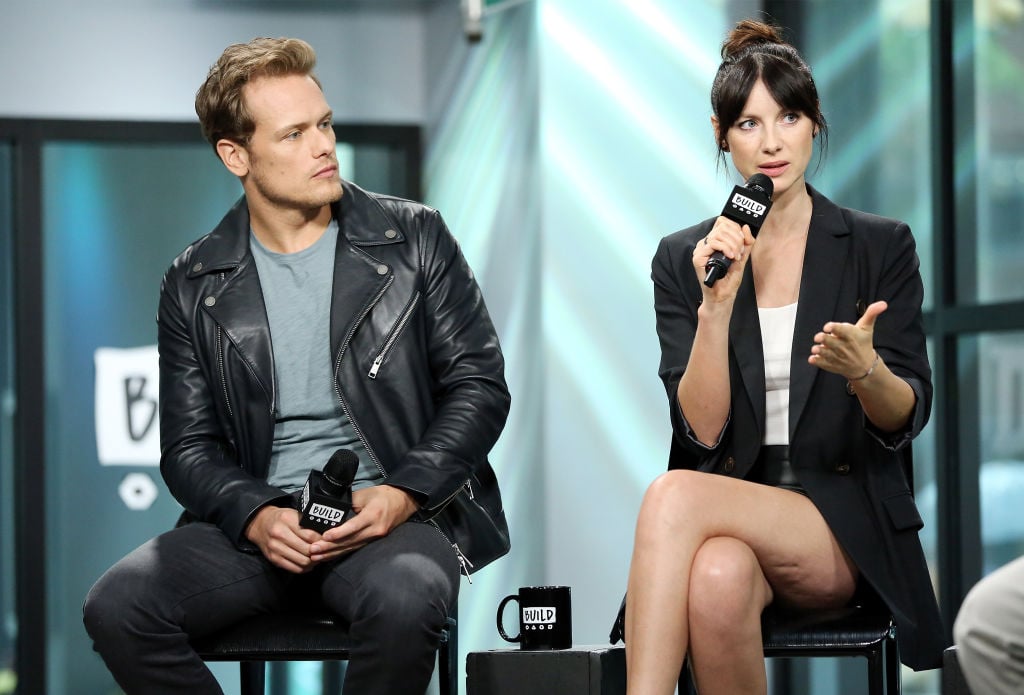 Who is getting married in season 5 of 'Outlander'?
The new season of Outlander is based on Diana Gabaldon's novel, The Fiery Cross. Although there is not a wedding in the book, Heughan teased that fans will see all of the Frasers gather for an outdoor ceremony this season — and it is all going down on Fraser's Ridge.
Apart from Jamie and Claire, Brianna (Sophie Skelton), Roger (Richard Rankin), Lord John Grey (David Berry), and Governor William Tryon (Tim Downie) will also be in attendance. As Outlander fans will recall, Tryon ordered Jamie to track down Murtagh (Duncan Lacroix) at the end of last season.
"Jamie's actually in a really difficult situation this season," Heughan shared. "He's done a deal with the British, but he's working for two different camps. He's trying to protect his people, and he's trying to protect Fraser's Ridge. To be honest, we all know Jamie's heart. His line of thinking is more in the direction of the regulators than the Brits."
Back to the wedding, Heughan did not reveal which Outlander characters will be tying the knot this season. As far as some of the other guests are concerned, Brianna and Roger will be facing difficulties this season as they figure out how to raise their child together.
Brianna and Roger struggle to adjust
Roger has already had a tough time adjusting to his life in the American colonies. The obstacles he has faced have made it difficult to perform his fatherly duties, a theme that will continue this season on Outlander.
To complicate things even more, Brianna is not positive that Roger is the father of their child. Last season, Brianna was raped by Stephen Bonnet (Ed Speelers), so it is entirely possible that he is the real father.
According to Parade, Brianna will struggle with her traumatic experience after she discovers that Bonnet is not dead and is living in North Carolina. We do not know if we will ever find out if Bonnet is the father, but his presence will make life miserable for Brianna.
In a recent interview, Outlander's Skelton revealed that Brianna is facing a lot of emotional stress this season and that it will take all of her power to get through these difficult times.
"There's kind of a two-prong thing of Bree. She's just in a lot of pain emotionally and physically," Skelton shared.
'Outlander' producer opens up about new season
Apart from the cast, Outlander executive producer Matthew B. Roberts recently spoke about the upcoming season and offered a look at what's ahead.
Roberts revealed that they went to great lengths to shake up the set this season and that fans will be going to places they have never been. Primary filming took place in Scotland, which was made to look like North Carolina.
Season 5 of Outlander, meanwhile, will follow Jamie and Claire as they continue to establish Fraser's Ridge in the face of the coming American Revolution.
While we have a good idea what Jamie will be doing next season, Balfe recently revealed some things about Claire's journey, including how her character will be making the discovery of a lifetime.
Inside Claire's new surgery room
When filming was still underway, Outlander producers released an exciting photo of Claire's new surgery room.
The room is located on Fraser's Ridge and will serve as Claire's surgery room as well as her pharmacy. In fact, Balfe revealed that Claire will be producing her own medicines this season, which will open the door for her to perform surgeries well ahead of her time.
Claire will also be making a groundbreaking discovery this season on Outlander, though it is still unclear what she will achieve. Whatever happens, it will be great to see her continue her medical career, despite living a few hundred years in the past.
We also hope that Jamie can hold Fraser's Ridge together in the face of the coming war. His loyalties are certainly going to be tested like never before, though we are confident that he can navigate whatever life throws his way.
The new season of Outlander is scheduled to premiere on Starz on February 16. In the meantime, fans can catch up on the first four seasons on Netflix and Starz.