'Outlander': You Can Visit Claire's Standing Stones Craigh Na Dun – Here's How
Outlander may be all about Claire (Caitriona Balfe) and Jamie's (Sam Heughan) epic romance, but the series features a lot of science fiction elements as well. At the core of the story is Claire's ability to time travel when she passes through the standing stones at Craigh na Dun. Although Outlander author Diana Gabaldon made up Craigh na Dun for the books, there is a place in Scotland where the show filmed the scene with the time-traveling stones. Here's how you can visit Claire's standing stones at Craigh na Dun in real life.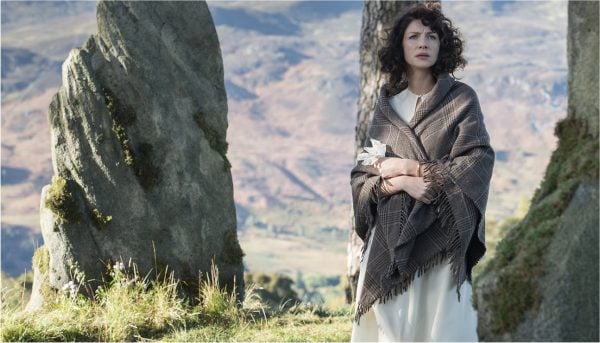 How to visit Claire's standing stones
Outlander filmed the scene where Claire passes through the stones at a place called Kinloch Rannoch. The setting is located near Loch Rannoch in Perth. But if you were to travel to the location today, you will not find any standing stones.
According to Town and County Magazine, Outlander set designers had the stones constructed from Styrofoam and immediately remove them once filming is complete. In a recent interview, executive producer Ronald Moore revealed that the Styrofoam was sculpted by an artist, who painted them to appear like real stones.
The artist reportedly turned to the Callanish Stones as inspiration. These stones are located in Scotland and form a circle, much like Craigh na Dun in the books. As far as the location is concerned, Moore revealed that it took them a long time to find the perfect setting.
Moore and his team needed the location to fit several requirements, all of which made finding Craigh na Dun all the more difficult – though their efforts paid off in the end.
"It took a long time to find the actual location for Craigh Na Dun because it had to fit a lot of masters," Moore shared. "It had to be big enough for all these stones to stand in a circle. It had to be level enough that dancers could actually dance around on it…It wasn't easy to find."
Visiting Craig Dunain
If Outlander fans are more interested in finding a name that fits the bill, there is a Craig Dunain graveyard in Scotland. This is not exactly the same as the stone circle in the books, but they do carry a similar name. You can also find a stone circle in Clava Cairns. This is close to the town where Claire originally stepped through the stones. It also happens to be near the Culloden battlefield, making it an ideal stop for Outlander fans looking for a long day trip.
For those who are not visiting Scotland anytime soon, there are stone circles located in countries around the globe. This includes an array of stones in Ireland, Somalia, Italy, and Ethiopia, to name a few.
If you just want to enjoy the show from the comfort of your home, then season 5 of Outlander is scheduled to premiere on Starz early next year. Until then, filming for the upcoming season is currently underway and fans can expect more updates in the coming weeks.
Facts about Craigh na Dun
There are plenty of facts about Craigh na Dun that many Outlander fans may have missed if they have not read the books. In the opening episode of the series, Claire watches as some Druids perform a ritual at the stone circle. The Druids were the ones who originally constructed the standing stones, which hold a spiritual significance to the group. While most time-traveling stories feature an element of science fiction, Outlander takes a more mystical approach. This is one reason why gemstones are usually required to use the stones to travel through time.
When it comes to time traveling, Claire is not the only one who can use the stones to go back in time. Last season on Outlander, we watched as Claire's daughter, Brianna (Sophie Skelton), and her husband, Roger (Richard Rankin), went through the stones. Based on this, it is safe to assume that the ability to use the stones is something that is passed down to other family members. Roger, for example, was able to time travel because one of his ancestors is Geillis Duncan, who enjoyed a brief moment as the show's antagonist.
Starz recently revealed that season 5 of Outlander will not premiere until early 2020. The delay is due to scheduling conflicts at the network and has nothing to do with current production progress.