Owen Wilson 'Starred' in a Wes Anderson 'SNL' Horror Short Without Actually Being in the Film
Owen Wilson appeared in an 'SNL' short without ever being on the show. Edward Norton was the host in 2013 and he transformed into Wilson for the sketch comedy show's version of a Wes Anderson horror flick.
Saturday Night Live's Wes Anderson horror film parody short starred the usual suspects without actually including Anderson mainstay, actor Owen Wilson. The Midnight Coterie of Sinister Intruders 2013 SNL short was completely on-brand for Anderson, even in featuring another Anderson-ite, Edward Norton, who ended up transforming into Wilson.
How did Edward Norton 'become' Owen Wilson for the 'SNL' short?
The SNL trailer short featured Anderson's quirky shooting style of focusing on small details that ultimately become part of the heart and soul of the film. Even the short's name, The Midnight Coterie of Sinister Intruders was a nod to other uniquely named Anderson films like The Grand Budapest Hotel, and Moonrise Kingdom.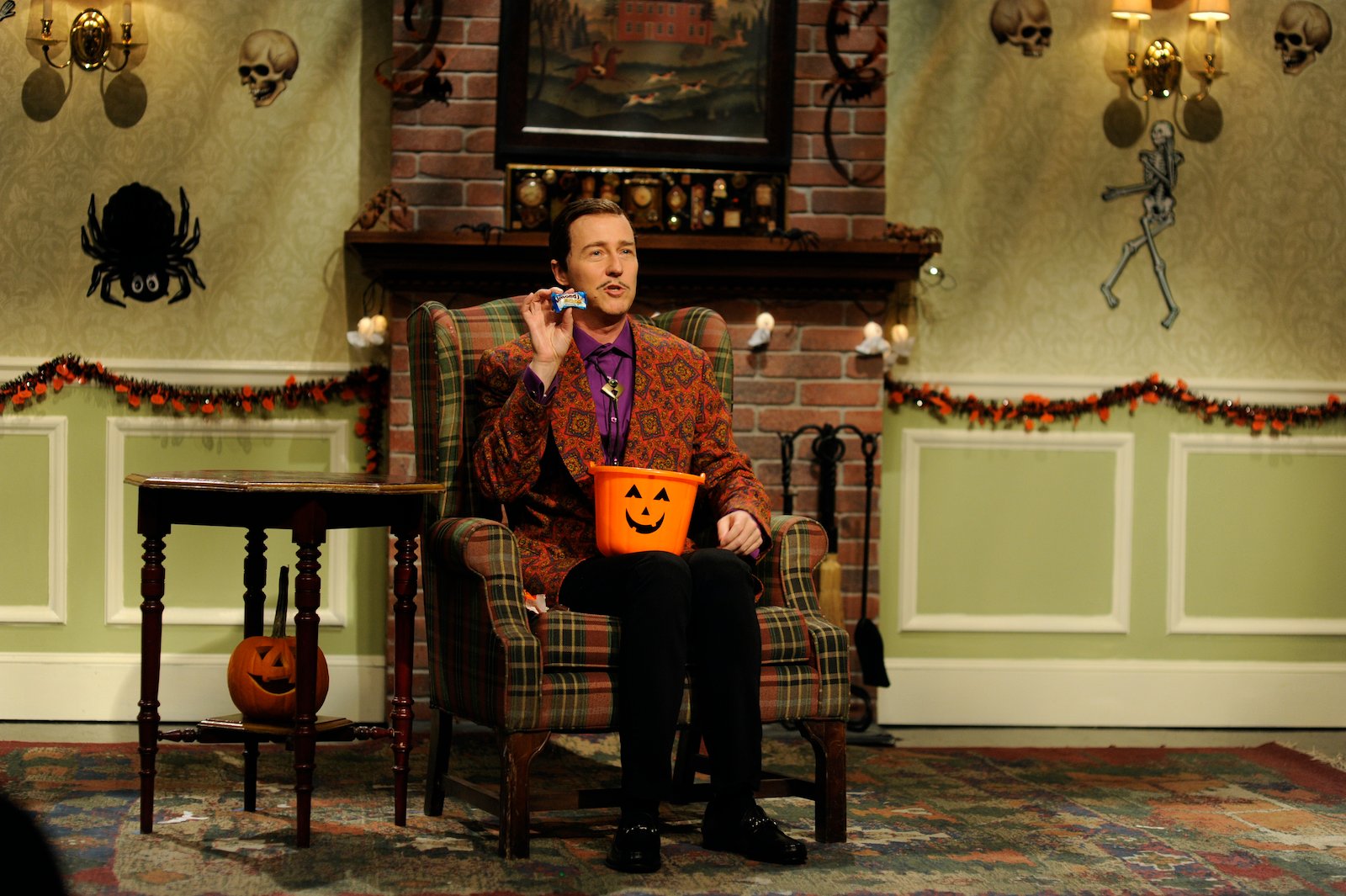 Norton hosted SNL and so he was a natural fit to transform into Wilson. The trailer began with another Anderson regular as the voiceover too. "In theaters, this Halloween," began Anderson narrator Alec Baldwin. "Comes a new vision of horror like you've never seen before." Cameras follow a man walking in the darkness to a creepy home. "From the twisted mind of Wes Anderson …" The horror-fueled music suddenly changes to a friendly guitar chord. A masked man holding a chainsaw then waves the camera. "It's The Midnight Coterie of Sinister Intruders."
'SNL' included a full Wes Anderson cast of characters
Norton was brilliant as Wilson who played "a man in danger." Rocking Wilson's signature shaggy hair, Norton goes to a window looking concerned and says, "Wow. What the heck? There's a bunch of crazy people standing in our yard."
Norton turns to his "terrified wife", Gweneth Paltrow (Noel Wells), and says, "Hey hon I think we're about to get murdered." Wells wears Paltrow's signature fur coat and blunt haircut from The Royal Tenenbaums. Other characters include Tilda Swinton, played by Kate McKinnon, dressed as "social services" from Moonrise Kingdom.
As Norton scans his yard, the short becomes "very" Wes Anderson. "There's a guy with a meat cleaver. And an old record player. One's carrying a falcon. There are twins in matching tracksuits. Hey, look at that. That's Danny Glover." Even a stop motion mouse makes an appearance.
The 'SNL' short became a career 'definer'
Norton did a smash-up job taking on the role. But what did Anderson think? "I have thought of doing a horror movie," he told Salon in 2015. "Horror is an area where if a filmmaker really wants to use all the tricks, the techniques to affect your emotions … with the kind of movies I do, you're supposed to say 'is this part supposed to be funny, or is this part supposed to be sad?'"
"Well, you say, 'I don't know. I'm not sure.' This is the way we wanted it," he continued. "When you make a horror or a thriller, you say, 'You're supposed to be scared here. You're supposed to be relieved here. Here we're explaining something so you know the next part so you'll be more scared then.' I like the idea of the requirements and the obligations of working in a genre like that."
Anderson regular Jason Schwartzman loved the SNL short. "I thought they did a really good job," he told The Hollywood Reporter. "It looked great and it was interesting." He added, "It was a definer [about the SNL short]. I would much prefer someone pretend to be me than me be in a pretend thing." Schwartzman's name made an appearance in the trailer. "I loved it! It made me so happy," he said. "I can't express to you how much it meant to me."