Is 'Ozark' Actress Julia Garner Married, and What Is Her Net Worth?
Talented actress Julia Garner achieved worldwide recognition with her portrayal of 19-year-old cunning local criminal, Ruth Langmore, in Netflix series, Ozark. The rising star has continued to star in television shows and movies, including leading roles in The Assistant and Inventing Anna as well as a popular recurring character in The Americans. Is the actress married, and what is her net worth?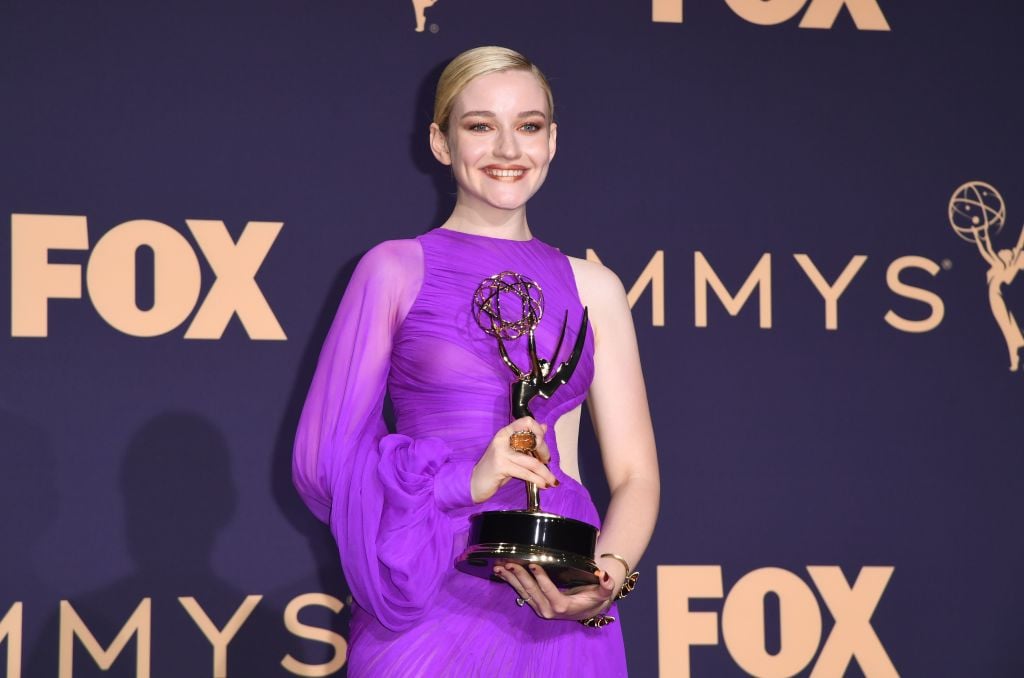 Who is Julia Garner?
Born to Tami Gingold, an Israeli comedian and painter Thomas Garner in The Bronx, New York, the 26-year-old is a Jewish American actress. She initially began acting at the age of 15 to overcome her shyness and then made her film debut two years later in the award-nominated thriller movie, Martha Marcy May Marlene (2011) as Sarah.
The actress continued appearing in small roles in films, including The Perks of Being a Wallflower (2012) before landing the role of Rose Parker in horror flick, We Are What We Are (2013). Due to her fascinating portrayal of Rose, Garner won the Best Actress Award from Fantastic Fest.
RELATED: 'Ozark': Julia Garner Admits She's 'Kind of Happy' She Didn't Receive an Emmy Nomination for the First Season
In 2015, she began appearing in thriller television series The Americans as Kimberly Breland and then landed the breakout role of Ruth Langmore in Ozark a year later. Her portrayal of the sharp-tongued sassy criminal has earned her several recognitions, including a Primetime Emmy Award.
Since becoming a household name from the show, Garner played the leading role of Jane in The Assistant, another main character as Debra Newell's daughter, Terra, in miniseries Dirty John, and will portray infamous fraudster Anna Delvey in upcoming Shondra Rhimes' Netflix show, Inventing Anna.
Is Julia Garner married?
In 2013, the actress first met songwriter, musician, and lead singer of popular indie-pop band, Foster the People, Mark Foster, at the Sundance Film Festival.
While the two kept in touch over the years, they didn't officially begin dating until mid-2018. During the few weeks they had of downtime before Garner had to leave for Atlanta, Georgia to start filming Ozark Season 3, the couple took a road trip to Montana where Foster proposed.
Initially, the two didn't know if they wanted to have a big wedding or a private elopement. However, they chose to follow Garner's parents' footsteps and marry at New York's City Hall.
RELATED: 'Ozark' Julia Garner Won Outstanding Supporting Actress in a Drama Series Emmy Over 'Game Of Thrones' Stars
They had an intimate wedding in December 2019 with their immediate family present, only a couple of months after she won her first Primetime Emmy. The bride wore a "dream pantsuit for a courthouse wedding" and called her day "magical."
Currently, the couple does not have any children, but they do have an English bulldog named Biz.
What is Julia Garner's net worth?
According to StarsWiki.com, the actress has an estimated net worth of $750,000 to $1 million. Her net worth is based on what she made up to 2019 from acting and other appearance fees.
RELATED: 'Ozark's Julia Garner Will Never Star in a Teen Movie
Additionally, Garner advertises brands and products on her Instagram to her 534,000 followers, which contributes to her overall net worth. All 3 seasons of Ozark are available to stream only on Netflix.