'Ozark' Characters and The NFL Quarterbacks They Emulate
The country was put on lockdown around the same time that season three of the hit show Ozark hit Netflix. Fans of the show loved the latest season – its drama, intrigue, and the twists and turns. One of the binge-worthy show's greatest features is its compelling characters. One sports league that has that in common with the show is the NFL. Quarterbacks, in particular, have a lot of appeal to them. 
With that in mind, let's take a look at some of the show's amazing characters as well as which NFL quarterback they parallel. Warning: there are season three spoilers ahead!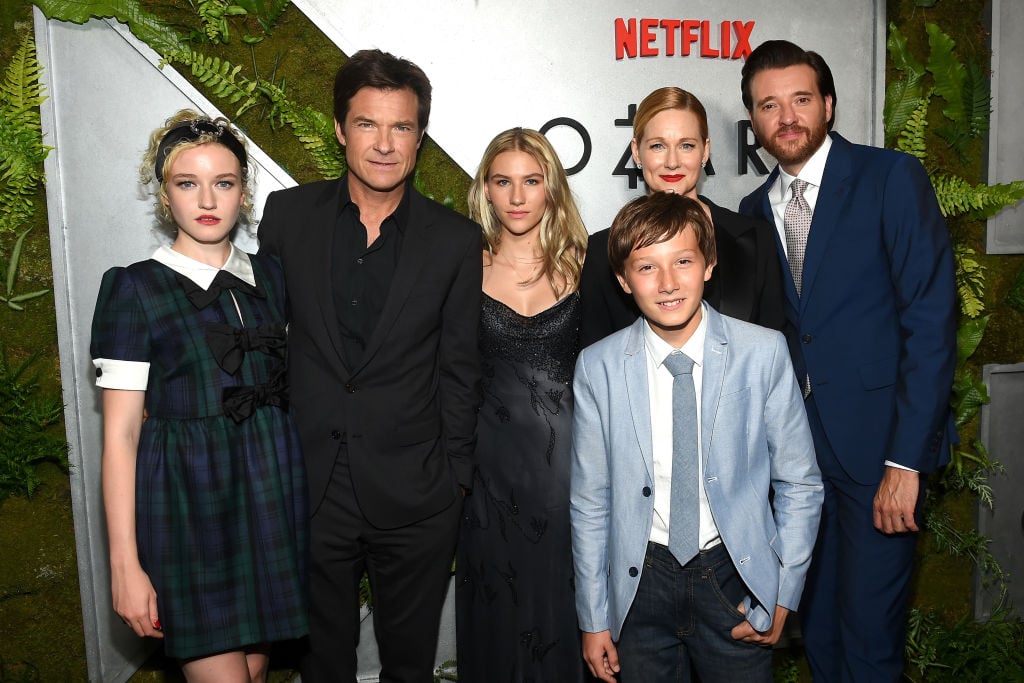 Marty Byrde: Patrick Mahomes
The star of the show is Jason Bateman's Marty Byrde. Battling the FBI, the drug cartel he works for, and his wife at different points this season, he is at one point kidnapped by Omar Navarro, the leader of the cartel. Just when he thinks he's done for, he pulls a victory out of nowhere by unfreezing one of Navarro's illegal accounts, proving his worth to the organization.
It's reminiscent of Patrick Mahomes' unbelievable fourth-quarter comeback in the Super Bowl, where he engineered a miracle come-from-behind victory for the Kansas City Chiefs. 
Darlene Snell: Tom Brady
One of Ozark's greatest heels, Darlene Snell is the villain everyone loves to hate. After poisoning her own husband last season, she came back with a vengeance this year, refusing to act her age. She raised her adopted son Zeke and began dating a much younger guy who could easily be her grandson. Darlene Snell is proof positive that age is just a number — especially when it comes to drug dealers. 
Tom Brady is 43 years old but has shown no signs of wanting to retire. A new deal in Tampa Bay has him similarly invigorated. Brady may be headed for disaster in Tampa – and the odds are high that Darlene is headed the same way if she attempts to cross the Bryde's and the cartel in season four. But neither will let anyone tell them to go gently into that good night. 
Ben Davis: Philip Rivers
Ben Davis was season three's most tragic character. After fans grew to love his laid back Southern charm, his demons consumed him. Unfortunately, it prompted Wendy Byrde to lead him to meet his maker.
Philip Rivers certainly hasn't suffered that kind of fate (he actually got a pretty sweet one-year deal from the Indianapolis Colts), but the Los Angeles Chargers coldly moved on from him once he hit free agency. It just goes to show you: the NFL is a cold-hearted business. Rivers has had a long, illustrious career. Despite the years of fond memories, however, there comes a time when we all need to move on. That's exactly what the Chargers did — just like Wendy moved on from her brother Ben. 
Wendy Byrde: Aaron Rodgers
Wendy Byrde has slowly but surely become the most decisive and power-hungry character on the show. At the end of season two, she arranges an execution and makes a deal with the Navarro cartel to stay and run their casino. She's at the height of her power at the beginning of season three, but throughout the season she slowly loses her grip. Aaron Rodgers, like Wendy, is still at the top of his game but hasn't tasted any of his earlier career success in quite some time. Like Wendy, he keeps fighting to stay on top after missing the playoffs in 2018. 
Rodgers brought the Green Bay Packers back to the playoffs, and Wendy was able to outmaneuver Navarro's attorney, Helen Pierce, at the end of season three. Both Rodgers and Wendy find themselves back in the driver's seat after some time out of it.
Jonah Byrde: Cam Newton
When the season finale hits, the Byrde's youngest son discovers that it was his own mother who arranged the hit on his Uncle Ben. Disillusioned and alone, he shatters the front window of the family home. It's a metaphor for how disconnected he feels from his own parents.
Cam Newton is coming off a Lisfranc injury and saw the team he'd remained loyal to, the Carolina Panthers, put him on the trading block and then promptly releasing him. Newton, like Jonah, now finds himself alone and without a support system. Where will he end up next season? For now, it's unclear where he'll be — much like Jonah.