'Ozark': Charlotte Byrde Was Almost Played by This 1 'Dance Moms' Reality TV Star
Netflix's original drama, Ozark, dropped season 3 on March 27, 2020, and it was every bit as thrilling as the last two seasons. Marty (Jason Bateman) and Wendy Byrde's (Laura Linney) daughter, Charlotte (Sofia Hublitz), was less than thrilled to move to the Lake of the Ozarks in season 1. However, in the third season, she is a team player in the family business of money laundering. It's hard to believe that a Dance Moms reality TV star was almost in her place.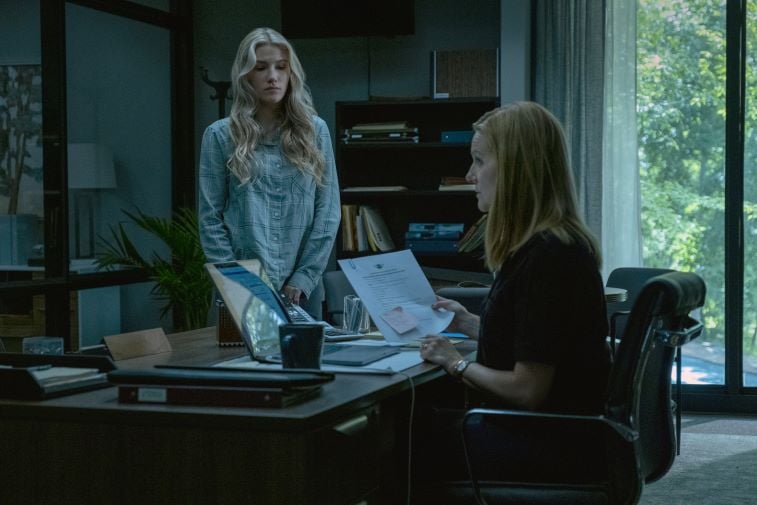 'Ozark': What happened to Charlotte Byrde in season 3?
Charlotte has come a long way from that angry teen who wanted to remain in Chicago, Illinois, in season 1. Now, she's settled into her life in the Ozarks, protects the family business, and works alongside her mother.
Early in season 3, Charlotte gives her brother, Jonah (Skylar Gaertner), a drone, which he plans to use for video surveillance. Later in the season, she becomes increasingly important because of her friendship with Helen Pierce's (Janet McTeer) daughter — Erin (Madison Thompson).
RELATED: 'Ozark' Season 4: The Most Likely Fan Theories to Play Out When Marty and Wendy Byrde Return
Erin has no idea that her mother works for a Mexican drug cartel, so Charlotte has to keep the family secrets from her while keeping her out of danger. We see that Charlotte's personality has changed dramatically since the first season when she is not the one chasing boys, but going along with it for Erin's safety.
'Ozark': Which 'Dance Moms' star auditioned for the role of Charlotte Byrde?
Instead of watching Hublitz as Charlotte, it could be Chloe Lukasiak from the original cast of Dance Moms. The actress and reality TV personality auditioned for the role at the same time as Hublitz. 
Lukasiak was cast on Lifetime's Dance Moms in 2011, along with Abby Lee Dance Company owner, Abby Lee Miller. She appeared on the show for the first four seasons, and then returned as a guest during season 7.
RELATED: 'Ozark' Is Heading Toward a 'Game of Thrones' Level of Popularity
After leaving Dance Moms, Lukasiak became active on her YouTube channel, appeared in various music videos, and scored small parts in a few movies. She has over 6 million followers on Instagram and is gaining popularity as a social media influencer. The reality star is a stark contrast to Hublitz, who does not have a public Instagram or Twitter account.
Some fans think Charlotte will have a more significant role in 'Ozark' Season 4
Ruth Langmore (Julia Garner) left the Byrde family business in season 3. So, many fans surmise that Charlotte will step up and take on Ruth's duties.
RELATED: 'Ozark': This Character Will Move Up As the New Ruth Langmore In Season 4
"She'll probably fill in for Ruth's role in Season 4, so it might be a big step up for her, character-wise," one fan wrote on Reddit.
Other fans agree that we will see more involvement from Charlotte in season 4 of the series.
"She has been slow-played for most of the show," another Redditor added. "I believe she is ripe for much more screen time and purpose in season 4, though. Wyatt and Charlotte reconnecting seems like a good bet."