'Ozark' Fans Argue Over the 'Lazy Writing' for This 1 New Character in Season 3
'Ozark' fans disagree over the plotline revolving around one of the new characters in season 3 of the Netflix series.
The Netflix original drama, Ozark, dropped season 3 on March 27, 2020, with triple the viewership than the premiere of the second season. It remained in the top 10 on Netflix for many weeks with its thrilling cast — Jason Bateman, Laura Linney, and Julia Garner. However, fans found one thing to criticize — the plotline of this one new character in season 3.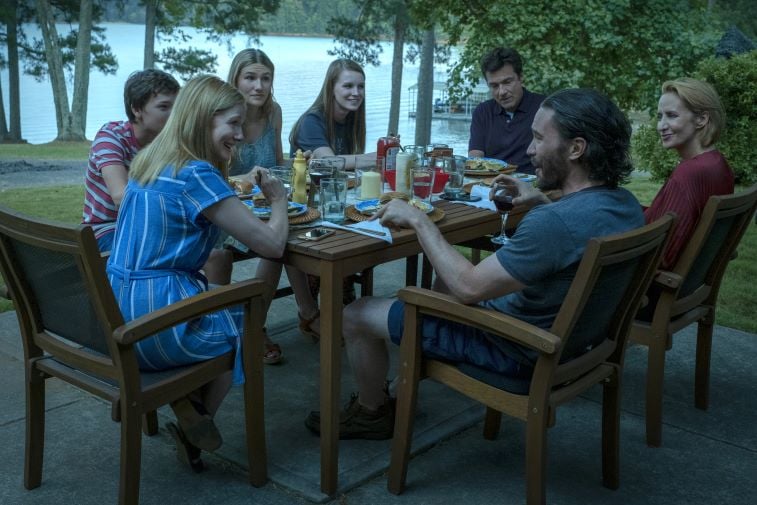 What new characters are in 'Ozark' Season 3?
Ozark is the type of show that is not afraid to kill off their characters, to the shock and dismay of their viewers. However, when significant individuals leave the show, that creates room for the entrance of others. 
In season 3, Ozark introduced a new FBI agent, Wendy Byrde's (Laura Linney) brother, and a prominent role for the cartel's attorney, Helen Pierce (Janet McTeer). A few new recurring characters appeared as well. 
Jessica Frances Dukes joined the cast as Maya Miller, the FBI accountant, brought in to investigate the Byrdes' casino business. She jumped in where the deceased agent Roy Petty (Jason Butler Harner) left off.
Wendy's brother, Ben Davis (Tom Pelphrey), was mentioned in prior seasons, but never appeared until now. He became a significant part of Ozark Season 3, and some fans felt it didn't flow well.
'Ozark' fans believe the writers were lazy to bring in this 1 character
"From the moment I heard Wendy's brother was a key role in this season, I couldn't shake how cheap it felt having a written in character all of a sudden making plot altering decisions," one fan wrote on Reddit. "Having said that — I still loved the season. I like the acting and the overall character that Ben was, but it left me thinking, what characters are they going to create out of thin air down the road to pave the plot next?"
The addition of agent Miller felt natural because the previous FBI agent was dead. Helen's more prominent role fits nicely into the plot because the cartel needed someone else to keep an eye on the Byrdes. However, fans cannot get behind how out of nowhere it was to bring in Ben.
"I thought Ben's inclusion in season 3 was lazy writing," another Redditor wrote. "It seemed like most of the season was focused on him bumbling around so that he could disrupt the other characters' plans instead of the writers having to deal with the storylines in detail. I think he is just a wrecking ball that smashes through the season for easy extra drama."
Other 'Ozark' fans argue they love Ben Davis
"I agree they needed a new plot device to mess up plans, and it was quite obviously shoved in," another fan added. "However, in a show that kills off so many characters, new characters need to be added all the time. So I don't think it was lazy — it was a necessity, and they managed to write a complex emotional story around it."
Ben showed viewers a softer side of Ruth Langmore (Julia Garner) and portrayed a character with a mental illness. Although his entrance into the show did not seem smooth, many fans liked the addition.
"I appreciate Ben's character, just for the fact that it brings awareness to Bipolar Disorder," one fan wrote.
Many fans and critics are already praising Pelphrey for his portrayal of Ben. Several critics also predict he is in line for an Emmy nomination for Best Supporting Actor in a Drama. Fans may argue over whether or not the writing was lazy for his character, but there's no disputing that Pelphrey pulled off the role impeccably.