'Ozark' Fans Wish This One Character Was Never Murdered — It Might Surprise You
There's one death in 'Ozark' that fans will never recover from. It's not what you expect.
After three full seasons of money laundering, the Ozark death toll is climbing high. Luckily Marty Byrde (Jason Bateman), Wendy Byrde (Laura Linney), and Ruth Langmore (Julia Garner) are still alive. However, there is one character that fans wish wasn't murdered.
[Spoiler alert: Ozark spoilers ahead.]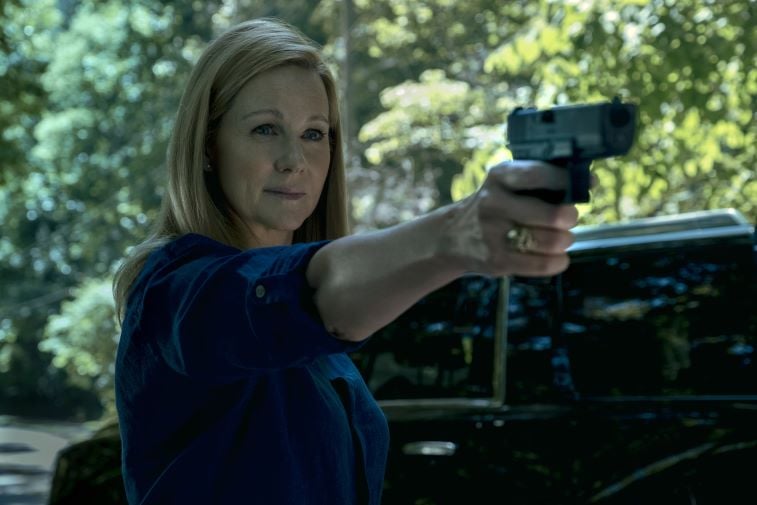 'Ozark' Season 1 introduced a fan-favorite villain
In the very first episode of Ozark Season 1, Camino "Del" Rio (Esai Morales), a local leader for Navarro's Mexican drug cartel, nearly kills Marty. Luckily, Marty talks his way out of the situation by creating a plan to launder money in the tourist shores of the Ozarks in Missouri.  
Marty uproots his entire family to follow through on his deal with the cartel. However, he encounters several new villains when he begins his laundering business in the tourist town. Ruth and the other Langmores attempt to steal the money that Marty is supposed to be laundering. He temporarily deals with them by hiring Ruth to help him. 
The Snells quickly appear as another villain in the series. Jacob (Peter Mullan) and Darlene Snell (Lisa Emery) have a drug business in the Ozarks already when Marty comes to town. When Marty attempts to build a church for the local minister, he interferes with the Snells operation of selling heroin on the lake during Sunday services.    
After several episodes of fighting with the Snells, Marty finally comes to an agreement with them and the Mexican drug cartel in the season 1 finale of Ozark. Del attends the negotiations and agrees that the cartel will distribute the Snells' heroin. However, the Snells must allow a casino on their property for money laundering. Everything seems to be working out until Del calls Darlene a "Redneck." She promptly shoots and kills him for the insult.
'Ozark' fans wish that Navarro's cartel cell leader, Del, was never murdered
"For a bad guy, Del seems to be universally loved and missed among the fans," wrote a fan on Reddit.
The Byrdes' original handler is often mentioned as a character that fans wish was still around in season 3.
"[Del] was such a great character," added another fan. "Don't get me wrong, I commend the writers for keeping the show unpredictable and killing him. But after rewatching the first season, I can't help but wish his character was still around."
Others add that he was open to Marty and Wendy's ideas, at least.
"I felt bad for them when he got killed," another Redditor added about the Byrdes' feelings. "He seemed like a level headed, smart guy. Except for the whole insulting people in their own kitchen."
'Ozark' fans preferred Del over Helen Pierce
"Killing off Del was a huge mistake on the part of the writers," wrote one Reddit user. "Apart from the shock value, it offered nothing but a renewed set of evil characters who were far more harmless than they seemed."
After Del died, Navarro sent his attorney, Helen Pierce (Janet McTeer), to monitor the Byrdes' progress with their money laundering. 
"Keeping Del around and a potential square-off between them would have been far more interesting, but I guess Helen sufficed," the fan continued.
Many fans feel that Del was a stronger character than Helen. Although now that Helen is also dead, it looks like there might be another cartel villain coming our way in Ozark Season 4.
Read more: Is 'Ozark' the New' Breaking Bad'?