'Ozark': How Jason Bateman Tells the Cast About Their Character's Death
Find out when and why Jason Bateman lets the cast of 'Ozark' know when their character is going to die and how it impacts the series.
The Netflix original series Ozark quickly became a fan favorite after it premiered on the streaming service in July 2017. Starring heavy hitters like Jason Bateman and Laura Linney, the series follows the Byrde family, who have been forced into money laundering for the Navarro Mexican drug cartel. 
Ozark has continued to captivate audiences for three seasons because of the actor's ability to tell a story, how the show is written, and, surprisingly, when Bateman chooses to let the actors know about their character's deaths. 
[Spoiler Alert: If you haven't watched Ozark yet, spoilers below.]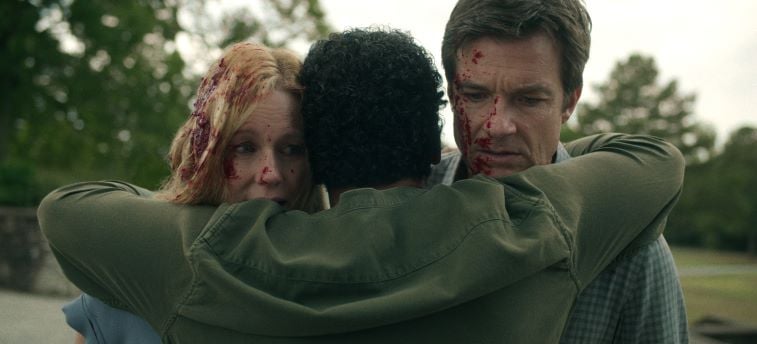 The brutal deaths in 'Ozark' 
Ozark is not a show designed for those with a weak stomach. After three seasons of money laundering, working with the Kansas City mob, and keeping the Navarro cartel happy, Ozark has a fairly high death toll. In season 1 alone, several characters were killed off. Camino "Del" Rio (Esai Morales) was shot in the head by Darlene Snell (Lisa Emery) after he called her a "redneck." Russ (Marc Menchaca) and Boyd Langmore (Christopher Baker) were electrocuted by their niece, Ruth (Julia Garner). 
In season 2, FBI Agent Roy Petty (Jason Butler Harner) was bludgeoned to death by Ruth's father, Cade Langmore (Trevor Long). Darlene poisoned her husband, Jacob Snell (Peter Mullan), and later in the season, Marty accidentally shot Mason Young (Michael Mosley) in the neck, resulting in his bloody death. 
Season 3 of Ozark introduced fans to new characters — like Wendy Byrde's (Linney) brother, Ben Davis (Tom Pelphrey) — and even more deaths. Helen Pierce's (Janet McTeer) hired hitman Nelson (Nelson Bonilla) is sent after Ben when he threatens the secrecy of the Byrde's operation. And in one of the most shocking twists, Ozark Season 3 ended with Helen getting shot in the head by Nelson. 
How the cast of 'Ozark' find out about their character's death 
Unlike some other productions, the cast of Ozark is privy to their character's death before shooting even begins. "No actor likes to read a script and sneak up on the fact their character just got killed," Bateman explained to Collider. "Everyone is told up front [which characters will die that season]." According to Bateman, other productions let their actors know their character is going to die the week they're filming it. With a Netflix series like Ozark that has 10 episodes released all at once, he feels that things need to be handled differently. "I just think that's kind of sh*tty [to let an actor know about their character death the week of]. So we let everybody know before the season starts what the future is for the character, or lack thereof, and away we go."
Bateman's choice to keep Ozark's cast in the know about when their character is going to die is a careful one. In doing so, he allows each actor time to grieve the loss of their role and hone in on the specifics leading up to their character's death. For example, when Ben's character stopped taking his bipolar medication, he experienced periods of extreme calm and then sudden frantic outbursts. Ultimately, this caused Wendy to feel like Ben had become a threat to her and Marty's operation. Knowing when and how his character would die, Pelphrey was able to spend more time on the nuances of the role that made his character lovable and cared for by the audiences before he met his violent end. 
The same can be said of any of the characters who have been killed off in Ozark. Knowing when their deaths are going to be worked into the story creates an environment where these actors can truly let their talent shine.