'Ozark': Julia Garner Admits She's 'Kind of Happy' She Didn't Receive an Emmy Nomination for the First Season
When Ruth Langmore first appeared on Ozark, viewers almost immediately fell in love with her sharp-tongue and southern accent. However, Julia Garner didn't receive a coveted Primetime Emmy nomination for her portrayal until the second season, which she won. In a Deadline: The Actor's Side interview, Garner explained why she's "kind of happy" she didn't receive a nomination for the first season.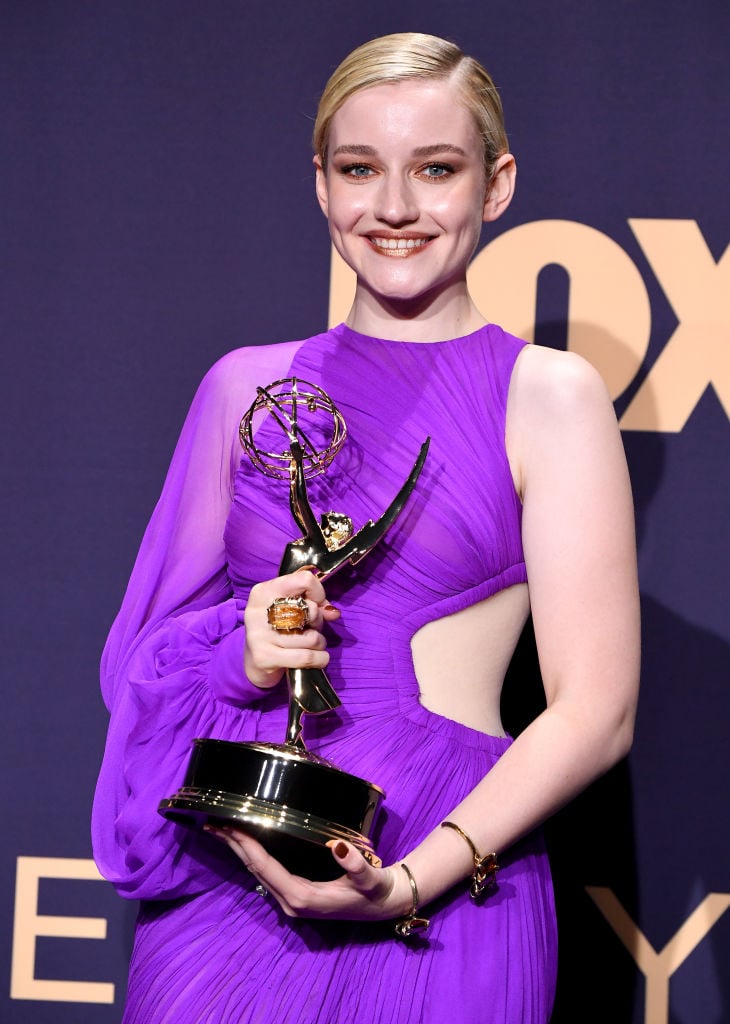 Julia Garner portrays Ruth Langmore on 'Ozark'
The Netflix crime drama follows financial adviser Marty Byrde (Jason Bateman), who must relocate his Chicago-based family to a small town in Missouri to set up a money-laundering operation for a Mexican drug cartel.
The father-of-two ran into local criminals Ruth Langmore (Julia Garner) and her family when they attempted to steal the $8 million meant for Marty to begin laundering.
The cunning 19-year-old convinced Marty to hire her as a dishwasher at the Blue Cat, where she initially intended to learn his operation and then rob and kill him.
However, the two developed a close relationship as Marty took notice of the intelligent local criminal and promoted her to his right-hand person. She began to see the financial adviser as a father figure and chose him over much of her own family.
The dynamic duo worked side by side until the third season when an unexpected relationship caused Ruth to look at the Byrdes differently.
Julia Garner won a 2019 Emmy for performance on 'Ozark'
In the second season, Marty gave Ruth more responsibilities, even entrusting her with his cash. She becomes conflicted when she has to choose between her deadbeat father, who wants her to kill Marty and steal his money, and her new mentor, who she genuinely trusts.
Ruth consistently proved her loyalty to the financial adviser. Therefore, he left his illegal businesses in her hands and told her details of the cartel operation when he temporarily fled to another country.
Unfortunately, her decision to choose Marty over her family ended up alienating one of the only people closest to her. Garner's impressive performance in Season 2 earned her individual nominations from Screen Actors Guild and Critics' Choice Television Awards as well as the 2019 Primetime Emmy for Outstanding Supporting Actress in a Drama Series.
She won the prestigious award over four of the leading Game of Thrones actresses and Killing Eve's Fiona Shaw.
Julia Garner 'kind of happy' she didn't receive an Emmy for first season
Viewers fell in love with Ruth Langmore almost immediately and thought Garner deserved an Emmy nomination for the first season. However, the actress thinks not receiving a nomination then "happened for the best."
In a Deadline interview, she explained that "not everything is about awards," instead, it's "about the work." Garner continued and noted that once people get nominated, they "don't keep up with the work," which results in the audience forgetting about the actor or actress.
Therefore, she's "kind of happy" people thought she should have gotten nominated and didn't because it taught her patience. When the actress won, she described the feeling as "crazy" and admitted she "froze on stage" once she received her award because she "stupidly looked at the audience."
Additionally, Garner revealed she made "direct eye contact" with A-list celebrities Michael Douglas and Heather Zeta-Jones, which ultimately "threw me off." She closed her story by joking, "that's what winning an Emmy is like."
All three seasons of Ozark are currently available to stream only on Netflix.