'Ozark': Laura Linney Demanded Wendy Byrde Be a Criminal Mastermind
Find out why Laura Linney wanted Wendy Byrde to be nefarious.
Laura Linney has long been one of our most acclaimed performers, and she particularly excels at playing villainous types. Think of her icy turn in Mystic River or especially her turn as another wife embroiled in a life of crime via the acclaimed Netflix series Ozark. 
Linney plays Wendy Byrde, the wife of Jason Bateman, whose character gets mixed up in money laundering for a drug cartel. The couple is hiding from the fallout of this scene in the Ozarks, only to find their activities there becoming even more perilous.
How did Laura Linney get famous?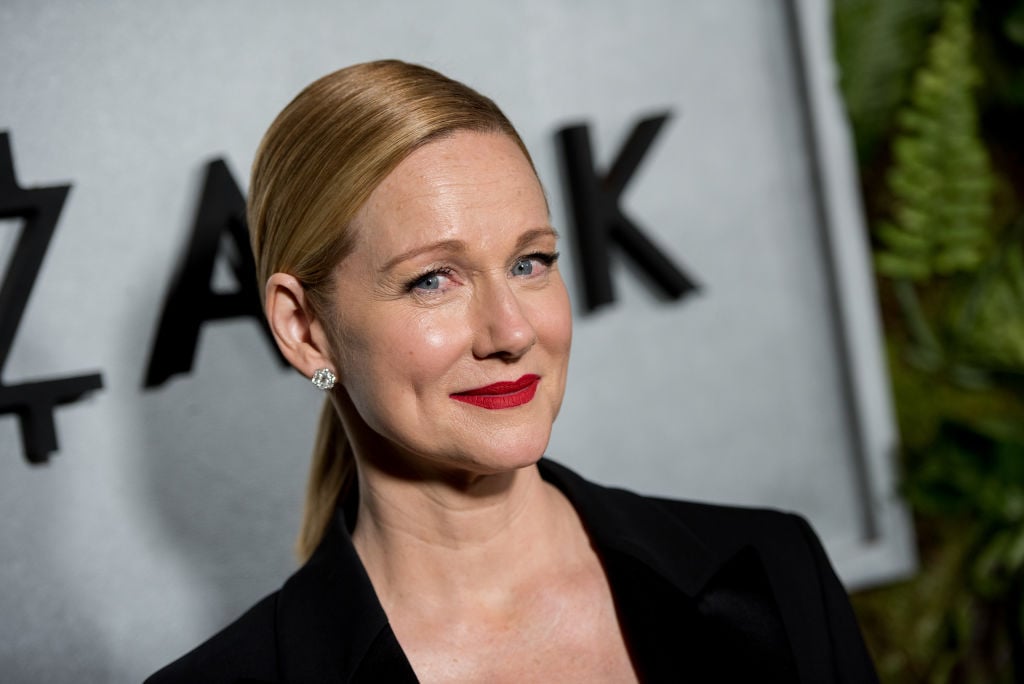 Linney came to prominence in the mid-1990s, first appearing in small parts in such notable films as Lorenzo's Oil, Searching for Bobby Fischer, Dave, and Primal Fear. One of her most prominent early roles was the 1998 film The Truman Show, in which she played Jim Carrey's wife, in a marriage that was truly made for TV, as she was part of the massive reality show centered around Carrey's unwitting star.
Linney's star rose in the early 2000s when she earned her first Oscar nomination for You Can Count On Me, playing a woman caught between Matthew Broderick and then fellow rising star, Mark Ruffalo. She also starred in Clint Eastwood's Mystic River, playing the Lady Macbeth-like wife of Sean Penn, who seeks vengeance after his daughter is murdered. 
Linney earned her second nomination playing the wife of the famed sex researcher Alfred Kinsey in Kinsey, and she would get her third nomination for the 2006 film The Savages, opposite the late Philip Seymour Hoffman. Other notable film credits include Love Actually, The Squid and the Whale, and Sully, the last title again for Clint Eastwood. 
Linney began making her mark on the small-screen as well, and for that work, she has won three Emmys: for Wild Iris in 2002, a guest actress spot on Frasier in 2004, HBO's John Adams in 2005 and the movie The Big C: Hereafter. She was also nominated for the original The Big C and for Ozark. 
What is 'Ozark' about? 
The show debuted on  Netflix in 2017. According to the St. Louis Post Dispatch,  co-creator Bill Dubuque set it at  Lake of the Ozarks because he worked for the Alhonna Resort and Marina when he was a teenager. The show is set around the Lake of the Ozarks because it struck Dubuque as an out of the way spot where someone could be on the lam from the law. 
Critics thought the show was slow to find its footing, as it scored a relatively low 70 percent on Rotten Tomatoes in its first season. The critical consensus for season 1 said: "Ozark hasn't yet reached the same level as the classic crime dramas to which it will inevitably be compared, but its satisfyingly complex plot – and a gripping performance from Jason Bateman – suggest greater potential."
That greater potential came to fruition  by season 3, which has a 97 percent rating and a consensus that singled out Linney: "Ozark finally finds its footing in a third season that ramps up the tension and shines a brighter spotlight on Laura Linney's exceptional performance."
Why did Laura Linney say yes to 'Ozark?'
Linney gave an interview to Collider in 2017, when she revealed that she hadn't been looking for a series, but the screenplay was too good for her to pass up.
"When I got the script and read the script, you could see the potential not only for the character of Wendy, but for the narrative, as well. It just had tremendous potential. That was obvious, right off the bat," she said. 
As for how she approached her character, she was determined to make Wendy more than just "the wife." Talking to The Wrap, she said: "I met with Jason [Bateman, her co-star, director and executive producer] over coffee in New York, and we talked about the role and where I felt it needed to go. And he said yes, they would do that … Of course, you never know when you're told that if it really will happen, but ultimately I went with my gut, which told me this was something I should do and be involved with. And I'm so glad I did!"