'Ozark': Lisa Emery Reveals What It's Like to Be Recognized as Darlene Snell on the Street
If you watch Ozark, then you probably know how conniving and manipulative Darlene Snell (Lisa Emery) can be. She was the wife of Jacob Snell (Peter Mullan), that is until she poisons him in his coffee when she thinks he's going to kill her. In season 3, Darlene has taken over the business and she's starting a new life with Wyatt Langmore (Charlie Tahan).
Darlene undermines her business partners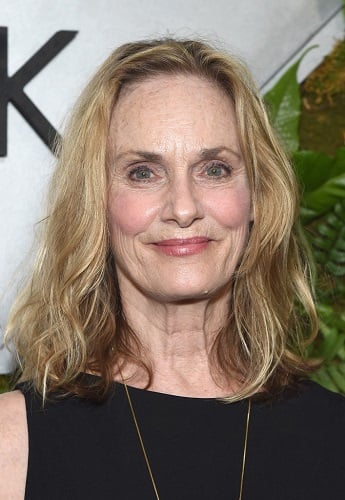 As the wife of Jacob, Darlene was always trying to manipulate him to do what she wanted. The Snells are in charge of a heroin business that brings them in contact with the Byrdes. They don't trust each other and Darlene goes out of her way to undermine them whenever possible.
She even goes so far as to put fentanyl in her family's heroin and when it's distributed, 57 people end up dying from it. The Navarro cartel takes action and shoots at Darlene and Jacob while they are riding in a vehicle. Jacob gets shot, but somehow makes it through the whole ordeal. Jacob eventually becomes convinced to go along with what his partners want, but Darlene isn't having any of it.
Darlene creates a new family for herself
RELATED: 'Ozark' Fans Argue Over the 'Lazy Writing' for This 1 New Character in Season 3
Everyone is replaceable to Darlene. When her husband stops being useful and listening to her, she kills him with cherry pits in his coffee, watching him die as they take their daily morning walk. Darlene takes up the business right away and starts making her own moves.
She gets her hands on the baby that belonged to a local pastor and everything seems to be working out well for Darlene. She even finds a new love in Wyatt Langmore, another victim of Darlene's manipulativeness. She takes up Ruth's (Julia Garner) cause as well and gets her claws in her in season 3. It looks like Ruth is going to work for Darlene and her cousin. She cuts ties with the Byrdes, which is what Darlene wants all along.
Lisa Emery reveals what it's like being recognized as Darlene Snell
Lisa Emery plays Darlene and you'd think it would be hard to be recognized as her on the street. Emery took part in an interview in 2018 with the New York Post and revealed the details and they are surprising.
"I never get any negative reaction [from playing Darlene]," Emery said. "People … think it's a riot to see Darlene Snell on the street in the East Village. I was waiting for a bus on 14th Street and this woman comes up to me and says, 'Oh my God, can I give you a hug?'"
It sounds like Darlene has a huge following out there among fans of Ozark. She is an all-absorbing character and it's hard not to be glued to her when she's on the screen. What's next for Darlene? She'll probably continue to raise the child and live with Wyatt. She'll also keep trying to ruin things for the Byrdes, even though they are business partners. At the time of publishing, it isn't yet known if there will be a season 4.
Hopefully we'll get to see more of Darlene in the future on Ozark.