'Ozark' Season 3: The Disturbing Fan Theories About Who Jonah Shot in the Last Episode Will Have You Replaying The Ending Over and Over
Fans have strong theories about who Jonah Byrde shoots in the last scene of 'Ozark' Season 3.
Netflix's Ozark Season 3 lived up to all the hype when it dropped on March 27, 2020. Marty (Jason Bateman) and Wendy Byrde (Laura Linney) continue money laundering in the Missouri Ozarks and fall in even deeper with the Mexican drug cartel.
Their children, Charlotte (Sofia Hublitz) and Jonah (Skylar Gaertner), become even more involved in the family business throughout the season. As usual, the season ends with several cliffhangers — including Jonah shooting through the Byrde's dining room window, and possibly someone outside the window.
[Spoiler alert: Ozark Season 3 spoilers ahead.]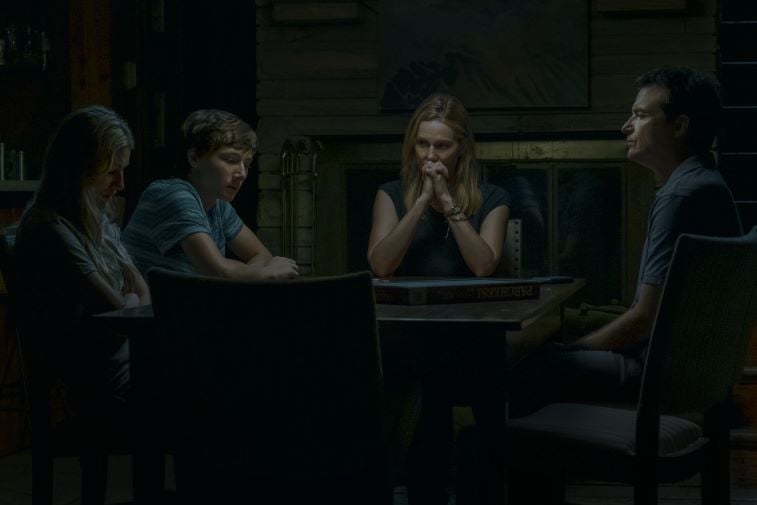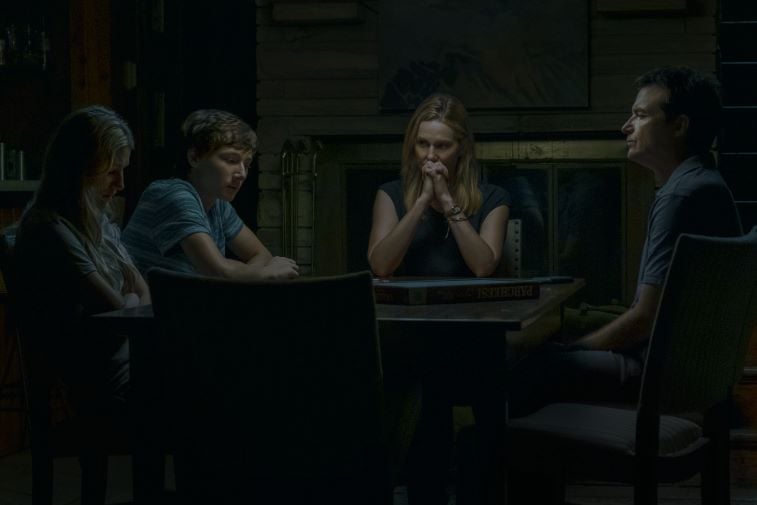 How did Jonah's storyline in 'Ozark' Season 3 end?
The season 3 finale of Ozark is full of twists and turns up to the very last second. Wendy finally returns home after allowing the drug cartel to kill her brother, Ben Davis (Tom Pelphrey). However, instead of being happy to see his mother, Jonah is enraged. 
The teenage boy demands that his parents kill Helen Pierce (Janet McTeer) for ordering the hit on his Uncle Ben. Wendy and Marty refuse and try to explain the situation to Jonah. 
In the middle of the night, the leader of the drug cartel, Omar Navarro (Felix Solis), calls the Byrdes to insist they fly to Mexico for his son's baptism, immediately. While they are packing to leave, Jonah confronts the cartel's attorney, Helen, for killing his Uncle. 
The young boy points a shotgun at Helen, insisting that she is trying to kill his entire family.
"Yes, I did have your uncle killed because it had to be done," Helen admits. "He would have fucked up all of our lives. That is true. But you need to understand something. Your mom is the one who OK'ed it."
Jonah does not go through with killing Helen but instead returns home. He thinks over what the attorney said while looking at the ashes of his dead Uncle. Then he loads his shotgun and fires the gun through their dining room window. 
Who did Jonah shoot in the final episode of 'Ozark' Season 3?
"Am I the only person in the world right now who realizes Jonah was reacting to footsteps you can clearly hear, and not just shooting out the window in anger?" one fan asked on Reddit. "I'm pretty sure Jonah shot someone — Charlotte? The pregnant FBI agent, Mia?"
Many fans feel that Jonah shot someone through the window. Although, when rewatching the show, it is evident that viewers cannot see who is on the other side of the glass.
"To me, it seems like he hears something like footsteps, turns around and has a look like he sees someone, pumps the shotgun and shoots," another fan agreed. "Upon watching it again, it looks like he got a good look at who he was shooting, with intent, not an accident, because he sees [the person], then pumps the gun."
Fans debate whether he shot the FBI agent, Mia Miller (Jessica Frances Dukes), his sister, Charlotte, or Helen's daughter, Erin (Madison Thompson).
"I think he shot someone, too," added another viewer. "My guess is Charlotte or Erin. The long-shot is Maya checking on the kids."
Other fans feel Jonah was only shooting the gun out of anger, at no one
"Honestly, when he was sitting in the chair, it looked like he was about to kill himself," another Redditor contemplated. "So, maybe he shot his reflection in the window, symbolizing he no longer gives two sh*ts about anything and may become a new Ben-type traumatized wild card?"
Many fans agree that he was not shooting at anyone out the window. Jonah was upset and finally released his built-up anger.
"He was itching to pull that trigger since he arrived at Helen's, but never got the justification he needed to do so," added another fan. "So his anger reached a crescendo, and he wanted to fire off that gun as a release."
Fans are split on whether Jonah was reacting to footsteps, shooting at a real person, or merely releasing his frustrations. One fan speculated that Ozark season 4 would open with the realization that Jonah accidentally shot his sister, who was outside the window. 
Viewers have plenty of time to debate who Jonah shot while they await the release of Ozark season 4 on Netflix in 2021.