'Ozark' Season 3: Is Ruth Langmore to Blame for the Death of [Spoiler]?
The Byrde's closest associate, Ruth Langmore, fell for Wendy's brother, Ben Davis, who unexpectedly came into town in Ozark Season 3. While many viewers initially enjoyed the two together, a death quickly cut the romance short.
[SPOILER ALERT: This article contains information released in Ozark Season 3.]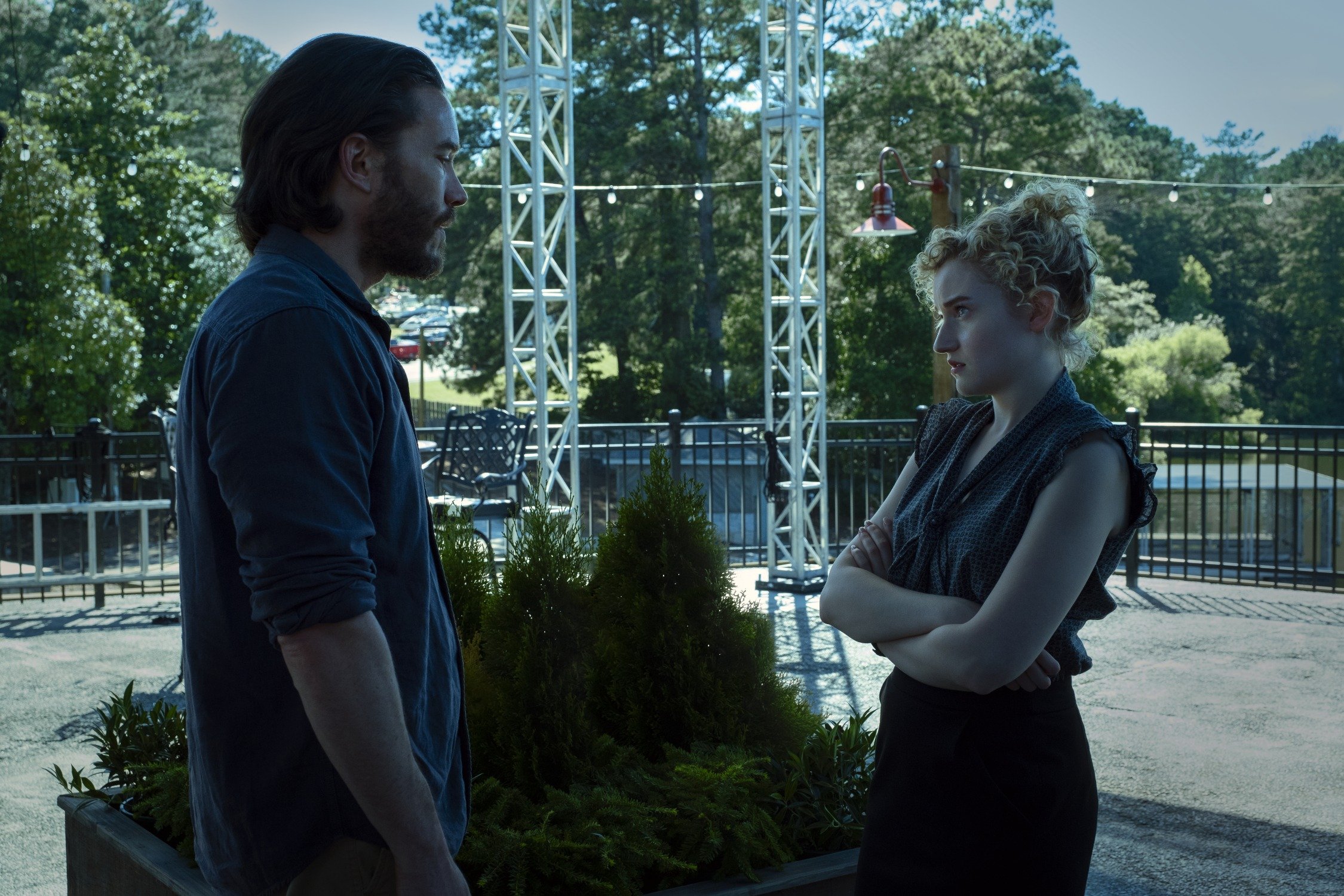 Ben Davis died in 'Ozark' Season 3
Wendy Byrde's brother, Ben Davis (Tom Pelphrey), is introduced in the third season of Ozark as a substitute teacher. However, he lost his temper after seeing a compromising photo students were messaging to each other and collected everyone's phones to destroy in a wood chipper. He then attacked a nearby worker and lost his job.
On the run from the police, Ben showed up at the Byrde's. Initially, Marty Byrde (Jason Bateman) asked Ben to leave, but Wendy (Laura Linney) wanted him to stay as she needed the support.
He grew close to his nephew Jonah (Skylar Gaertner) and developed a crush on the Byrde's right-hand woman, Ruth Langmore (Julia Garner). The two eventually began a romantic relationship, and Ben stopped taking medication needed for his bipolar disorder so they could become intimate.
Knowing how her brother behaves without his prescriptions, Wendy begged Ruth to leave the relationship, to which the Langmore refused. Instead, she continued seeing him and helped him get out of a mental health facility.
After his release, he snapped on his sister, punched his brother-in-law in the face, and revealed their lawyer Helen Pierce's (Janet McTeer) true day job to her daughter, Erin. Adamant that her child not know anything about her cartel dealings, Helen ordered his death.
Initially, Wendy and Ben went on the run together. However, once her brother proved himself as a liability to their organization, she revealed their location to Helen's hitman, who murdered Ben.
Why some fans think Ruth Langmore isn't at fault
Even though the relationship with Ruth is what caused Ben to stop taking his medication in the first place, some fans don't think she's to blame for his death.
One Reddit user explained the young local made a mistake by letting him out of the facility, but she didn't understand the "severity" of bipolar disorder due to her age.
Ruth also felt the Byrdes had been lying to her, especially with the Frank Cosgrove Jr. situation, and didn't want to trust them when it came to Ben. Additionally, this was probably the first time Ruth fell in love, so she genuinely wanted to help him.
Many place most of the blame on Wendy because she asked Ben to stay when he initially arrived, and they filled him in on their illegal activities. One viewer pointed out that "nobody is solely to blame for this" as the series is demonstrating "how the system of crime, mental illness, and capitalism really traps people" and "raises a question about choice."
On the other hand, several fans point the finger at Ruth for thinking she knew Ben better than his sister and helping him leave the mental hospital, which led to his death. 
Why many fans blame Ruth Langmore for Ben's death
One fan noted Ruth is "unintentionally" responsible for his death because she was "blinded by her feelings for him." Additionally, the Byrde's reluctance to punish Frank for assaulting Ruth caused her to harbor feelings of bitterness toward the couple.
Therefore, when Ben "begged" for her help, she questioned Wendy and Marty's motives for keeping him in the hospital, believing their intentions weren't sincere.
While one fan thinks the brother would have stopped taking his medication on his own sometime in the future, they still think Ruth "definitely needs to take some blame" because Wendy didn't have another choice. Another viewer placed all the blame on Ruth as Wendy attempted to warn her sooner.
They believe Ruth "acted irresponsibly throughout the season" and had the chance to get Ben back on his medication after his spontaneous bar fight, yet she never tried. Many viewers liked Ruth and Ben together but felt she made an "unintentional" mistake that resulted in the death of her lover. Ozark is available on Netflix.