'Ozark' Season 3: Was Ruth Unreasonable to Think She Was 'Untouchable'?
Netflix's crime drama, Ozark, premiered season 3 on March 27, 2020, with a whole new list of problems for Ruth Langmore (Julia Garner). In season 1 of the show, Marty Byrde (Jason Bateman) took Ruth under his wing so-to-speak and gave her a lucrative job.
Although, the life of crime caught up with her in the last season. Ozark Fans argue over whether or not Ruth was unreasonable to believe she was "untouchable" as Marty and the K.C. Mob told her.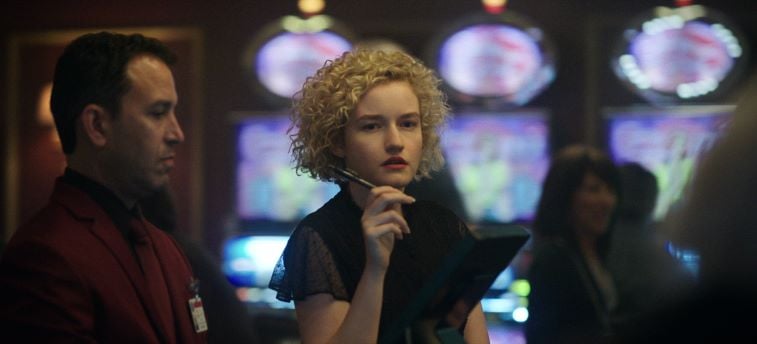 'Ozark' Season 3: What happened to Ruth Langmore?
Ruth opened Ozark Season 3 by demonstrating how well she is running the riverboat Casino. At the end of the first episode, she throws Frank Cosgrove Jr. (Joseph Sikora) overboard for his unruly behavior during a poker tournament.
Marty and Ruth go to Frank Cosgrove Sr. to apologize. The Byrdes offer an extra 10% cut to him, but the Kansas City Mafia player wants Ruth fired for tossing his son in the river. Marty explains that his son threatened to give up their operation. 
RELATED: 'Ozark' Fans Wish This One Character Was Never Murdered — It Might Surprise You
The two men agree that Frank will receive an additional 15 % on top of what they are already paying the mafia to help them launder money through the casino. 
"She's untouchable, too," Marty insists about Ruth.
Frank and Marty agree that both Ruth and Frank Jr. are "untouchable." However, in episode 7, Frank Jr. brutally beats up Ruth — sending her into the hospital.
Marty refuses to have Frank Cosgrove Jr. killed after he brutally beats up Ruth
When Marty and Wendy visit Ruth in the hospital, she has extreme demands.
"You know Frank Jr. did this. You know that, right?" Ruth questioned Marty. "Frank Jr. crossed the line. I'm untouchable, that's what you said. I want you to kill him."
Marty responded by telling Ruth they "cut ties with the K. C. mob. You will never have to work with them again." However, this is not enough for Ruth. Fans are torn over whether or not Marty should honor her demand.
RELATED: 'Ozark's Julia Garner Will Never Star in a Teen Movie
"She was being unreasonable," one fan wrote on Reddit.
However, other fans disagree.
"I realize that she was angry and felt ignored, but she knows the world Marty's in," added another Redditor. "How is she going to be that angry that he can't start a war over what happened?"
Some fans feel that if Marty has Frank Jr. murdered, it will spark a war between him and the Kansas City mob. However, other fans think that Frank Sr. did not hold up his end of the deal.
Marty made a promise with the Kansas City Mob he could never keep
"Frank Sr. reneged on his deal," another Redditor added. "This is what making her untouchable meant. Which means Marty made a promise he could never actually keep."
Many other fans join in the discussion that Ruth has a good point. The Kansas City Mob did not hold up their end of the deal.
RELATED: Laura Linney Is on 'Ozark' Because of Jason Bateman
"Which means that Ruth had a good reason to be pissed off," one viewer wrote. "Marty should have thought before making that deal."
Marty did not consider what he would have to do if Frank Cosgrove Jr. did retaliate. Based on the outcome of Ozark Season 3, it looks like he had to choose between starting a war with the Kansas City Mob or having Ruth abandon him. Only season 4 will show us the repercussions of Marty's decision.