'Ozark' Season 4: The Most Likely Fan Theories to Play Out When Marty and Wendy Byrde Return
If you binge-watched all of Ozark season 3, you are likely searching desperately for the release date of season 4. Marty (Jason Bateman) and Wendy Byrde (Laura Linney) will be back for 10 more episodes in 2021, but that's an entire year away. Until then, let's take a look at the theories fans are developing for the Byrde family's return.
[Spoiler alert: Ozark Season 3 spoilers ahead.]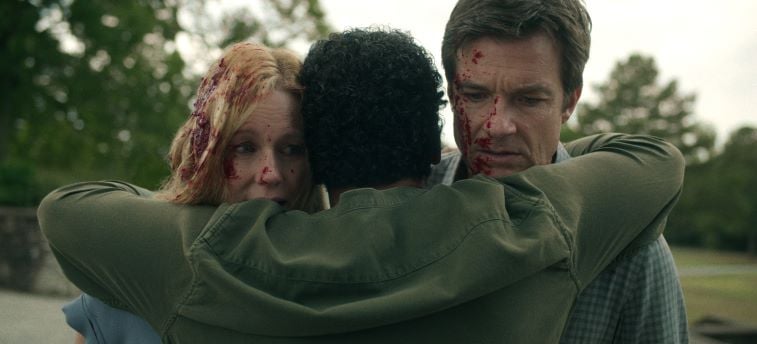 How will 'Ozark' Season 4 begin?
Fans feel that Marty and Wendy Byrde are now critical players in the Navarro Mexican drug cartel.
"I wouldn't be surprised if season 4 begins with Navarro's son's baptism, with the Byrdes serving as the Godparents," one fan wrote on Reddit.
The Byrdes ended the war between the two drug cartels in season 3. Helen Pierce (Janet McTeer) is no longer around to "babysit" Marty and Wendy, so the couple is running the show and all in with Omar Navarro (Felix Solis).
"They are totally going to have a Godfather style holy event — killing a bunch of people — time flash scene to start the show with Helen's family being killed," added another fan.
Many other fans agree that Navarro will kill Helen's family because they are a risk to his organization. Others add that it would make sense that the Byrdes are the Godparents. Navarro is no longer an issue, so Marty and Wendy will have problems with other characters, instead.
Fans are worried for the Byrdes' son, Jonah, in 'Ozark' Season 4
Season 3 of Ozark ended with Jonah (Skylar Gaertner) almost shooting Helen because she killed Jonah's Uncle Ben Davis (Tom Pelphrey). He didn't kill Helen because she revealed that Jonah's mother Ok'ed the hit on Uncle Ben.
Instead, Jonah went home and fired his shotgun through the window of the Byrde's dining room — possibly killing someone else.
"I was shouting for him to shoot her instead," another fan wrote about the scene between Jonah and Helen. "They've teased Jonah being a potential hitman, but never going through with it."
Some fans believe that Jonah might crack like his Uncle Ben did. He'll either become a hitman or part of another operation to get revenge on his mother.
"I think he's going to run away from home and start laundering money for Ruth (Julia Garner) and Darlene (Lisa Emery)," added another Redditor.
Darlene Snell and the Byrdes have a showdown brewing in 'Ozark' Season 4
"The Byrdes will definitely take issue with Darlene restarting her operation considering its proximity to the casino," one fan commented. "It'll definitely be interesting to see if Ruth will turn on Wyatt and Darlene next season. Ruth and Marty's dynamic will be something to follow next season."
Since season 3 of Ozark ended with Ruth Langmore getting help from Darlene Snell, fans feel the relationship between Ruth and Marty is on the rocks. Marty failed to help her when she needed him most. With Ruth on her side, Darlene could prove a challenge for the Byrdes.
"I could see her playing a double agent next season," another fan added regarding Ruth.
Although we have no idea what season 4 of Ozark will bring, many fans feel the Byrdes have to worry about an alliance between Jonah, Ruth, and Darlene.