'Ozark' Season 4 Part 2: Major Predictions for How the Show Will End
It's back to waiting for the rest of Ozark Season 4. But fans are passing the time by sharing predictions about what might happen next.
The show returned in January and resumed immediately after Helen Pierce's death in Ozark Season 3. Marty (Jason Bateman) and Wendy (Laura Linney) Byrde found themselves working closer than ever with Omar Navarro (Felix Solis), the head of the cartel. But Navarro threw a curveball with the sudden announcement of his plans to step back and allow his wildly unpredictable nephew, Javi (Alfonso Herrera), to succeed him.
What followed was a series of tumultuous events, punctuated by the deaths of Darlene Snell (Lisa Emery) and Wyatt Langmore (Charlie Tahan). So what happens next? Here are some of our favorite predictions for Ozark Season 4 Part 2.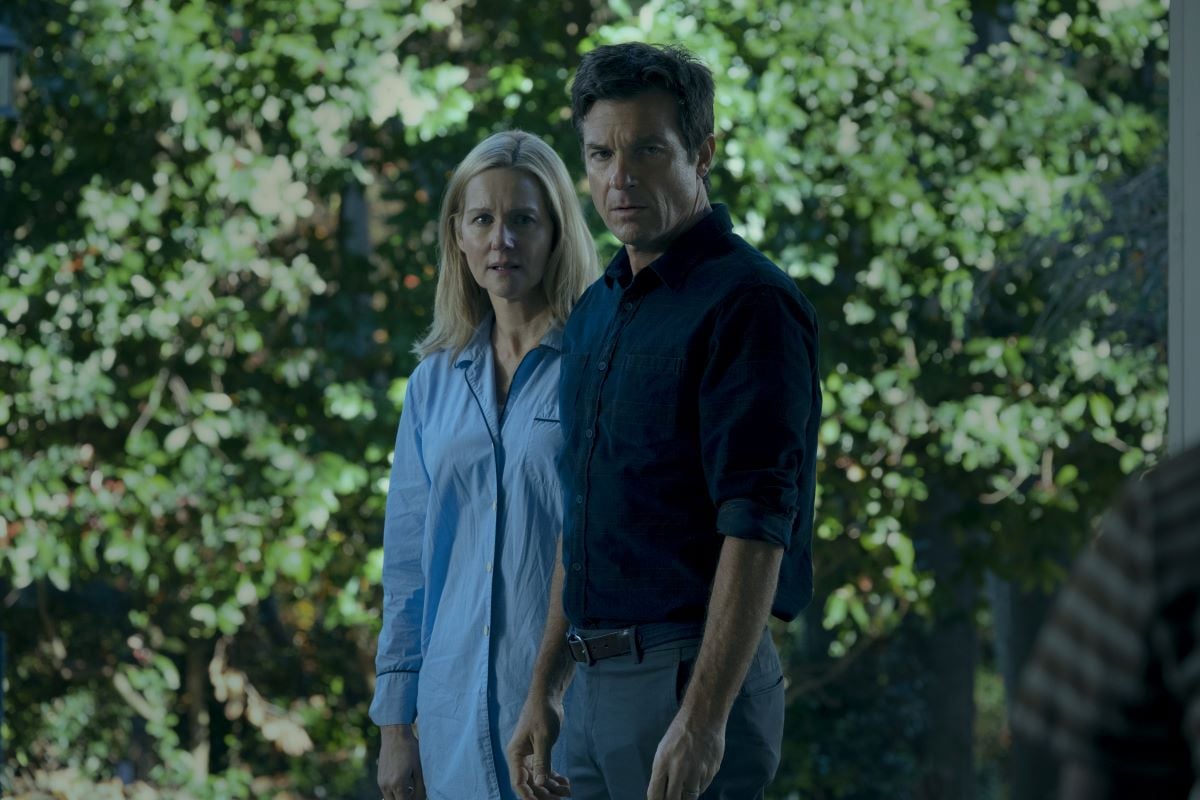 Some fans think Marty and Wendy's demise will come in 'Ozark' Season 4 Part 2
Many fans writing on Reddit believe the Byrdes will survive but ultimately divorce. "I think Marty will try to get out of the money laundering game, and Wendy will go full-fledged into Byrde Enterprses," one Reddit comment said. "She could even fall into a romance with Navarro. I also think one of the kids will work with Byrde Enterprises, not sure if Jonah or Charlotte."
Others figure at least one of the parents will die, and a lot of people think it'll be Wendy. "this would be ideal," another comment said, with some speculating that either Javi or Ruth Langmore (Julia Garner) will be the one to do it.
RELATED: Why Is 'Ozark' Season 4 in 2 Parts? The Showrunner Explains
Some shared predictions for Jonah and Charlotte
On the other hand, there are also plenty of predictions that one of the children will be killed, possibly in the car crash shown at the beginning of Ozark Season 4.
"I truly believe one of the kids has to die," read a third comment. "That has to happen to Wendy and Marty. They need to really feel the consequences of what they've gotten their family into."
Some thought it would be Jonah (Skylar Gaertner) who loses their life. Others felt he would be too obvious and figured it would be Charlotte (Sofia Hublitz). There were also many people who thought the kids would be the only survivors. "I can't imagine anyone getting a happy ending except maybe the Byrde children," read another Reddit comment.
Some thought Charlotte and Jonah's conversations about their future foreshadowed their survival, but it could also just be a setup to make their potential fates that much more tragic.
What's going to happen to Ruth?
What's clear is that most people want Ruth to survive. She's arguably had the most tragic storyline out of everyone, and after everything she's been through, she deserves a happy ending. Still, people aren't so sure it'll happen after what occurred with Javi.
"Ruth is going to be framed for the murder of Darlene and Wyatt. Perhaps by Marty as a way to protect her. Wendy tried to get Jonah arrested, now it's going to parallel with Marty and Ruth," one fan said.
Others thought Ruth would either kill or be killed by Javi. Hopefully, that's not the case, and she'll get away à la Jesse Pinkman of Breaking Bad.
When will 'Ozark' Season 4 Part 2 come out?
We'll see what happens to everyone when Ozark returns. While no release date for Ozark Season 4 Part 2 has been shared, the show is confirmed to return in 2022. In the meantime, check out the first few seasons now on Netflix.
RELATED: 'Ozark' Boss Addresses the Possibility of a Spinoff