'Ozark' Season 4 Set Photos Show Jonah Byrde and Ruth Langmore Stars Together Amid Interesting Fan Theory
The anticipation for Ozark Season 4 is growing more and more. As the final season of the show, it'll reveal the fate of the Byrde family as they continue to work for a Mexican drug cartel in the Missouri Ozarks. So far, those attached to the show have kept the details to a minimum. But we just got a sneak peek at the forthcoming program, courtesy of actor Skylar Gaertner (Jonah Byrde).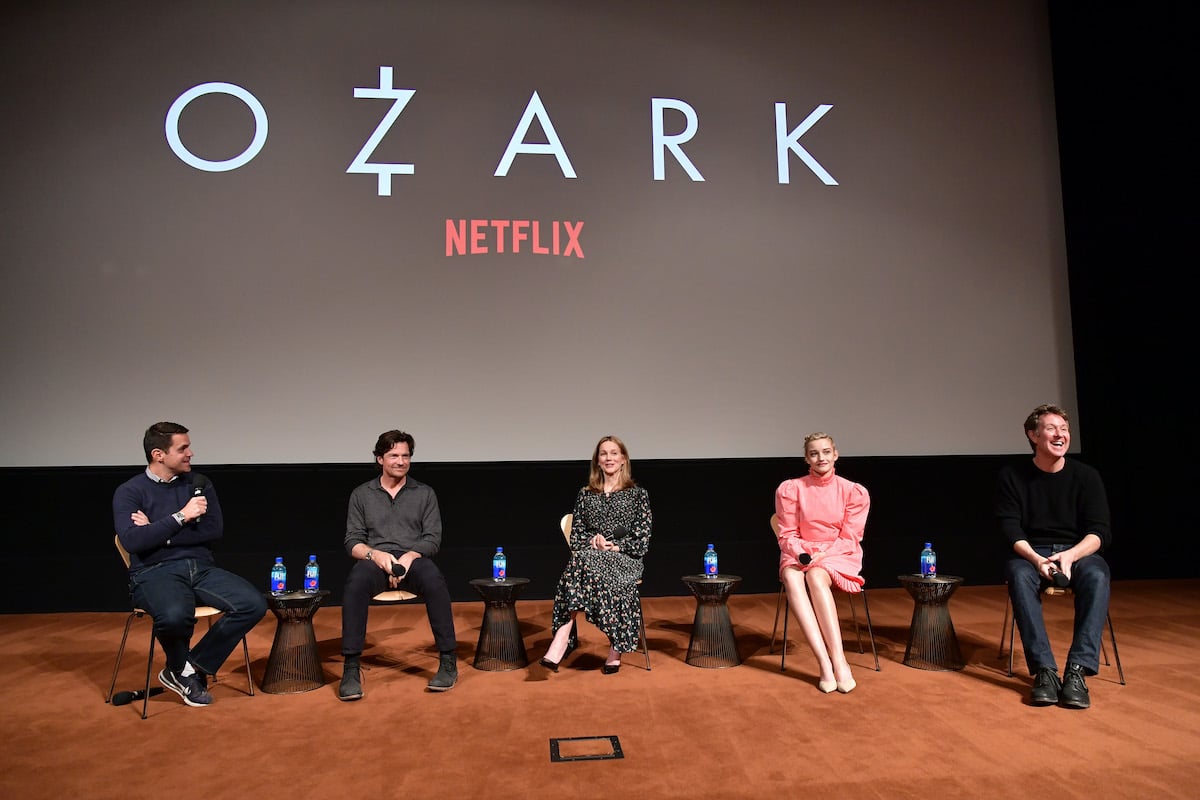 How 'Ozark' Season 3 ended
One big thing that happened was the death of Wendy Byrde's brother, Ben. As viewers recall, Ben had discovered the truth about his family and was threatening to expose their entire operation, which put his life in jeopardy. Though Wendy repeatedly tried to save him, there was nothing more she could do after he crossed a line with Helen Pierce, who then ordered Ben's assassination.
His death impacted many characters, but Jonah was arguably the most affected, especially because they had been so close. He even tried to get revenge on Helen by killing her, only to learn that his parents had helped facilitate the murder. In one of the final scenes, Jonah snapped and shot a gun through a home window.
At the same time, his parents were headed to meet Navarro along with Helen. Helen had been trying to cut them out of the operation due to their handling of certain business dealings. But in the end, Navarro chose the Byrdes over her.
RELATED: 'Ozark' Cleverly Foreshadows Plot Spoilers In Each Episode's Title Card
'Ozark' Season 4 is on the way
Ozark was approved for season 4 in June 2020. As Variety notes, the fourth season will contain 14 episodes and will be split into two parts.
Later that year, Jason Bateman (Marty Byrde) told IndieWire that production would begin on Nov. 9, 2020. "Everything is moving well toward that, and we're very confident in the guidelines and protocols we're going to be following. We've got tons of consultants, [and] we're learning a lot from other productions," he explained.
RELATED: Jason Bateman Is Preparing for the Worst When 'Ozark' Starts Filming in November
As far as the plot details, it seems the Byrdes will be battling it out with the rival Snell family, who now have Ruth Langmore (Julia Garner) on their team. Also upset with the Byrdes for their role in Ben's death, Ruth terminated their business relationship in season 3 and went to work for Darlene Snell.
"Marty and the Byrdes kind of took over [Ruth's intuition] and she stopped listening to that, and [in] Season 3, she made the mistake again [of] not listening to her gut [and] doing all this stuff for the Byrdes, and she's done with it," Garner previously told IndieWire.
Here's a first-look at 'Ozark' Season 4
During the week of Jan. 31, Gaertner posted Instagram photos with Garner in honor of her 27th birthday. Both were dressed in their characters' gear with masks on in compliance with coronavirus (COVID-19) protocols. The photos have since expired from his page, but they can be found on The Daily Express's website.
There's no word on if they were shooting a scene together or if they were just together to celebrate Garner's birthday, but there's a big theory that Jonah and Ruth could team up in season 4. As CBR notes, some viewers believe Jonah will join the Snell operation out of the anger and resentment he has toward his family over Ben's death. But nothing has been confirmed.
As we continue to wait for the fourth and final season of Ozark, feel free to check out more of our coverage below.