'Ozark' Season 4: Showrunner Talks Opening Car Crash Scene: 'We Will Catch Up to That'
'Ozark' Season 4 showrunner Chris Mundy gives some insight on why he chose to go with that opening scene in episode 1.
Close to two years after Ozark Season 3 ended, Ozark Season 4 debuted on Netflix. When we last saw Marty (Jason Bateman) and Wendy Byrde (Laura Linney), the couple had just witnessed Helen Pierce getting shot in the head by season 3 villain Omar Navarro's (Felix Solis) henchmen. After Helen's death, the Byrde's only choice was to work alongside Omar. Ozark Season 4 picks up directly after Helen dies, but the opening scene might confuse audiences.
[Warning: This article contains spoilers for Ozark Season 4.]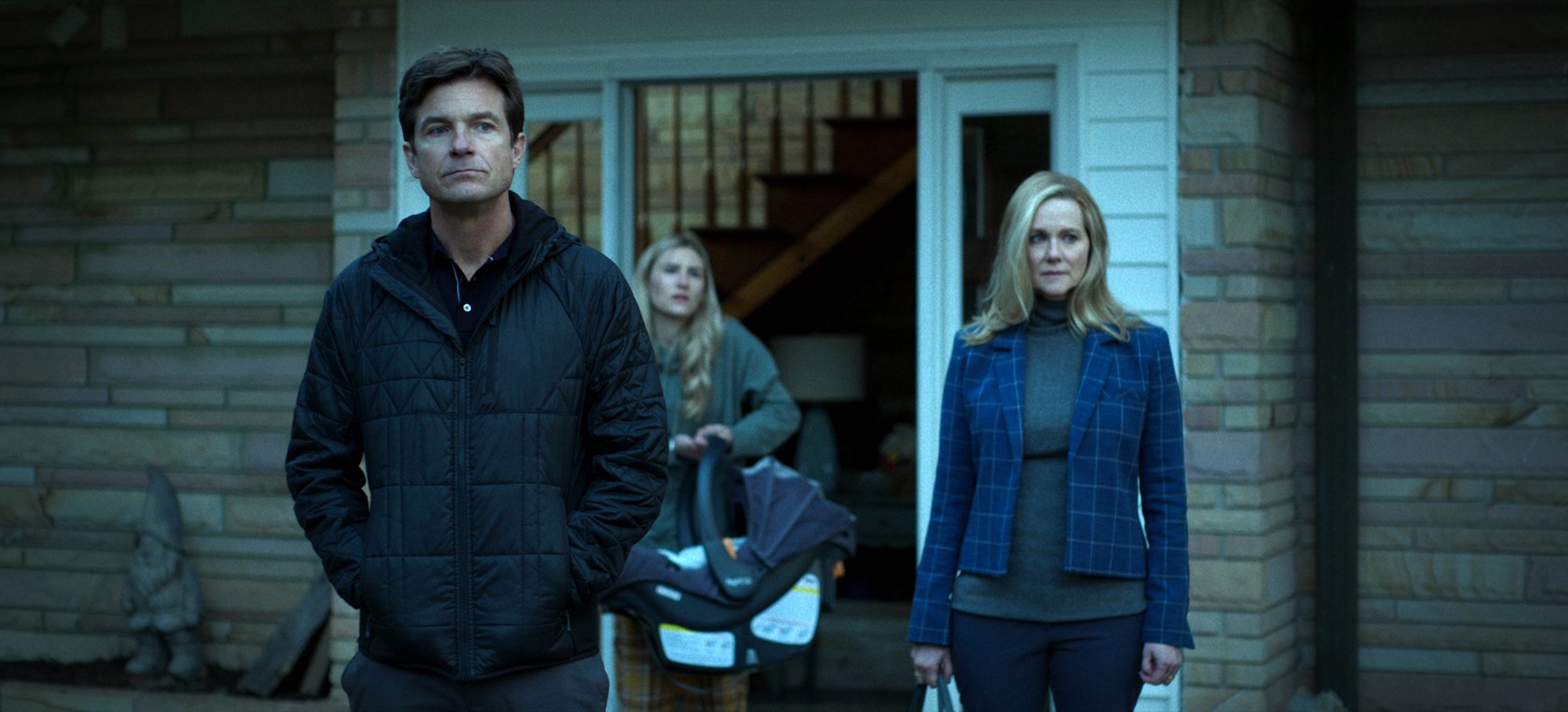 The first scene in 'Ozark' Season 4 shows the Byrde family trying to leave their troubles behind
When audiences first meet up with Marty and Wendy Byrde in Ozark Season 4, Jonah and Charlotte sit in the back seat of their van as they drive along the highway. Marty tells Wendy, "We're all set for the FBI tomorrow." Charlotte pipes up to tell her parents that she and Jonah are packed and ready to go before laughing and asking, "Too soon?"
If this were any other show than Ozark, audiences might easily watch the scene. But it's not, and fans know the moment is undoubtedly too good to be true. Within seconds, a semi-truck crosses over into Marty's lane. Marty and company fly off the road with the horn blaring, and the van flips into the air. The van slides to a standstill in a heap of rubble, and the scene fades to black. The episode picks up back at Navarro's house moments after his assistant murdered Helen.
With no explanation of the car crash, viewers are left to wonder about the reasons behind it. Was this planned or an accident? Did Navarro have a hand in the crash? 
Showrunner Chris Mundy gave some insight on the opening scene
Chris Mundy, the showrunner of Ozark, recently sat down with The Hollywood Reporter and explained his thoughts on that jarring opening scene. Mundy split Ozark Season 4 into two separate parts, with the first seven episodes premiering on Jan. 21, 2022. 
However, the seventh episode of Ozark Season 4 Part 1 still hasn't resolved the car crash situation. THR asked how Mundy settled on this as the perfect scene to hook viewers in for part one of the final season.
"Even as you trying to control everything, there are always certain things in life that are just completely out of your control. Marty, especially, is always trying to control everything — and he's so smart and verbally dextrous that he usually can. So some of it was just a reminder that the world is unpredictable that way. Obviously we will catch up to that at some point. But as much as anything, it was just that feeling that even in moments of relative peace that life can slip through your fingers at a moment's notice."
Of course, with a show like this, it's not surprising that Marty's escape from the world of crime in Ozark Season 4 would involve life or death events. So far, fans have no idea if Marty or any of the Byrdes will make it out alive.
When does 'Ozark' Season 4 Part 2 hit Netflix?
As of now, there's no word on when Ozark Season 4 Part 2 lands on Netflix. The next batch of episodes likely won't appear until the second half of 2022, or possibly early in 2023. In the meantime, audiences can stream all of the previous seasons on Netflix.