'Ozark': The Secret Behind the Rare But Intentional Smiles From Each Character
'Ozark's dark aesthetic makes smiles very uncommon. Find out the motivation behind each of the rare smiles.
Jason Bateman, Laura Linney, and Julia Garner are back for Ozark Season 3. It's as dark as ever, with two more significant deaths. It's not surprising that the characters have little to smile about in their daily life as part of a money-laundering scheme for the Mexican drug cartel. However, the rare, but intentional smiles do happen — each for a specific reason.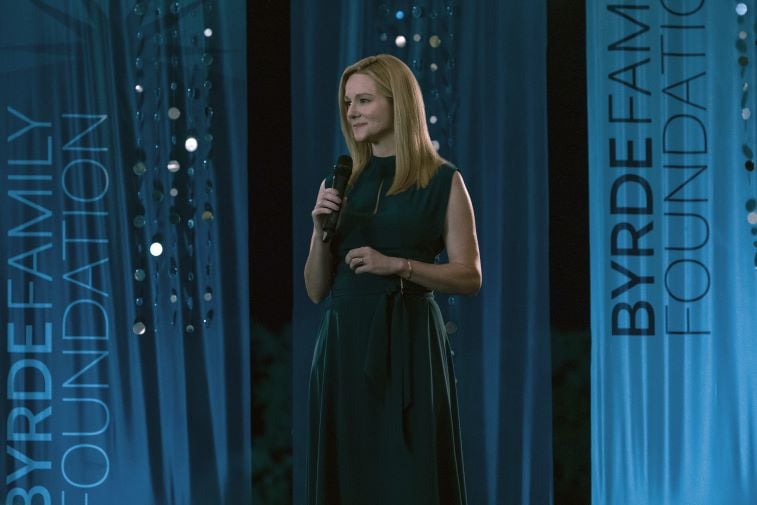 'Ozark': Does Jason Bateman's character — Marty Byrde — ever smile?
Over the past three seasons of Ozark, fans caught Marty genuinely smiling only one time. During the Ozark Season 1 finale, Marty jumps up off of his trampoline when he hears his family come home. Charlotte (Sofia Hublitz) and Jonah (Skylar Gaertner) run into their father's arms, and the three embrace in a hug. 
Over the kids' heads, Marty looks at his wife, Wendy (Linney), and gives her a tiny but genuine smile. He shows his teeth a bit in a very awkward faint smile. He's happy to see his family but worried about them at the same time for staying wrapped up in his dealings with the Cartel and now the Snells.
"They all have very little to be happy about in this show," one fan wrote on Reddit. "Marty has the same stressed-out face 95% of the series."
Are all of the smiles in 'Ozark' intentional?
When Wendy smiles, it's often more of a smirk. Many fans believe she only smiles when she is lying. However, she is lying rather often, so that makes sense. 
Ruth (Garner), on the other hand, only smiles when she is with her love interest, Ben Davis (Tom Pelphrey), or her cousin, Wyatt Langmore (Charlie Tahan). She has an intense scowl on her face if she is not with either of those men in season 3. 
RELATED: 'Ozark's Julia Garner Will Never Star in a Teen Movie
"I noticed the show seems to be intentional about which characters smile and what that means," wrote another Redditor. "Season two ends on a photographer saying 'smile,' (none of them do), and season three ends on what can be assumed as Navarro's smile."
Fans want to know if these few smiles are an "acting choice? Director's choice? Nothing beyond a general grim aesthetic?"
Jason Bateman weighs in on how he directs the actors in 'Ozark'
"I try to kind of let them in on what the directing perspective is, with respect to the camera," Bateman said in an interview with Collider. "I'll try to really give them a good sense of what the camera is seeing so that they are assured that the camera is watching. That the camera can see what they're doing, that they need not throw to the back row, that the camera is the front row. That's as far as you need to send your communication."
Bateman is a fan of subtle acting, so if the smiles are intentional, he doesn't admit it. It sounds like they come with the general aesthetic of a very dark show.  
"It keeps people small, just assuring them you don't need to do a lot of acting, you just need to do a lot of thinking, and the camera has an ability to kind of reach your mind," Bateman continued. "If they trust it, things end up coming across in a pretty subtle way, which is my personal taste."
There are not many happy moments in Ozark, so it's not surprising that there are few smiles. It sounds like the director wants the actors to feel their characters on a deeper level. As for the smiles at the end of each season, we will have to wait and see if season 4 adds another level to that theory.