'Ozark': Skylar Gaertner Hints at Family Rift in Season 4
Heading into Ozark Season 4, we're wondering what the family's relationship will look like following the events in the third season. Remember, Marty and Wendy Byrde ordered a hit on her brother Ben, allowing cartel hitman Nelson to kill him for going against Helen Pierce. That was obviously a big no-no, but none of that mattered to Jonah, who became so angry at his parents that he shot up their house.
Teasing what's to come, actor Skylar Gaertner (Jonah Byrde) admitted in an interview that "the dynamics" between Jonah and his family are shifting, as he's starting to look at them in a different light.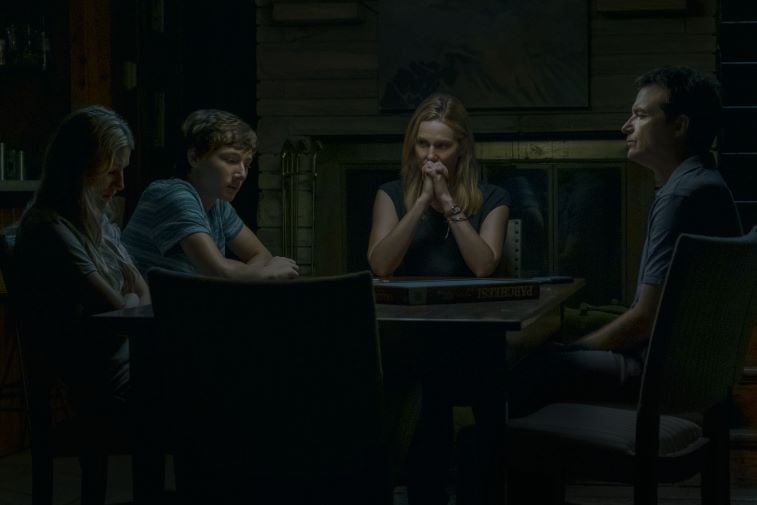 Skylar Gaertner on 'Ozark' Season 4
Gaertner spoke about the show in an interview with Starry Constellation Magazine that was published on May 5. Asked about Jonah's upcoming storyline, Gaertner stayed quiet about most of the details, but he did tease more infighting within the Byrde family.
"I can't disclose many other details, but it's clear that the dynamics are changing at the end of Season 3," he began.
"Jonah is at a bit of a crossroads when it comes to his family; until then, he had gotten through by being extremely adaptable, loyal, curious and optimistic. The Byrdes' way of life has constantly tested those traits, but he always pulled through and, in fact, thrived because he had some foundation (however unstable) in his family," Gaertner continued.
But what happened in Ozark Season 3 might have changed Jonah forever. "The end of Season 3; however, really threatens to topple all of that," Gaertner added. "After learning the truth about his mom, we can only guess how his outlook on life will be affected. He's followed his parents fairly unquestioningly until now, so it'll be interesting to see how his rationale changes as he copes with the latest tragedy."
RELATED: New 'Ozark' Cast Addition Could Help the Byrdes Overcome 'Fierce Opposition' in Season 4
The Byrdes also have a few more problems to handle in season 4
In addition to the issues with Jonah, Marty and Wendy will have to figure out how to operate without Ruth Langmore, who pretty much became family after working for the Byrdes. Now partnered with Darlene Snell, she could be some serious competition in season 4.
"Really, I mean, I think for all of it, Marty and Wendy for the first time are going to be firmly on the same page," showrunner Chris Mundy previously said in a panel discussion hosted by Deadline. "Ruth's going to sort of be in firm opposition to them, everyone's got to figure out what they want their life to be."
"For the first time, I think people are going to get to make some choices and not just be reactive to the craziness, that's around them," Mundy continued. "And so, we feel like the end of the show has been built in. But hopefully, it's something that as you're experiencing it, you're continually surprised."
When does 'Ozark' come back on?
So far, there's no set release date for Ozark Season 4, but actor Jason Bateman (Marty Byrde) said earlier in 2021 that it'll arrive "a whole lot quicker" than fans expect. We can't wait.