'P-Valley': Is Season 1 Streaming on Netflix?
Starz's P-Valley become one of the most talked-about shows when it debut in 2020. Set in Chucalissa, Mississippi, and based on the play by Katori Hall, the show centers on the popular strip club, The Pynk. Run by Uncle Clifford (Nicco Annan), the club's non-binary owner. Surrounding Uncle Clifford are The Pynk's dancers who pull in patrons night after night.
The club's headliner, Mercedes (Brandee Evans) had been anticipating retirement and her final dance. However, things shifted when Autumn (Elarica Johnson) a mysterious newcomer comes running into the club. Also, Keyshawn, aka Ms. Mississippi (Shannon Thornton), is looking to take Mercedes' place. Meanwhile, local rapper Lil' Murda's (J. Alphonse Nicholson) big break comes as he struggled with his sexuality.
Fans are anticipating P-Valley Season 2 but is season 1 streaming on Netflix?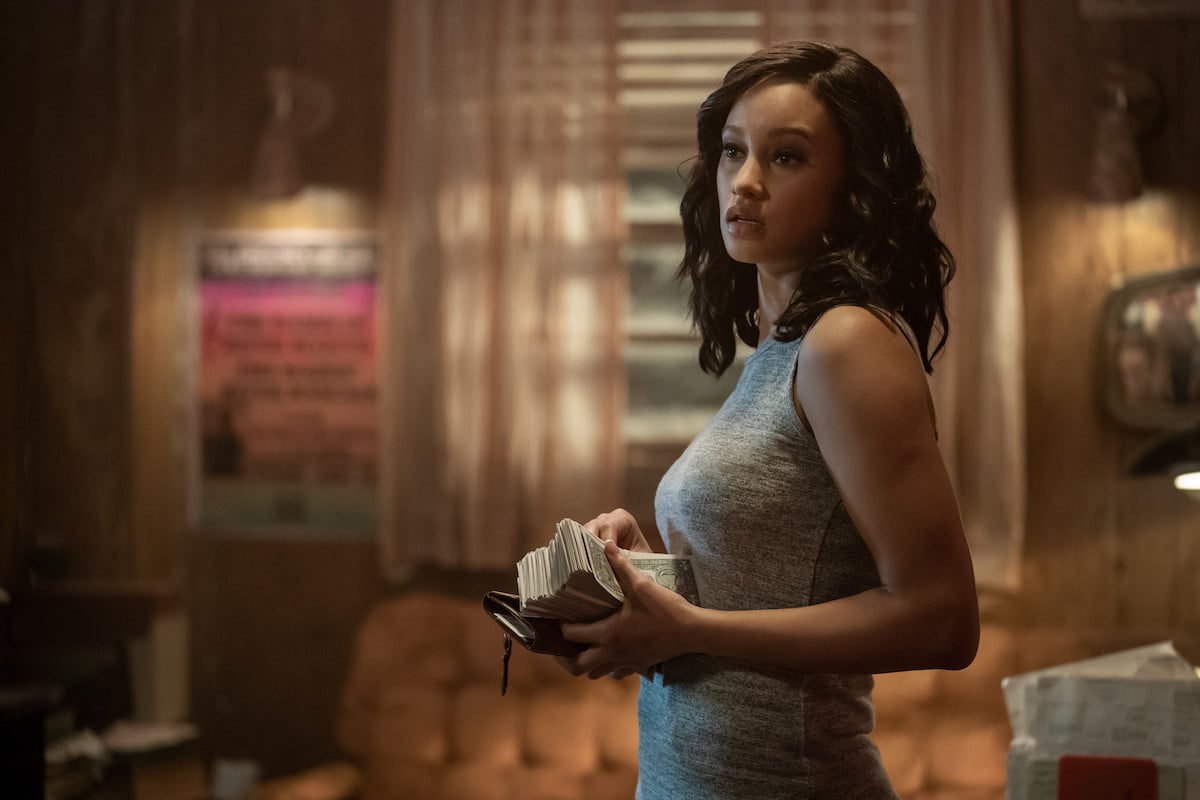 When will 'P-Valley' Season 2 premiere?
Starz renewed P-Valley within a few weeks of its premiere. However, the cast and crew were unable to begin filming right away due to the coronavirus (COVID-19) pandemic. As a result, the second season of the acclaimed drama will not debut until sometime in 2022. New episodes are currently being filmed in Atlanta.
So far, we know that a lot season 2 will focus on Autumn and Uncle Clifford's partnership at The Pynk.  "[Autumn] came in getting her a** smacked on the dance floor and now, she has some ownership in the club," Hall explained to Elle. "The power dynamics at the club have completely changed and to see Uncle Clifford and Hailey fight over the throne will be stuff of legends."
Moreover, much of the narrative will occur outside of the club. "You're going to see a lot of things that happen outside the club this season, making it humanizing as well because everyone has a life when they go home from their job and so do these women and these men in the club as well," Evans told Gold Derby.
Is 'P-Valley' Season 1 streaming on Netflix?
Since P-Valley debuted in July 2020, people have been talking about the stunning dramatic series and the female characters at the center. However, everyone does not have access to cable, especially as streaming services have become more accessible. Sadly, the first season of P-Valley is not available to stream on Netflix. However, there is a way for newcomers to stream the show for a massively reduced price.
For perspective fans who already have Hulu, there is an option to add Starz for the first time. The network is giving out a 1-week free trial. This is more than enough time to stream eight episodes of P-Valley for free. After the trial, the price will rise to $8.99/monthly. However, if you need more time, there is an option to get the entire Starz catalog at your fingertips for a sale price.
According to Entertainment Weekly, Starz is charging new users of the app just $3 a month for the first three months. There is no free trial in this deal. However, $9 for three months for an app that usually costs $8.99 a month is a major steal.
Creator Katori Hall shared her main goal for Season 2
Though we won't get new episodes of P-Valley until 2022, Hall has shared her main goal for the new season. As it has been since the beginning, the creator/showrunner wants the spotlight to stay on the women of P-Valley beyond their professions.
"I think it's very easy to be wowed by the spectacle and embrace the spectacle," she told Indiewire. "That's awesome, that's cool, glitter is important, but to understand how you do have to grit your teeth sometimes to get to the top of the pole. And for me, it's just a metaphor for being a woman in this world point blank period."
She continued,
And to be able to do it and to do it with style to the point where it feels as though you're crashing through the sky. My own experience obviously inspired me to make sure that when we lensed it and put it in front of an audience, that we use this idea of the subjective experience, this idea of the female gaze, to really put the audience up on the pole with our characters and also maybe even inside of their POV, like we were able to do it a couple of times over the first season, and hopefully, we'll continue to do it in the second season.