'P-Valley': Keyshawn Will Have a Pivotal Role in Season 2
Starz's P-Valley is back for its second season. Set in the fictional town of Chucalissa, Mississippi the show follows the women who work at the popular strip club, The Pynk. Helmed by the owner, Uncle Clifford (Nicco Annan), one of the most celebrated dancers at the club was Keyshawn aka Miss. Mississippi (Shannon Thornton).
In the first season, Keyshawn was trying to find her own independence amid an abusive relationship. However, by the end of season 1, she was right back where she started. It turns out that she will play a pivotal role in season 2.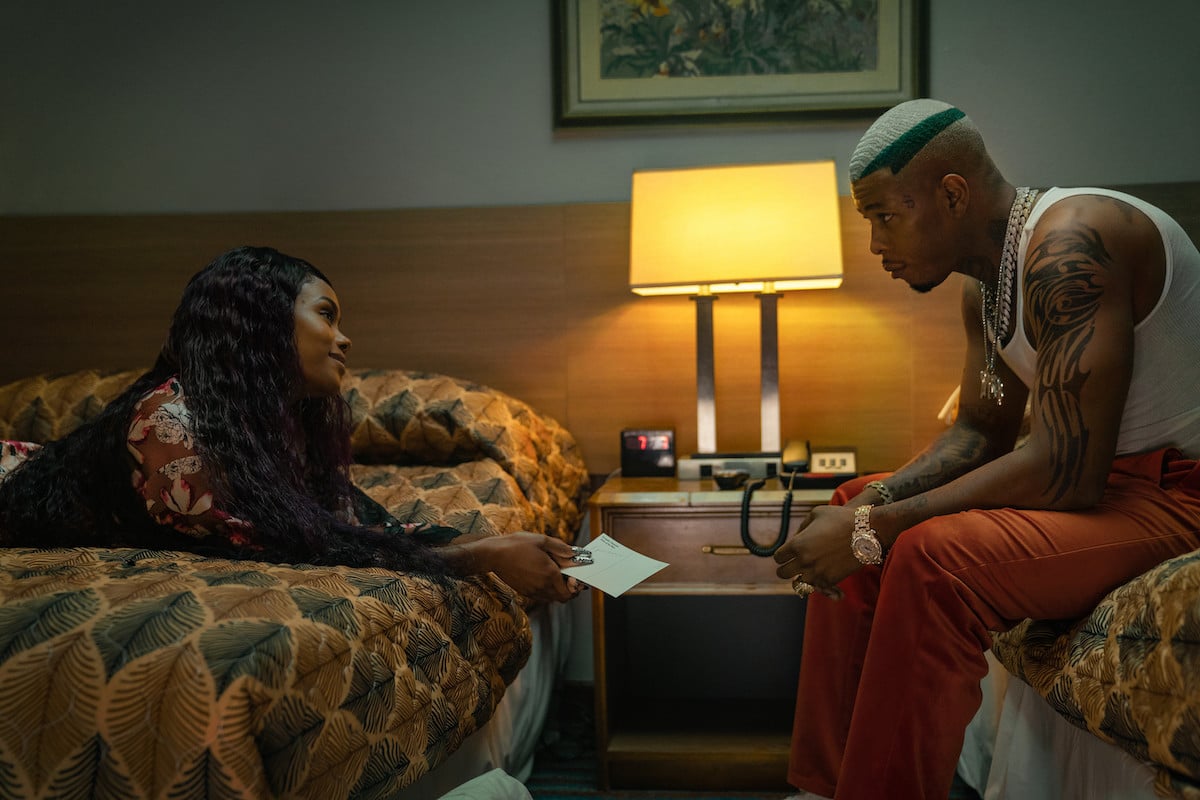 RELATED: 'P-Valley' Creator Talks About Mercedes and Autumn's Future, Plans for Season 2, and More
Keyshawn is going to be reeling from her past mistakes
Following in headliner Mercedes's (Brandee Evans) footsteps, for a quick moment, Keyshawn was the hottest dancer at The Pynk. She had won the affection of the clientele and of Diamond (Tyler Lepley), one of the club's bouncers. However, her home life, the one she shared with her abusive baby's father, Derrick (Jordan M. Cox), thwarted her relationship with Diamond and any dreams she had of moving beyond The Pynk and expanding her career.
In season 2, she's going to be dealing with the fallout of choosing Derrick over Diamond and what that means.
"As we move forward into her next chapter, you will see her reckoning with that mistake, and really coming into her own as a woman, as a mother, and as an artist," Katori Hall said in the YouTube video.
Keyshawn will have a pivotal role in season 2
Amid the season 2 premiere, we learned that following the horrible events of Murda Night, Keyshawn is no longer welcomed at The Pynk. Instead, she spends her days doing lives and OnlyFans type work under the eye of Derrick. It's as if he's determined to keep her locked under lock and key.
However, Lil Murda (J. Alphonse Nicholson) may have an offer for her that she can't refuse. The official Starz description for season 2 reads,
When darkness descends upon Chucalissa, errybody and they mama must fight tooth and talon to survive. While some take flight to perilous new heights, others dig in their stilettos and stand their ground no matter the cost. Back at The Pynk, Autumn and Uncle Clifford grapple for the throne as new blood shakes up the locker room. Meanwhile, with the casino's fate hanging in the balance, the local political machine kicks into overdrive. In these unprecedented times, death and danger lurk around every corner.
RELATED:'P-Valley': Brandee Evans Was Told Not to Lose Weight for Her Role as a Stripper
Will Keyshawn and Diamond reconcile?
From the season 2 premiere, it looks like Diamond has no love left for Keyshawn after she pointed a gun at him and chose her racist baby daddy over her. In fact, it looks like Diamond is going to be getting a new love interest this season. Lepley's real-life girlfriend, Miracle Watts has been cast in the role of Big Bone in the series who could be a potential love interest for the character.
According to Deadline, Big Bone is, "a fighter and a biter with sky-high ambitions. She is a rambunctious new presence at The Pynk blessed with a molasses-thick body, knees of steel, and a tongue more lethal than a draco."
Hopefully, Keyshawn is able to get away from Derrick, but we don't see a reconciliation between her and Diamond ever happening.