'P-Valley': Lil Murda's Music Will Change a Lot in Season 2
Starz's P-Valley has stepped outside of The Pynk in season 2. Lil Murda (J. Alphonse Nicholson), a burgeoning rapper in Mississippi is chasing his dreams. However, he's also hiding the truth about his sexuality. It is also clear that Murda won't be able to move forward without reconnecting with Uncle Clifford (Nicco Annan).
Now in season 2, it appears that Lil Murda's music will change quite a bit.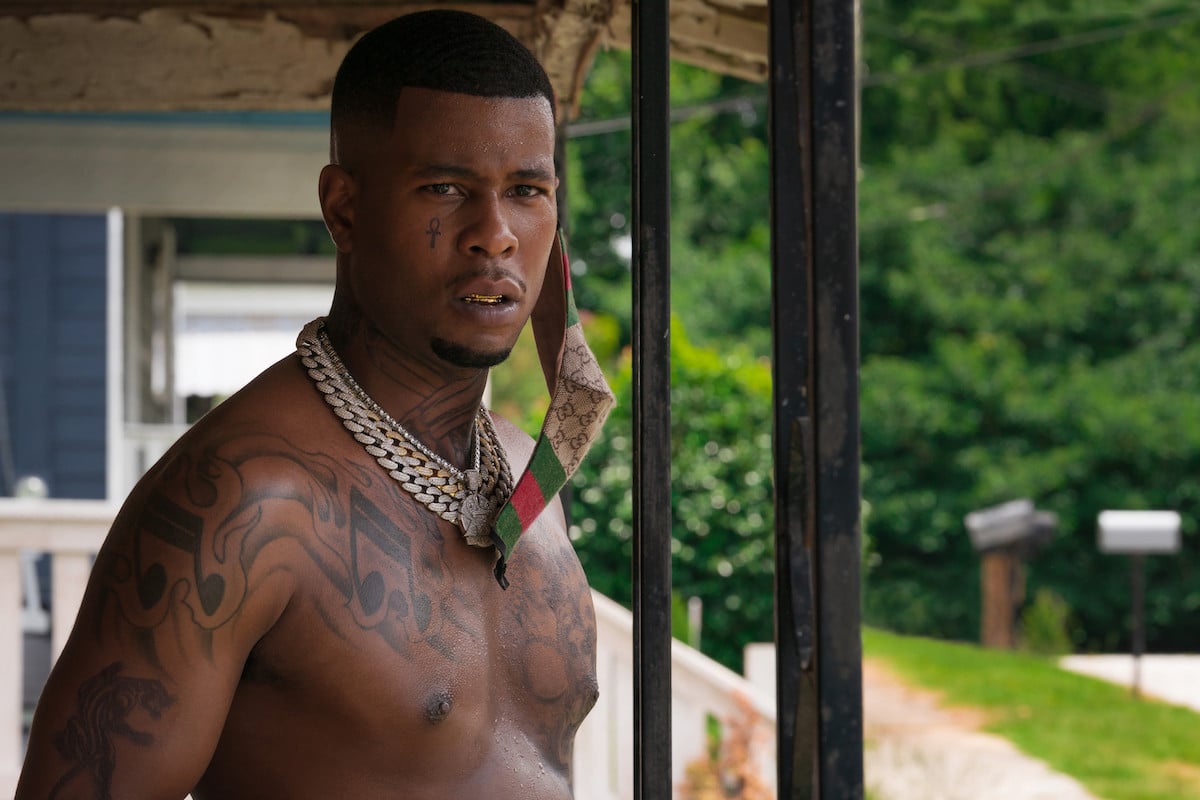 Lil Murda is about to go through a major transformation
As the second season of P-Valley is unfolding, fans are learning quite a bit about Lil Murda, including what happened during his prison stint and his deep connection with his friend-turned bodyguard, Big Tek's (John Clarence Stewart). Though he's currently living out his dream, touring across the south, Lil Murda is also deeply missing his relationship wth Uncle Clifford.
Now, it appears that he's set to go through a major transformation. "He's going on this amazing arc, P-Valley creator Katori Hall said in a YouTube video. "The first season he came to the club and he was doing the usual, "B**** sit on my lap s***.' But then he grew into an artist that talked about love and really dug in deep. And then by the end, he was doing those southern bangers and you know, the P-Valley sound is all about the dirty south. He spreads his wings, connecting with bigger artists and also becoming more innovative with his sound, and beginning to experiment. So you're going to see a new kind of sound emerge from Lil Murda and I'm just so excited for you guys to see the journey that he's going on."
RELATED: 'P-Valley' Creator Talks About Mercedes and Autumn's Future, Plans for Season 2, and More
Lil Murda's music will change a lot in 'P-Valley' Season 2
Now that more of his past is being revealed and Big Tek is forcing him to address his true self on the road, Lil Murda's music is also set to transform. "This season is really about focusing on what he has to say about the world and what he has to say about himself," Hall told Entertainment Weekly, "The songs are very reflective of him digging deeper down and being way more honest about his motivations and objectives in life."
At the end of episode 204, "Demethrius" Lil Murda and Big Tek reconnected sexually amid the chaos of yet another Black man being gunned down by the police. Just after this Uncle Clifford finally reached back out to Murda, though she had been ignoring him for months.
Now, Lil Murda must decide what he really wants out of his life and career.
Will Lil Murda and Uncle Clifford get back together?
Though fans had been rooting for Lil Murda and Uncle Clifford's reconciliation, Big Tek has definitely thrown everyone for a loop. It also doesn't help that Murda openly rejected Clifford.
"Girl, I don't know if you can make that right," Hall told Entertainment Weekly when asked, laughing. "I remember when we were in the writers' room, we were like, 'How can Lil Murda regain Uncle Clifford's trust?' And we were like, 'Nothing. He just needs to grow up. He needs to go on his own journey and grow up so he can realize how important a person like Uncle Clifford is.'"