'P-Valley': Megan Thee Stallion Will Have New Music on the Show
The Starz hit drama series P-Valley has returned for a second season. The series follows Uncle Clifford (Nicco Annan), the owner of the highly popular strip club, The Pynk. The club is a staple in the fictional town of Chucalissa, Mississippi. In the first season, Uncle Clifford worked to no avail to keep the doors to her club open. The series also followed the lives of her dancers. Headliner, Mercedes (Brandee Evans), was on the verge of retirement, Miss Mississippi (Shannon Thornton) was learning to stand on her own, and newcomer Autumn (Elarica Johnson), was hiding a dark secret.
Now in the second season, things have changed drastically for everyone. It even looks like Megan Thee Stallion has even gotten wind of The Pynk.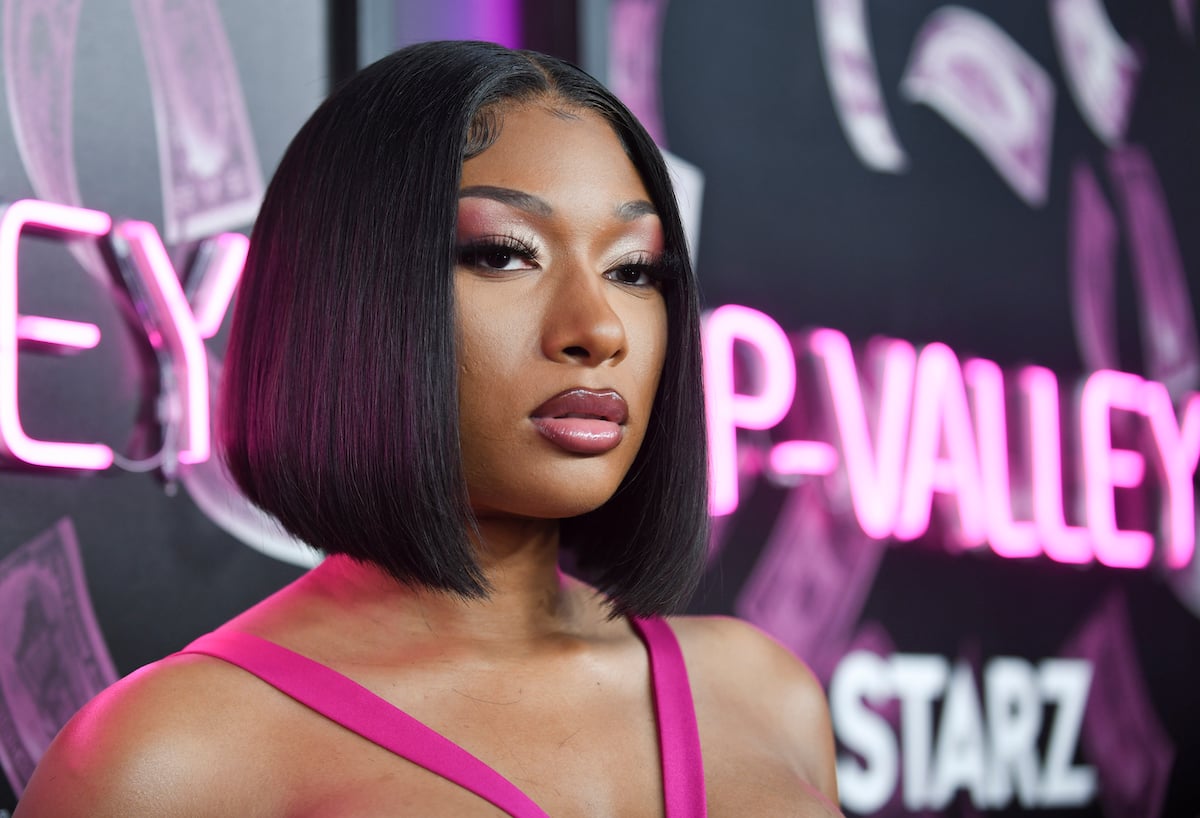 RELATED: 'P-Valley' Creator Talks About Mercedes and Autumn's Future, Plans for Season 2, and More
'P-Valley' Season 2 just premiered
After a two-year hiatus, the second season of P-Valley has just premiered. Fans saw how The Pynk was able to stay afloat amid the pandemic. Moreover, they are seeing how the dynamic between Autumn and Uncle Clifford has changed now that Autumn owns the club.
The official logline for season 2 reads,
Season two takes audiences deeper into the lives of the Pynk's beloved characters as darkness descends upon Chucalissa. Returning cast includes Nicco Annan ("This is Us") as Uncle Clifford, Elarica Johnson (Harry Potter and the Half-Blood Prince) as Autumn Night, Brandee Evans ("The Bobby Brown Story") as Mercedes, Shannon Thornton ("Power") as Miss Mississippi, J. Alphonse Nicholson ("Chicago P.D.") as Lil' Murda, Parker Sawyers (Southside With You) as Andre, Harriett D. Foy ("Elementary") as Pastor Woodbine, Dan J. Johnson ("Underemployed") as Corbin, Morocco Omari ("Empire") as Big L, Dominic DeVore (The Ride)as Duffy, Tyler Lepley ("The Haves and the Have Nots") as Diamond, Jordan M. Cox ("The Outsider") as Derrick and Skyler Joy (Ma) as Gidget. Recently announced John Clarence Stewart ("Zoey's Extraordinary Playlist," "What If") asBig Teak, newcomer Miracle Watts as Big Bone, Shamika Cotton ("The Wire") as Farrah, Gail Bean ("Snowfall") as Roulette and Psalms Salazar (Girl Lost: A Hollywood Thriller) as Whisper, will also join the cast this season.
Megan Thee Stallion will have new music on the show
Katori Hall hinted that Megan Thee Stallion would be contributed to P-Valley Season 2. "We've got this major artist that everyone knows and loves, but I'm not going to tell you just yet who that is," she said in the YouTube video. Now, Shadow and Act has confirmed that the rapper is contributing to the series in the form of a new original track.
Moreover, fans are speculating that we will also see the self-proclaimed Hot Girl in a forthcoming episode. Baller Alert is reporting that "filming for season 2 just wrapped down in Atlanta, and Meg was recently spotted on set."
The Texas-born rapper has been linked to P-Valley in the past. For her music video, "Movie" she had cameos from both Nicco Annon and Brandee Evans.
'P-Valley' Season 2 will focus on several central themes
In addition to an appearance by Megan and some brand new characters, this season of P-Valley is set to focus on several central themes.
BET is reporting that the new season will unpack, "physical and emotional abuse, trust and abandonment issues, and the debilitating matter of police brutality against Black people in America."
Moreover, there will be a very special episode highlighted this season. The episode will pay tribute to George Floyd, Breonna Taylor, Ahmaud Arbery, and a host of unidentified victims in Michigan, Texas, and California.
We should be in for an interesting ride.
RELATED: 'P-Valley' Was Rejected by Tons of Networks Before It Landed on Starz