'P-Valley': Everything You Need to Know Before Season 2
It's been almost two years since new episodes of P-Valley were released, but Starz will premiere the new season this week, taking viewers back to The Pynk nightclub to see what the girls have been up to since the series left them. After such a long wait, it's probably hard to remember what happened in the show's first season. But we have you covered. Read on to find out everything you need to know before P-Valley Season 2 drops.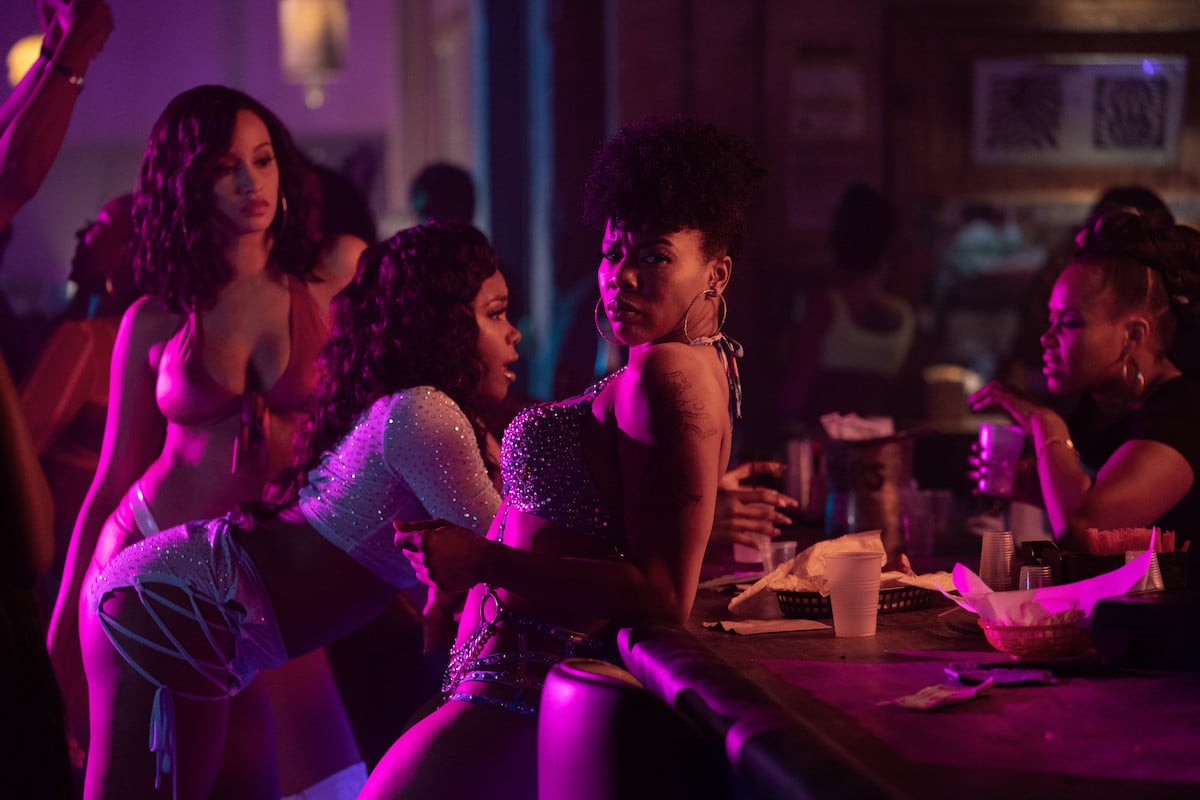 The basics
P-Valley first launched in July 2020 and followed dancer Autumn Night as she moved to Chucalissa, Mississippi, to escape an abusive ex-boyfriend. She took a job at The Pynk, where she immediately clashed with the other dancers, specifically the OG Mercedes. Despite their rocky start, the two began to bond over their shared experiences such as motherhood and wound up becoming friends.
Autumn had a much more complicated relationship with club owner Uncle Clifford due to Autumn's mysterious background and distant personality. Still, Uncle Clifford showed up for her in a big way in the P-Valley Season 1 finale, when Autumn's ex, Montavius, popped up at the club looking for her. After a fight broke out between him and Autumn, Mercedes, and Uncle Clifford, gunshots went off, seemingly leading to Montavius' death.
Although what happened to him was not shown, Uncle Clifford appeared to confirm Montavius's death sometime later when she told Mercedes she had "handled it." The same day, Autumn used money from Montavius to save the Pynk, which had been up for auction after Uncle Clifford fell behind on payments. Under the deal, she and Uncle Clifford are now both co-owners of the club.
The start of 'P-Valley' Season 2
Months later, The Pynk appears to be in better standing, but now, the coronavirus (COVID-19) pandemic has hit, creating a whole new set of problems for the business. Corbin Kyle continues to fight for the casino as a power struggle unfolds between Uncle Clifford and Autumn.
Show creator Katori Hall spoke to Entertainment Weekly about the dynamic between Autumn and Uncle Clifford this season now that they've become partners.
"I think it's surprising," she said. "I don't think they come out of the gate being stereotypically catty with each other. They're two very smart people. They're business-minded, and they understand — particularly in the face of this new foe — that they are gonna have to work together."
"What's going to come out of that is, you know, there's some people who are more passive-aggressive when they're fighting, and we're going to see that sneakiness," she continued. "Sometimes that comes out when people are really truly manipulative and really truly dangerous — they act like they're your friend when they're actually your foe."
"So Uncle Clifford is going to learn that [about Hailey], and Hailey has always been this way," she added. "She's a shape-shifter. You think she's on your side, and all of a sudden she reveals herself to be someone who's incredibly, incredibly dangerous."
In addition to that, viewers will also get to see more from Diamond and Keyshawn, who shockingly pulled out a gun on Diamond last season when he was trying to protect her from Derrick. Lil Murda will also have to deal with the consequences of his actions regarding how he coldly dissed Uncle Clifford to keep up his image.
When does 'P-Valley' Season 2 come out?
P-Valley faced a long delay as a result of the coronavirus pandemic, like so many other TV shows and productions. But now, we're down to the final stretch. Starz will release P-Valley Season 2 Episode 1 on Friday, June 3, with new episodes airing weekly after that. The best part is that there are more episodes this time — 10 to be exact, which is an increase from last season's eight episodes.
Until then, fans can find the first season of P-Valley now on Starz.
RELATED: 'P-Valley': Major Character Not Returning for Season 2